Inexpensive Android tablet ICONIA TAB A500 release date decision, part sold out as well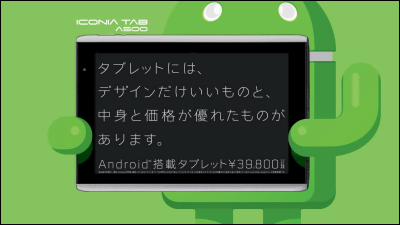 Android tablet which was announced on June 15 and gathered the topic because it has an overwhelming low price of 30,000 yen range and performance comparable to that of other companies' high-end tablet "ICONIA TAB A 500'S release date has been decided.

According to Acer's press release, the company's first Android 3.0 tablet "ICONIA TAB A 500" will be released on Friday, July 1 at a mass merchandising store. The model had accepted reservations from 15th June, but it is said that the reservation is sold out at some stores and it is popular.

"ICONIA TAB A 500" body. 1280 x 800 10.1 inch display and NVIDIA's Tegra 2 processor, 1 GB memory, 16 GB SSD, 2 million pixel front and 5 million pixel camera, IEEE 802.11 a / b / g / n compatible wireless LAN, Bluetooth 2.1 + EDR The battery capacity is 24.1 Wh. The main body size is 13.3 × 260 × 177 mm, it is possible to play HD video for about 8 hours. You can connect USB devices of external HDD and keyboard with USB host terminal installed.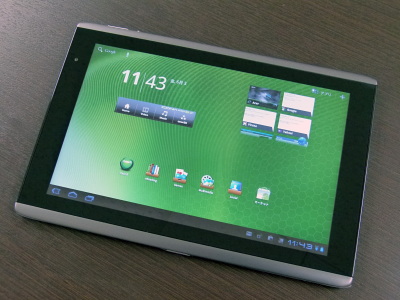 In addition, the company is the most attractive about "ICONIA TAB A 500", the price setting that is easy to get at 39,800 yen and the point that you can play immediately after purchase by pre-installing HD movies and HD games , Including an HDMI cable for connecting with a liquid crystal television in advance, even for beginners users easy to use merit.

AlreadySome stores will be sold at 35,000 yen unitsAlthough it is "ICONIA TAB A 500" which has the possibility of becoming a detonating agent for spreading Android tablet due to low price, it is a place to wonder what kind of sales it will show in the future.

The official website of "ICONIA TAB A 500" is from the following.

ICONIA TAB A 500