"New comic magazine" Comic Gear "which started with" How to make a manga magazine "tried to stop publishing 3rd issue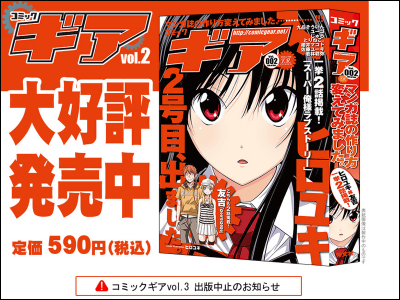 Which manga magazines are different in shape, is not it the same style that manga artists and editors come up with ideas and explore the direction of the story and create works? However, it was "Comic Gear" that was made with the idea of ​​reversal, such as whether there might be a manga magazine made without editors.

Known as "Dogen Work" "Manga Family and Assistant"HiroyukiThis magazine, which Mr. was in charge of conducting the overall production,I changed the way of making comic magazines."Was issued in August 2009, the second issue was published in November 2009, was scheduled to be bimonthly since then, the third issue that was scheduled to be released in January 2010 has ceased publishing It became clear that the project itself was canceled as well.

Details are as below.
Comic Gear vol.3 Publication Cancellation Notice - Comic Gear

Comic Gear Production Department Diary: Thank you for everything.

According to Mr. Hiroyuki who is the leader of the production, although there are various reasons for the planned discontinuationJudging that this is for members and many othersIt seems that it was a decision to do.

"Comic Gear" is based on the concept of making a magazine with only manga artists without editing, "All the serial writers gather in one work place everyday and work, and cartoonists cooperate and make itProduction was done in an unprecedented style named "It's been a while." What was posted is Mr. Hiroyuki's own series "Super Mega Love StoryIn addition to "Machine gun Soul"(Shigeru), "GoodGame"(Tomoshi), "Death Heart"(Sato Yuki), "GHOST RUSH"(Yugo), "A chick and a clown and a mysterious town"(Grinding cat.), "The great demon king Zaki !!"(Takeya Wakabayashi), "ASHURA"(Sakurai Makoto), "Princess Summoner"(Nine items).

At the time of release of No. 1I went to Akihabara at the writer's total and distributed bookletsThat's right, the reputation as a magazine is not pleasant, I am criticized that it seems to be like a doujinshi to those who do not, but to others who are matched,Customer reviews of Amazon.co.jp has received a considerably dry rating.

In the second issue published in November, it seems that the point that received criticism in No. 1 was improved considerably, but it seems it was difficult to continue.

Among the series works, "GoodGame" is another publication of Yoshifumasha and will be restarted from the spring to the early summer, and the series was resumed in the same way as "Super Megami Love Story" but due to Mr. Hiroyuki's situation, It is going to be. For other manga, it seems that it will be cut off as it is.

It seems that it was not so easy for emerging magazines to survive in the comic magazine industry where no one knows what magazines are fighting a battle.