To the release of the "Cooking Idol Eye! My! Mai!" DVD series which the fifth grade primary school idol challenges for cooking, the first volume release on December 16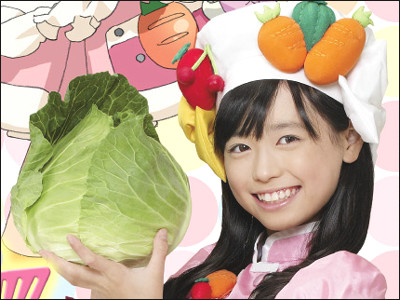 "NHK education broadcasted from March this year"Cooking idol eye! My! Mai!"Will be converted to DVD series.

NHK is "You can do it alone!"Taste it! Mimika"Traditionally we have been broadcasting cooking programs for elementary school students, and this work is the latest work. "I can do it alone!" Is live action, "Tasty! Mimika" was produced with animation, "Ai! My! Mai!" Is a fifth grade elementary student aiming for idle in an animation part · Mai Miyomi cooking I draw a state of struggling as a moderator of the program, and in the live-action part I play a role of animationHaruka FukuharaIt is a two part composition that actually challenges cooking.

DVD 1st volume is released on December 16th. The usual version of one disk set is 2940 yen (tax included), and the limited version of two disk sets is 4515 yen (including tax).

Details are as below.
KIDS WORLD - Program Shows: Cookin 'Idle Eye! My! Mai!

"Cookin Idol Eye! My! Mai!" Is a program made for children to enjoy while learning about "food", as a moderator of idol candidate fifth grader, Miyagi, who can sing and dance cooking programs It is a struggling entertainment success story. Broadcasting is from Monday to Friday from 17:40 to 17:50, Friday is a full compilation of the content that was broadcast on that week.

DVD is a set of regular versions, limited edition is two sets. A recipe sheet is enclosed as a bonus as a bonus version, and the first benefit is a ring holder for a recipe seat. Postcards are included in the limited edition in addition to the recipe sheet. The first award is also a ring holder for recipe sheets, and includes international animation fair PV footage, non-credit OP, dubbing interview footage, and dance rehearsal footage as bonus footage.

Jacket designAtsuko NakajimaI draw the original drawing of the illustration.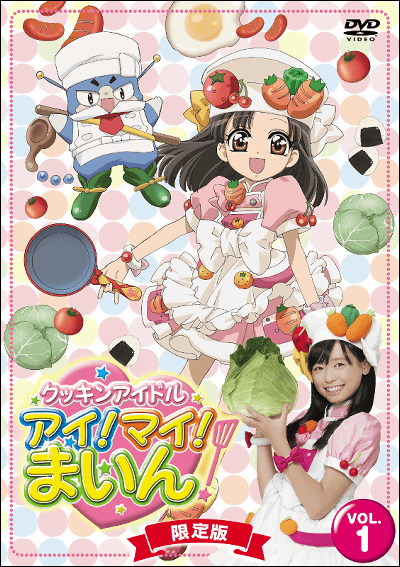 ◆ Cast
Mai:Haruka Fukuhara
Misanga:Akiko Kobayashi
Michiga:Ikeno Ikeno
Shin no Shin:Irieno Freedom
Yuusaku:Saki Tanaka
Yukina:Venus violet
Yuma:Iino actor
Mamako Mama:Sakuma Rei
Papa Osamu:Seki Seki
President Yuriah:Yoshiyama Chisa
Oobayashi Producer:Takashi Matsuyama
AD Kobayashi:Tomoyuki Toyonaga
DJ salt:Tell

◆ Staff
Director: Hiroshi Watanabe
Series composition: Taira seeing
Character design: Atsuko Nakajima
Color design: Masamoto Shinji
Art director: Takahashi Asaho
Dubbing sound director: Yuji Mitsuya
Acoustic director: Hamanokazzu
Music Production: King Records, Belly Gou
Music: Tomoki Hasegawa, Yukari Hashimoto
Live action composition: Toshiyuki Qingdao
Cookery supervisor: Etsuko Ichise
Animation Production Cooperation: Studio Dean
Animation part: NAS · NHK educational co-production
Production: NHK

© Cookin idol project
in Anime, Posted by logc_nt