Anime "Bakemonogatari" BD / DVD Volume 1, which was sold out on the day before launch, a situation where difficult acquisition is continued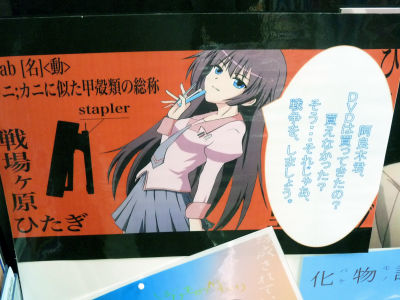 Nishio Ishinha's light novel was animated into "BakemonogatariBlu - ray Disc and DVD Volume 1 "Hitagi Club" was released on Wednesday, September 30. Broadcasting was broadcast in September and all 12 episodes of television broadcasting ended, but although there were parts that were seen as not being able to make the drawing in time due to the circumstances of some production schedule, the reputation is high overall, and this BD and DVD are also in advance Although it seemed that it might be able to sell considerably from the number of reservations of, how "There is a store sold out the day before the release"An unexpected situation occurred.

As a result, some people say that they could not buy because they did not book. On October 1st (Thursday) it was the second day of release and there were no shops to re-arrive yet, and in shops dealing with animated BD / DVD were notified of sold out which devised each idea.

Details are as below.
Blu-ray & amp; DVD "Bakemonogatari" Volume 1 / Hitagi Club - Nishio Ishin New Anime Project

Sold out in Nihonbashi Sofmap regardless of the full production limited edition version. Besides, the Blu - ray BOX of "DARKER THAN BLACK - black subscriber -" whose second phase starts in October seems to be getting popular as well.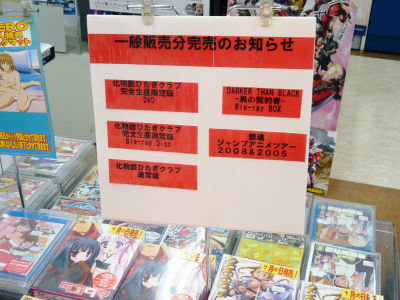 This is Tomoyo 's in Nihonbashi. Both BD and DVD are sold out.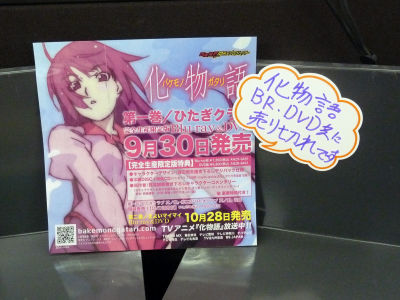 And Nihonbashi Gamers. It is becoming a story that 阿良 Arimple did not buy a DVD.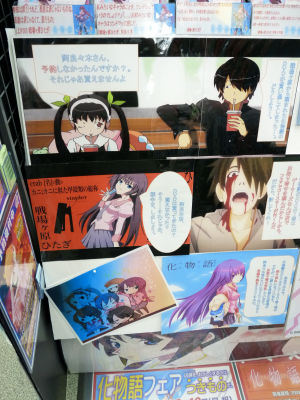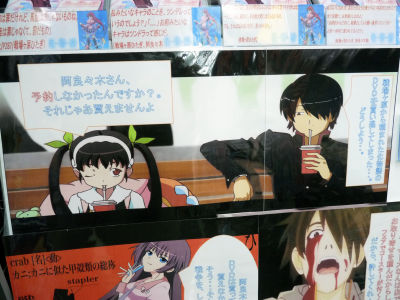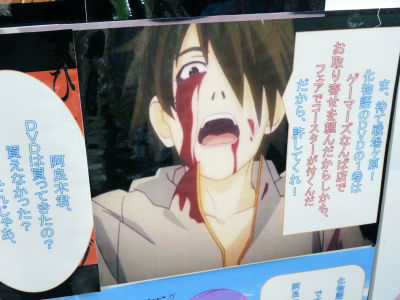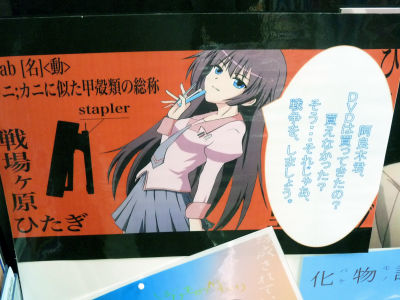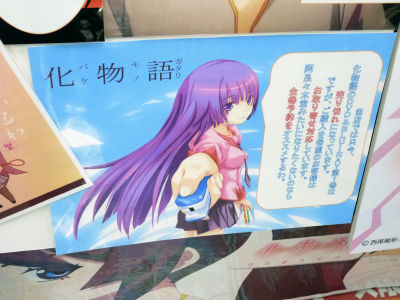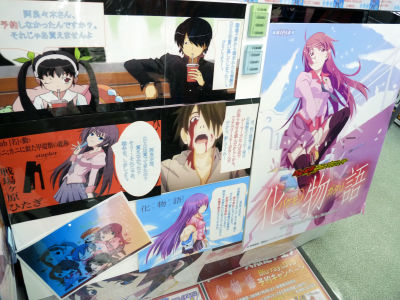 The situation of each store in Umeda was as follows.

Yodobashi: Both BD and DVD are completely sold out. "We plan to stock 10/3That thing.
Sofmap: Both BD and DVD are sold out "The timing of the stock is undecided". The second volume "Mai Yo Maimei" is also approaching the reservation limit number.
Toranoana: "BD sold out ceremony" and that there was no DVD already. There is no information on stock.
Gamers: If you thought that there were no letters such as stock in stock, there were 8 Blu - ray stocks left in the shop. It might be surviving because the location of the store is a little remote from the Osaka station 3rd building.

Postscript: As if to support popularity, "Tsubasa Cat" Internet distribution was flooded with access as well as distribution.

In delivering the last episode of the animated "Bakemonogatari" on the Internet Delivery On the day the scene is great