"Bakemonogatari" final talk "Tsubasa Cat ñ ノ ノ" Started free distribution on the net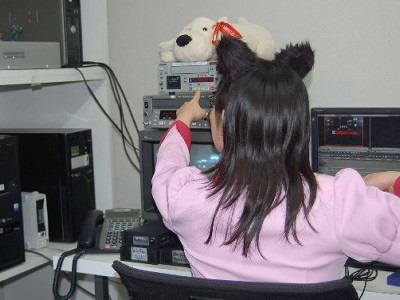 Animation that had been waiting for fans for a long time "Bakemonogatari"The final story of" Tsubasa Cat ñ ノ ヲ "was completed, free distribution on the net began.

In early June,Distribution of Sono (4) from Sono (1) was done with the condition that distribution of "Tsubasa Cat"There was a comment that Mr. Yu Ms. Aniplex, a public relations officer, will be completed soon, but it seems that we could start delivering before July.

Details are as below.
Eleventh episode "Tsubasa Cat ノ ノ 之" starts distribution! It is! Bakemonogatari - Nishio Ishinagi Animation Project

Twitter / Bakemonogatari: If someone who can borrow your power comes, it is a request of the diffusion RT at the end. Bakemonogatari final talk "Tsubasa Cat ñ ノ ノ", will start distribution from official HP from around today around 23:50! It is! It is!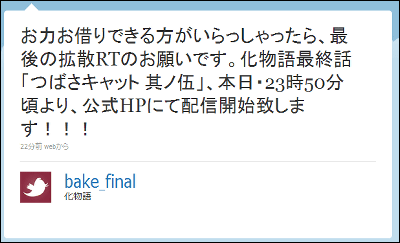 "Bakemonogatari" is a popular work, information flowing seems to be close, so people are rushing and even notice can not be updated, so this time the information was released using Twitter. It was around 18 o'clock on the 25 th of the day that it was disclosed on the 25 th of June that the distribution was actually started around 23:50. Along with this, the distribution of "Tsubasa Cat" Æ ノ 1 - 肆 肆 is finished.

"Tsubasa Cat" is also the final episode of television broadcasting, but on television only one of them, Sonono was broadcasted, it was decided from the beginning that the net will be delivered after Son ginseng .

In addition, although the main volume distribution has already started, it seems that it is hard to connect a bit to the fact that people are flooded with the video distribution server.
Body version distribution | Bakemonogatari - Nishio Ishin New animation project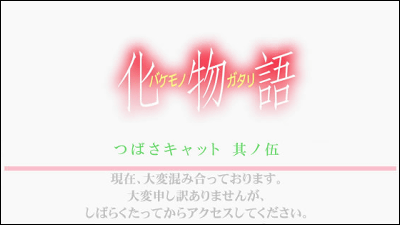 In this case, the final volume of BD & DVD is going to be released on Wednesday, July 28 as planned.
in Anime, Posted by logc_nt