Low-priced desktop "Aspire Revo" realizing high graphic performance falls below 20,000 yen abroad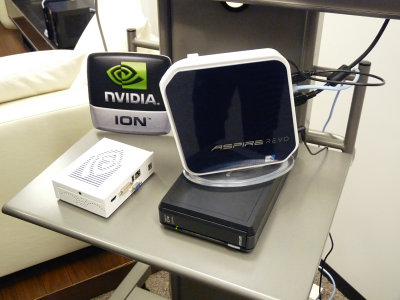 It became clear that Acer's low-priced desktop PC "Aspire Revo" is sold at overseas price of 20,000 yen.

By adopting NVIDIA's "ION platform" for the first time in the world, even though it is inexpensive, it supports video editing and 3D games,Realized high graphic performanceAlthough it is an epoch-making model, will it be sold at a similar price in Japan as well?

Details are as below.
Newegg.com - Acer AspireRevo AR 1600 - U 910 H Intel Atom 230 (1.6 GHz) 1 GB DDR 2 160 GB NVIDIA ION LE graphics Windows XP Home - Desktop PCs

According to the overseas mail order site "Newegg.com", the model currently equipped with 1 GB memory of Acer's low-priced desktop "Aspire Revo" is sold for 199.99 dollars (about 17,800 yen).

"Aspire Revo" is a model with Intel's Atom 230 processor (1.6 GHz), 160 GB HDD, multi card slot, HDMI port, wireless LAN compatible with IEEE 802.11 b / g / Draft-N, wired LAN And the power consumption is 65 watts which is much lower than the usual desktop computer.

By the way it is the cheapest price in Japan, but as of September 28 16:00, the model with the 2 GB memory is sold at the "NTT - X Store" at 29,800 yen (from 30,560 yen to 2760 yen Discount) has been done.

AspireRevo ASR 3600 - A 34 ASR 3600 - A 34 Acer NTT - X Store

Acer's popular netbook in JapanRefresh model of "Aspire One" was released in the early 20 thousand yen rangeConsidering that, it may be impossible to say that there is no possibility of falling to similar prices.