In a situation where it is difficult for the major SNS "mixi" to access due to malfunction, the current restoration work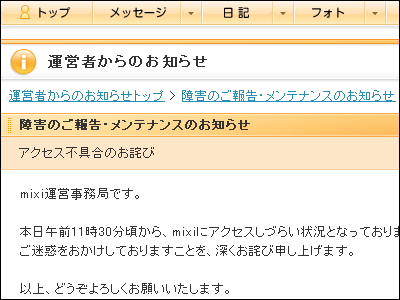 A major social networking service "mixi" became obvious that it is hard to access as of 0:50 pm on September 2.

It is currently undergoing restoration work, and it is expected that it will take some time.

※ 13: added to 35

Details are as below.
[Mixi] Notice from operator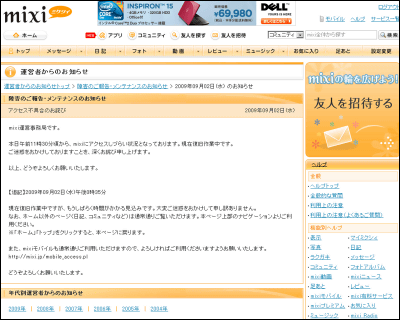 According to the mixi official page, it seems that the situation is hard to access mixi since around 11:30 am on September 2nd. It is said that it is currently being restored, and when it tries to access "home" or "top" it is transferred to the notice page.

And according to the postscript made at 0:35 pm, the restoration said "It will take some time to complete." By the way, since non-home pages (diaries, communities, etc.) can be browsed normally, they are guided to access from the navigation at the top of the page.

Since releasing the "mixi application" on August 24, 2009, there were intermittent situations in which it was difficult to access the mixi application, but is there any relationship with this problem? The next report is awaited.

· 13:35 postscript
An additional notice was made at 1:34 pm and it was announced that it was able to display normally.