Long-established blog ranking site "Nihon blog village" can not log in · point / new arrivals / images are not reflected in large scale disasters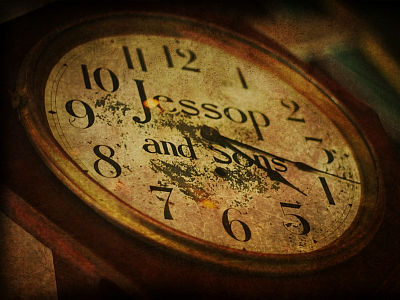 Famous for online shoppingMurauchi.comPopular blog ranking and blog search site operated since 2004 "Nihongo blog village"From January 30th to the present large-scale obstacles continue to occur,"We are experiencing intermittent troubles with heavy faults on the site. Currently, Nihon blog village technical team is adjusting. (Login, new registration, registration change can not be done Points, new arrivals, images are not reflected etc.)We are sorry to you.

Details of how it was done are as follows.
Nihongo blog village - Popularity blog ranking and blog search
http://www.blogmura.com/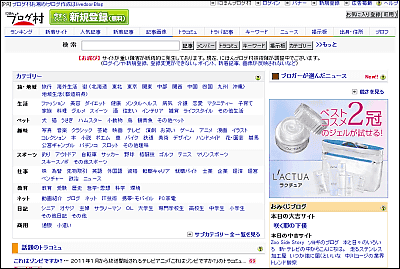 Firstly from the contents of obstacles. Notifications are continually posted on the following pages.

My page and other disability-related information - Nihon blog village support
http://help.blogmura.com/announce/trouble/mh110130.html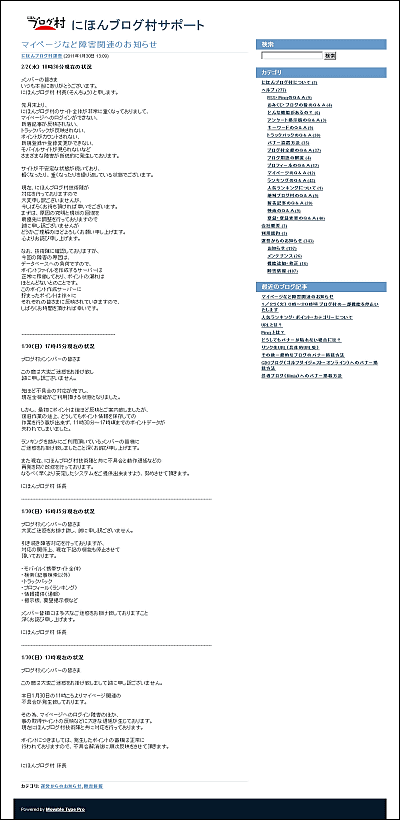 The first report is about 13 o'clock on January 30.


1/30 (Sunday) at 13 o Current situation

Blog village Members

I am sorry really for this trouble being multiplied very much.

Today from around 11 o'clock on January 30, my page related
Fault has occurred.

For that reason, in addition to a login failure to My Page,
There is a big delay in getting things and reflecting intro.
Currently I am dealing with blog village technical team.

Regarding points, accumulation of generated points is normal
Since it is done, it will be reflected sequentially after troubleshooting.


General Manager of Blog village
The second report is also January 30, around 16:45. At this point various functions are stopped.


1/30 (Sunday) 16:45 Current situation

Blog village Members
I am sorry very much for inconveniencing inconvenience very much.

We continue to handle problems,
Because of correspondence, we currently stop the following functions
We have received.

· Mobile (mobile site as a whole)
· Search (except for article search)
· Track back
· Profile (ranking)
· Information provision (report)
· Bulletin board, request bulletin board etc

Things that we are inconveniencing inconvenience to everyone
Deeply apologize.

General Manager of Blog village
The 3 rd report is reported that the point data was lost after 1 hour.


1/30 (Sunday) 17:45 Current situation

Blog village Members

We are sorry for the inconvenience this time.
I am sorry.

Correspondence of trouble was completed,
All functions are now available for use.

However, although we first announced that points will be reflected later,
In the process of restoration work, it is absolutely necessary to save point information
I can not do the work, point data from 11:30 to around 17 o'clock
I was lost.

To everyone who is using it to encourage ranking
We sincerely apologize for the inconvenience.

Currently, I am having problems with the blog village engineering team
We are carrying out renovation to prevent recurrence.
We will strive to provide a more stable system as soon as possible.

General Manager of Blog village
From there, the obstacle continues to occur on January 31, February 1, and finally the fourth report arrives at 10:30 on February 2.


2/2 (Wed) 10:30 current situation

Members
Thank you always so much.
I am Japanese municipal village mayor (Japanese citizen).

From the end of last month,
The whole site of Nihon blog village is very heavy,
I can not log in to My Page,
New arrival articles are not reflected,
Trackback is not reflected,
Points are not counted,
New registration and registration change can not be done,
I can not see the mobile site etc.
Various obstacles occur intermittently.

The site is in an unstable state,
It is in a state that it becomes light and heavy.

Currently, Nihon blog village technical team
Since we have made correspondence
I am very sorry,
Hopefully we can wait for a while.
First of all, investigate the cause and restore the current situation
We are making adjustments to top priority
I am sorry indeed
I appreciate your understanding.
I sincerely apologize from my heart.

In addition, we have confirmed with the technical team,
The cause of the failure this time,
Because it is a load to the database,
The server that creates the point file
It is operating normally, and leakage of points is
There is almost no.
To this point creation server
The accumulated points gradually
Because it will be reflected in each of you,
I am pleased if you can receive your time for a while.
According to the story from the reader, the shocking writing that the temporary closing is being considered also in the member request bulletin board of Nihon blog village is carried out from the management side on February 2 at 11:22 am.

Too many obstacles - Japan Blog village member request bulletin board

I'm sorry to apologize for the inconvenience.
I am Japanese general manager of the blog village.

We will continue to inconvenience the members
We apologize deeply that we are hanging on you.

Currently handling My page related databases
There are defects and various updates such as acquiring points and articles
It is the current situation that a large delay continues.

Incidentally, all articles updates and points etc are the same database
It manages, it is more than a malfunction of multiple functions than a database
It is the present condition that it is a trouble.

To respond to situations that are likely to be delayed recently, it has become too large
I was planning a drastic repair such as division of the database
As a trouble, so that we can do renovation as soon as possible after recovery from the present situation
I will make an effort.

Regarding the site, regarding the current situation, it remains open
I am continuing the work, but I would like to take temporary closure into consideration
I know.

What we are multiplying and causing you trouble
Deeply apologize.
In addition, the official member request bulletin board is as follows, "Once again the obstacle has come out" "If there is not enough information on the obstacle ..." "Recently, the problem has continued" "" A little problem is too long " "The same reply is not needed anymore." "When is the point recovery?" "There are too many obstacles" "Should the site stop!" "The points do not appear to reflect?" Questions are rushing and it is supposed to be a big challenge.

Nihongo blog village member request bulletin board