A notebook cooling table "X-Wing" that can automatically adjust the fan speed by temperature, how much will it actually cool?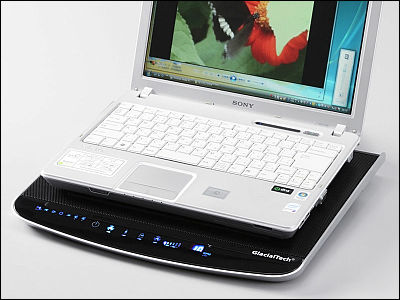 This notebook PC cooling table "X - Wing" is equipped with a digital monitor that can constantly monitor the fan speed and temperature, the fan speed can be adjusted in six stages, and the fan can be adjusted according to the temperature by the auto mode It is also possible to change the number of revolutions automatically, two USB ports of the personal computer body are used as a power source, the Windows media player can be operated from the touch panel part, a USB 2.0 hub is also equipped with three ports, a laptop computer There is also a rubber for two-step height adjustment function which can select the angle and a non-slip rubber for anti-slip / scratch prevention.

So, detailed specifications and prices, as well as the benchmark results on how much they actually cool down from the following.
Multi-function note cooler pad (with fan controller function) 400-CLN009 【Sanwa Supply direct-managed shop · Sanwa Direct】

The body looks like this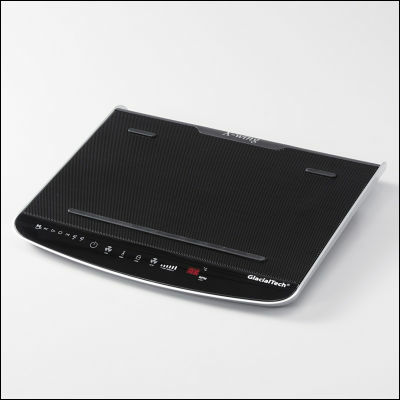 How to connect the Mini USB port on the right to the laptop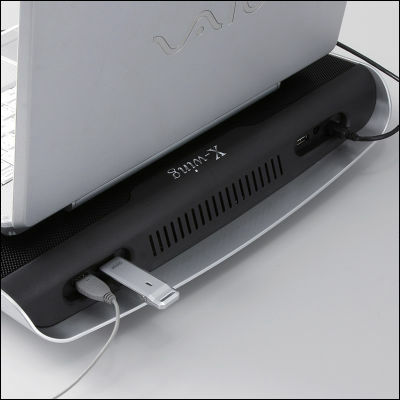 The explanation of each part is like this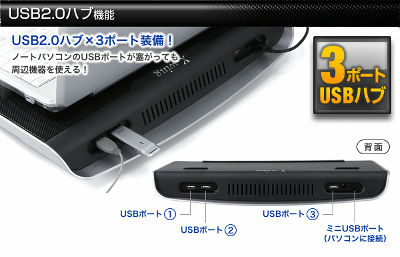 Back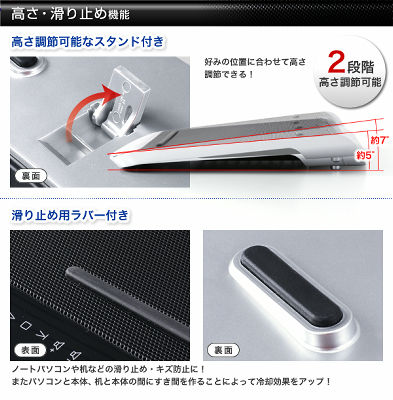 In such a way sucks in air from the back or back, and the wind hits the back of the laptop.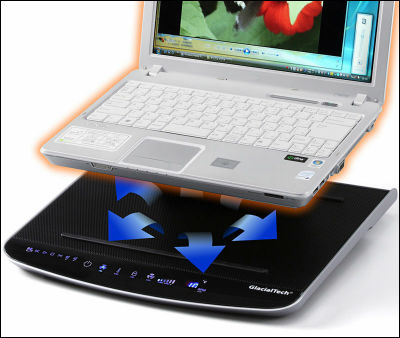 Various operations are possible from here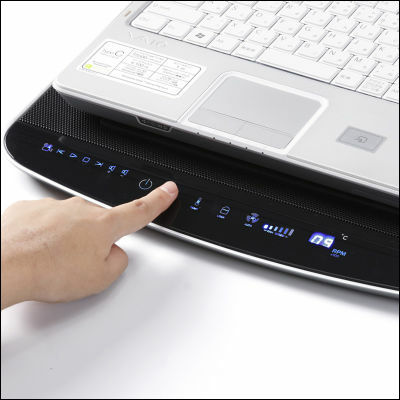 It is like this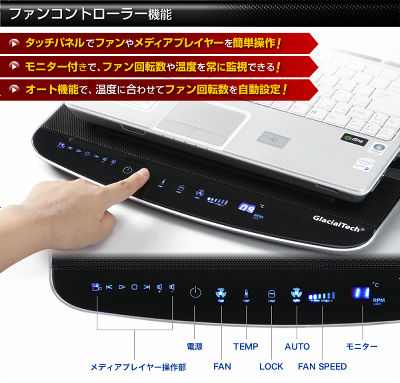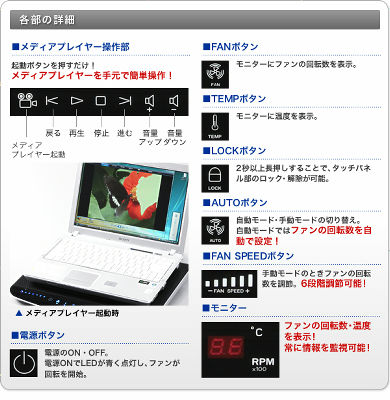 ·price
Tax included 7980 yen

·specification
Operating voltage: 5 V (via notebook PC USB)
Bearing Type: Entering Bearing
Noise level: 15 to 20.5 dBA (± 10%)
Fan rotation speed: 1000 to 1600 rpm (6 stages system)
USB port: USB 2.0 / 1.1 × 3 (maximum 300 mA)
Size: W380 × D350 × H50 mm
Weight: Approx 1200 g
Fan size: 70 × 70 × 15 mm (balloon type)
Fan life: 40,000 hours
Accessories: USB cable (2 fork type), special soft case
Producing countries: China

The whole atmosphere is like this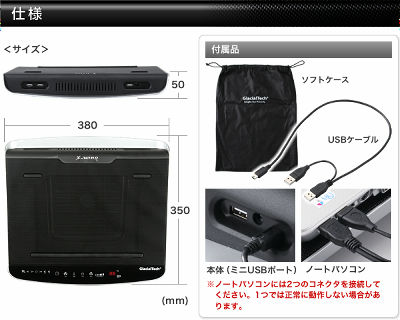 By the way, this product, exactly as "X - WING R1", the following will be the product introduction site of the manufacturer.

X-WING R1 - Global glacialtech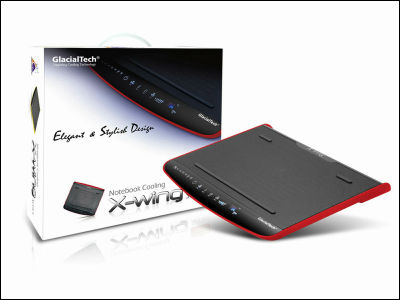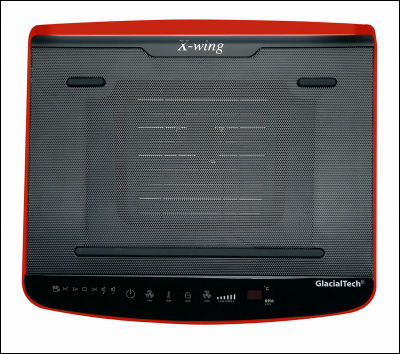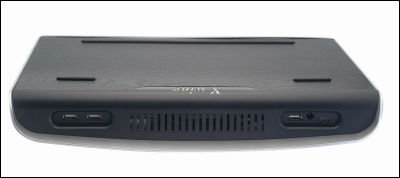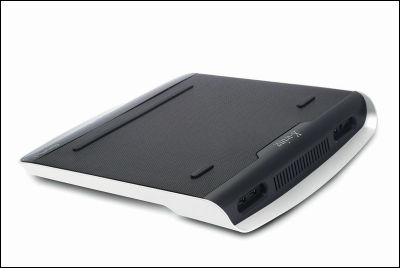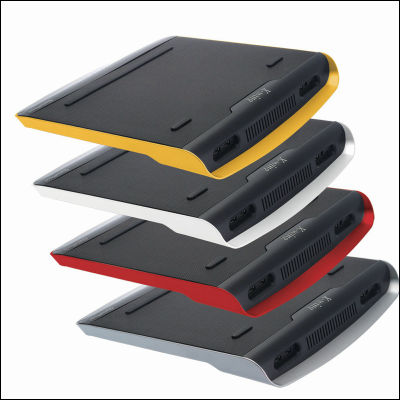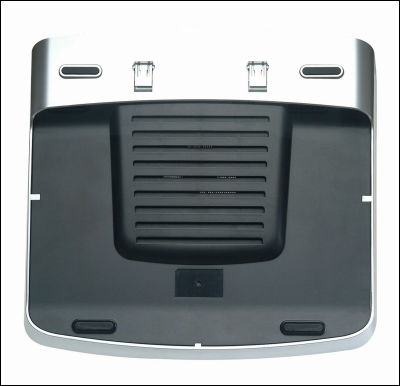 In Sanwa Direct, there is only black color, but as you can see, there are 4 kinds of colors, there is no automatic temperature control function and media player function, instead of fixing the fan rotation speed to 1600 rpm Weight decreased from 1.2 kg to 1 kg "X-WING R2There are also things called, you can purchase at the following site.

The cooling pad "X-wing" of the laptop computer has an effect of -14 ° C. on average, quiet and high performance, with USB power supply, but with 3 ports USB-HUB. Specialized store that can consult for SE · engineer.

Amazon.co.jp: X-WING - Home Appliance & amp; Camera: Home Appliances / Camera

The point is how much it actually cools down, but since we have already reviewed reviews overseas, let's see.

GlacialTech X-Wing Notebook Cooling Pad Review - ThinkComputers.org

"Dell XPS M1210Software that tests CPU and memory on "Prime 95As a result of using ", it seems to be as follows.



Because it has little effect (only goes down once), evaluation of 5 out of 10 points. However, the following site has a high rating of 4.5 points out of 5 points.

GlacialTech X - Wing R1 Review - Hardware Bistro

This time "Dell Inspiron E 1720" same as before "Prime95" and 3D benchmark software "3D Mark 06As a result of testing under an environment of 27 degrees Celsius using the graph, the following graph results are obtained. It is when the CPU is "Prime95" and the GPU is "3DMark06".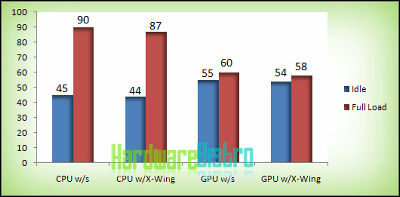 The CPU is in idle state, 45 degrees to 44 degrees, 90 degrees to 87 degrees in CPU full power usage state. The GPU is in idle state, 55 degrees is 54 degrees, and 60 degrees is reduced to 58 degrees in full GPU usage state.

In short, it seems that there is an effect of lowering about 1 degree to 3 degrees, so the effect is that the aluminum cooling table "Suko tongue.It seems like a level slightly above.