Is Capcom's latest work "Sengoku BASARA 3" compatible game machine decided, "Monster Hunter 3" overseas expansion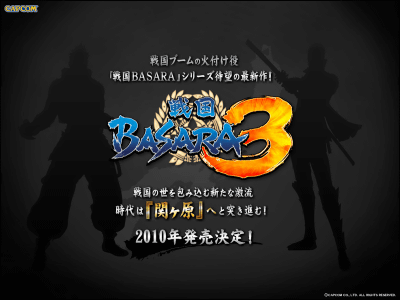 Popular action game from Capcom in early July"Sengoku BASARA 3" was released as the latest work of "Sengoku BASARA" seriesFinally, the corresponding game machine was revealed.

It is the same series that is popular among women, but what game machines are released for? Also, the popular series latest work "Monster Hunter 3It is touched on overseas expansion of ".

I added it to ※ 15: 00

Details are as below.
Capcom, Nintendo Relationship strengthened "Wii" Popular Soft Digital Home Appliances & Entertainment - Latest News: IT-PLUS

According to the Nihon Keizai Shimbun news report, Capcom seems to strengthen the relationship with Nintendo by developing and selling main game software.

First of all, in addition to developing a new work of "Sengoku BASARA" that is popular among women for Nintendo's stationary game machine "Wii", he also said he will cooperate in overseas sales of the popular game "Monster Hunter 3". It is said that this aims at the synergistic effect of Wii and software sales which cumulative sales volume in the world reached approximately 52 million units.

The latest work for PSP "Monster Hunter Portable 2nd G" recorded more than 3.5 million hits, such as "Monster Hunter 3" that appeared for the Wii as the latest work for the highly popular Monster Hunter series deferredThe number of sales in the first week of sales reached 527,742Although it is Capcom, by actively developing it for Wii in the future,There is also a voice saying "Third-party software can not be sold"Can we bring a boom to the Wii software market? It is a place to worry because it is the company that is actively sending attractive works.

· 15:00 postscript
A comment denying the above report from Capcom was announced. As for the information of the product, it is scheduled to announce as soon as it is finalized.


Today, for some press organizations, our articles were published, but the content in this press release is not what we announced.
Regarding information on products, we plan to announce it as soon as it is confirmed.