Nintendo's Wii topped 50 million units sold, the pace of popularity overwhelmed PS 3 and Xbox 360, making it the fastest ever in history


It was revealed that the world cumulative sales volume of Nintendo's next generation game machine "Wii" will exceed 50 million units this month.

This is a momentum that exceeds Sony's PS2 which sold more than 100 million units, and when I compared it with competing Sony's next generation "PS 3" and Microsoft's "Xbox 360", it is unexpected momentum It has become.

Details are as below.
Nintendo's "Wii" to cumulative sales of 50 million units worldwide Digital consumer electronics & entertainment in March also latest news: IT-PLUS

According to the Nihon Keizai Shimbun news report, the cumulative worldwide sales of Nintendo's Wii are expected to exceed 50 million units in the middle of March.

The sensory software such as "Wii Fit" and "Wii sports" to move the body while watching TV is getting popular, spreading customer base even for women and the elderly is seen as spurring popularization, Sony's It is more than three years that PS2 shipped 50 million units, it will be achieved in about 2 years and 4 months from sale.

Also, compare the sales volume of game machines etc.VGchartz, Nintendo's Wii now is about 50 million units, Sony's PS 3 is about 22 million units, and Microsoft's Xbox 360 is about 30 million units.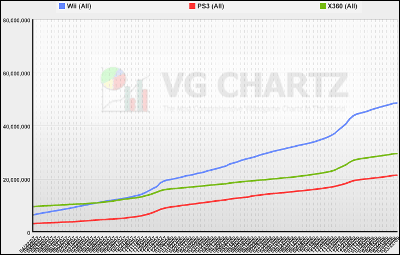 By the way, as each hardware release date is different, we can see that Wii is selling at more than twice the pace of PS 3, Xbox 360 as compared with the number of units sold per day. It is exactly overwhelming ....

Wii (released on November 19, 2006):Approximately 58,400 units
PS 3 (released on November 11, 2006):Approximately 25,500 units
Xbox 360 (released November 22, 2005):Approximately 24,600 units