"Beef Bowl King" with meat that is six times as much as usual, "Small size" Petit Beef Bowl ", etc Including other Sukiya Beef Bowl series Eat all 8 sizes and compared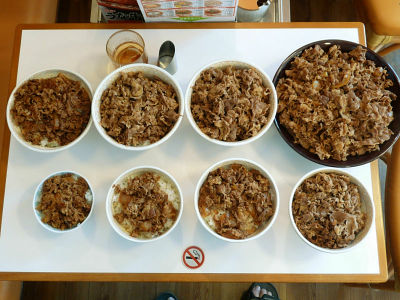 A new product that will be twice the size of mega "Kingfisher King King"(990 yen including tax) and a small bowl of rice bowl for a rice bowl"Petit bowl"(Tax included 150 yen) are new releases from today, so I went to eat quickly.

With this, it is said that Petit · Mini · Nimori · 1.5 meats · meat, speror · syrup · mega · king and so on, the beef bowl of the Sukiya will be 8 sizes in this, so they can also compare the sizes of each I ordered it.

Details are as below.

2009/08/12 12: 10, the summary of the total 8 sizes and calories is added to the last
Twice the mega! Sukiya 's Beef Bowl King appeared

That's why I came to Sukiya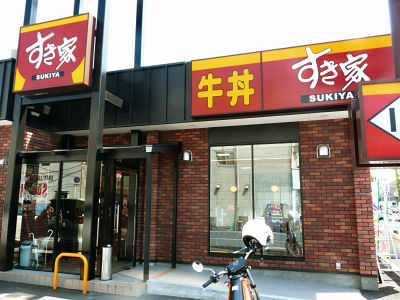 This is Beef Bowl King, 990 yen. The vessel is like a ramen 's belongings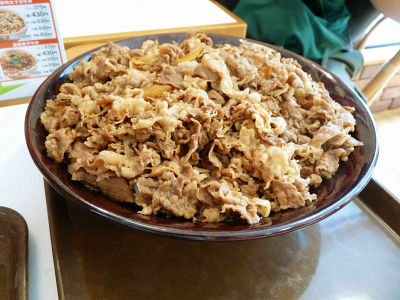 Meat plenty. When I asked Sukiya, the calorie was 2248 kcal.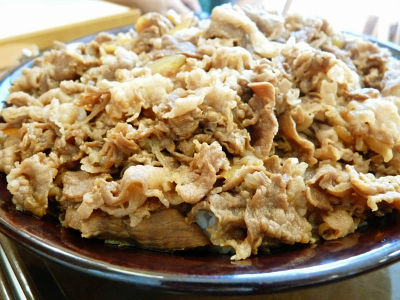 I do not know well that this is just a feeling of oversizing as it is not a usual beef bowl



This is petit, 150 yen. When I asked this house that I also like, the calorie is 238 kcal.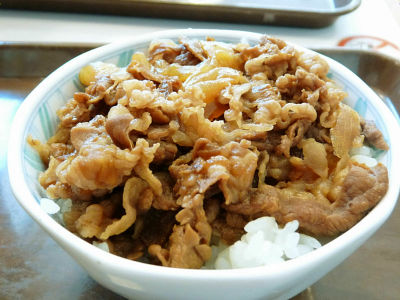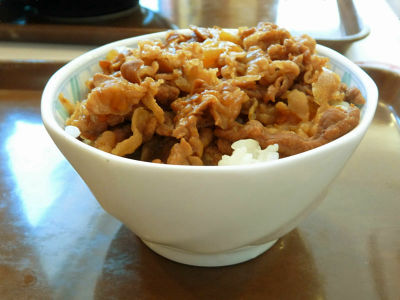 King and petit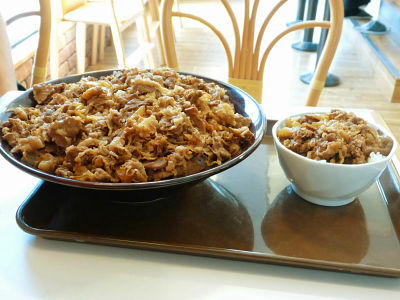 This is a mini, 270 yen. 493 kcal.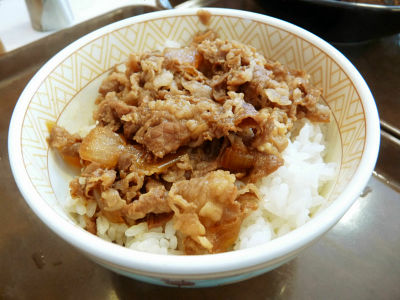 King and mini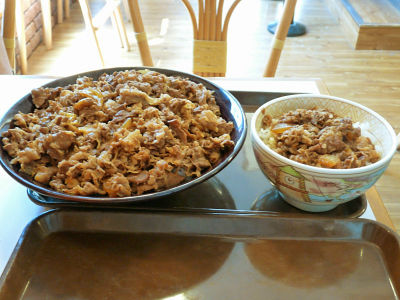 Akimori, 330 yen. 634 kcal.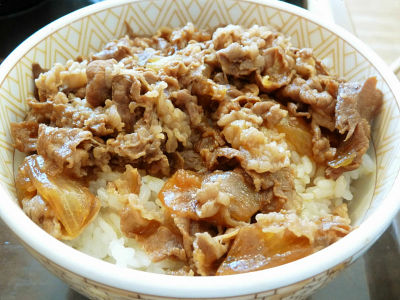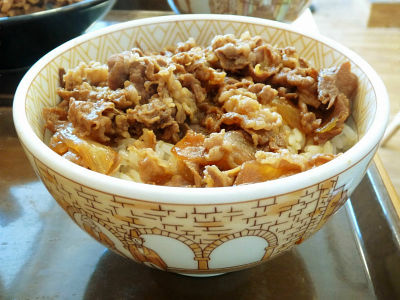 King and Parallel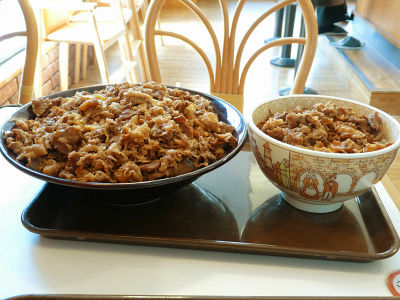 1.5 meat of meat, 430 yen. 642 kcal.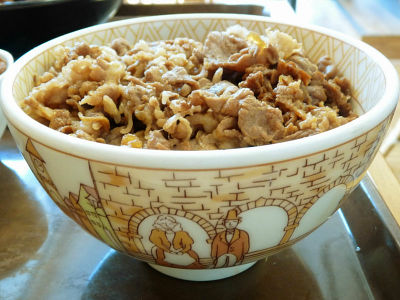 King and meat 1.5 squares. Because meal is mini and meat is 1.5 times, it may be strong sense of money.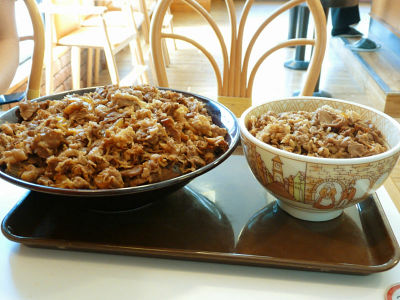 Dai Sheng, 430 yen. 817 kcal.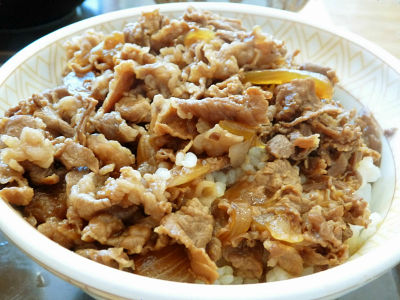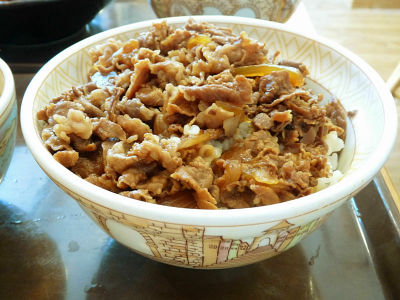 King and Omori



Kunimori, 530 yen. 944 kcal.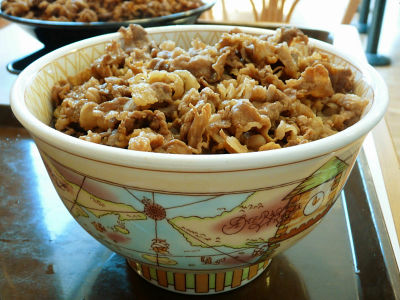 King and special reason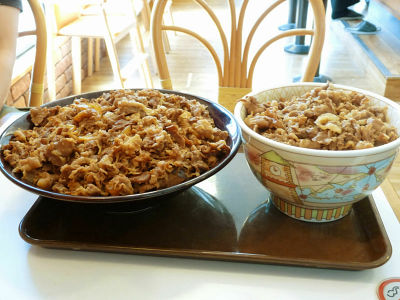 Mega, 660 yen. 1124 kcal.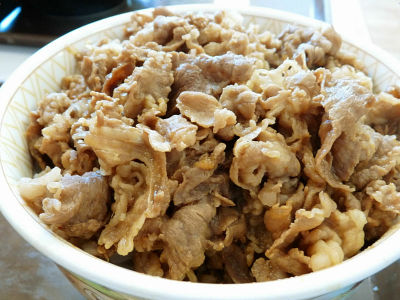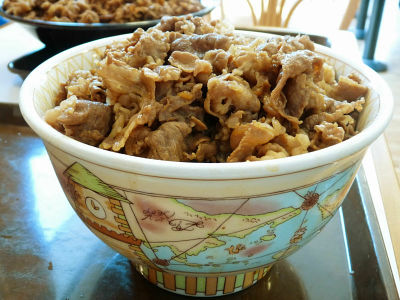 King and mega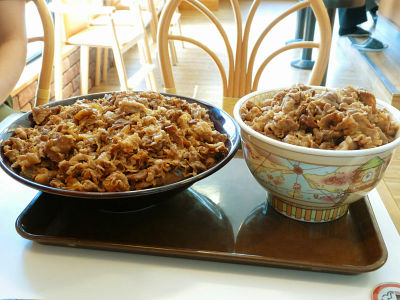 I put it side by side.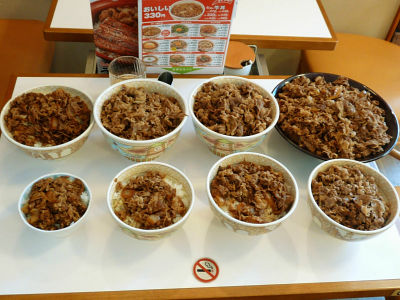 You can see it obliquely from this way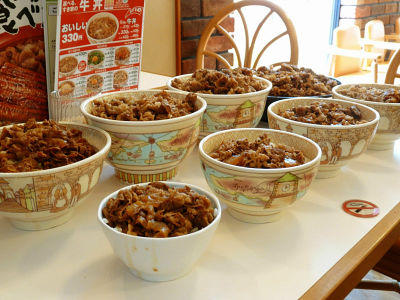 Like this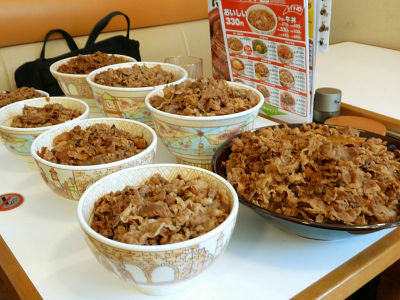 When the King comes in front it is a masterpiece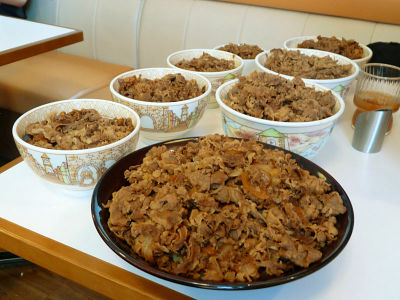 I saw it from directly above. It should be a large size, in order from the top left, maybe.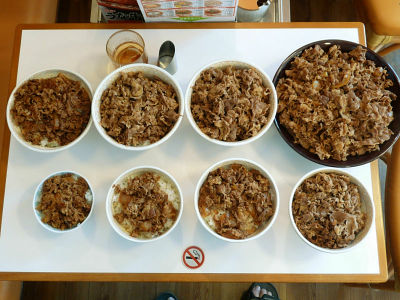 Let's have a King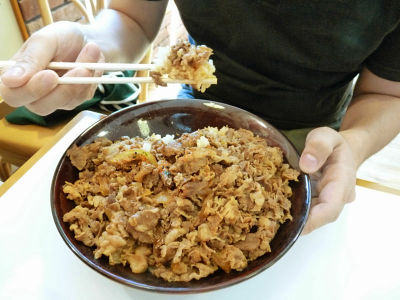 I tried eating about one fifth of the whole. There are lots of meat, there are a lot of meat anyway. So, it is suitable for people who love meat.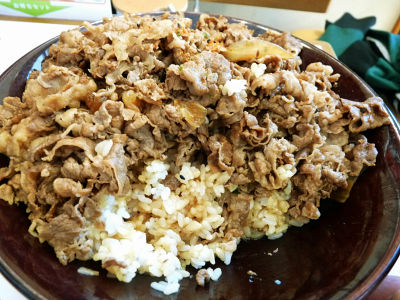 Here is a petit. It is good that there are a lot of meat for the looks.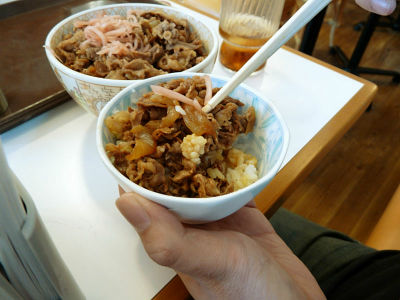 I tried half of one King.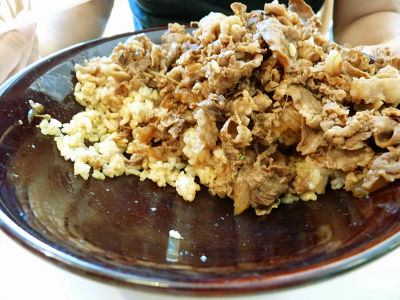 And a complete meal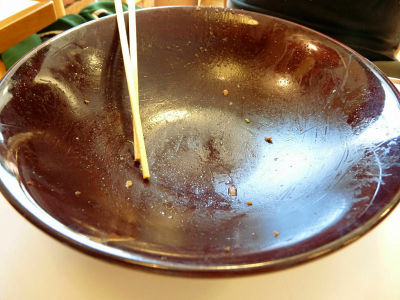 By the way, according to the menu table, each relationship is like this. Petit and King were not listed yet.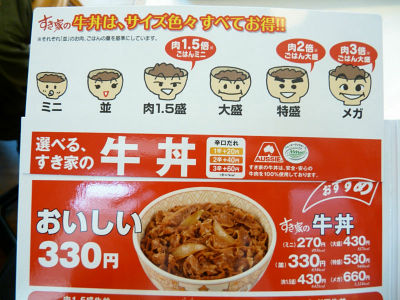 I arranged the vessels side by side.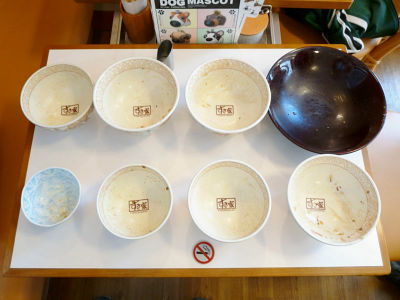 If you look closely you can see that the mega is slightly taller than the special bulk.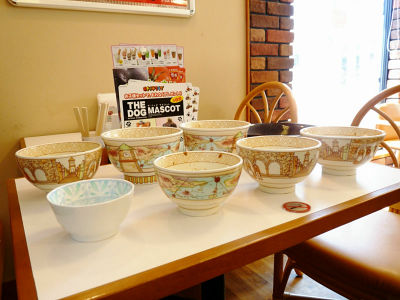 Thank you for the meal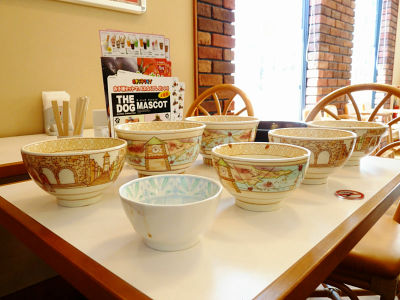 If you order one price for all 8 sizes, the total will be 3790 yen.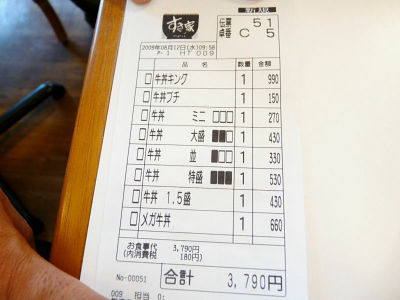 In summary it will be like this, please refer.

King: 990 yen (2248 kcal)
Mega: 660 yen (1124 kcal)
Kunimori: 530 yen (944 kcal)
Tai Sheng: 430 yen (817 kcal)
1.5 meats of meat: 430 yen (642 kcal)
Kazumori: 330 yen (634 kcal)
Mini: 270 yen (493 kcal)
Petit: 150 yen (238 kcal)