Rechargeable mobile router "Cutio" that can use e-Mobile on wireless LAN appears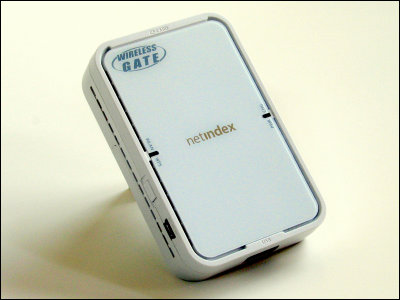 Last OctoberA router that will allow e-Mobile's line to be used on wireless LAN has been releasedAlthough we reported, we built a rechargeable battery in the router itself, a new mobile router that will allow you to use e-Mobile's line with wireless LAN anytime, anywhere, has emerged.

This seems to make it possible to use wireless LAN compatible equipment such as PSP, Nintendo DS, iPod touch even when there is no public wireless LAN spot.

Details are as below.
Began selling rechargeable and portable router "Kutio for Wireless Gate"

According to this release, in partnership with Yodobashi CameraTriplet gate that offers public wireless LAN service "WirelessGate (wireless gate)" of 380 yen / month which is the lowest price in the industryIt seems to release a mobile router "Kutio for Wireless Gate" which built a rechargeable battery in all Yodobashi camera shops from July 17th.

The concerned price is 19,800 yen and the weight is about 130 grams and the corresponding data communication card is D - 1 HW, D 02 HW, D 12 HW, D 21 HW, D 22 HW, D 23 HW, D 11 LC, D 12 LC, D 21 LC, D 01 NX , D01NX II and things.

Also, at the beginning of the service, only e-Mobile's data communication card is compatible, but it is planned to expand corresponding data communication cards in the future including other mobile phone carriers.

It is a place to worry about battery-driven time, but it may be good to be able to connect multiple PCs simultaneously for one line at the destination.