"We don't want to die": a sluggish Wii game manufacturer lames on their blog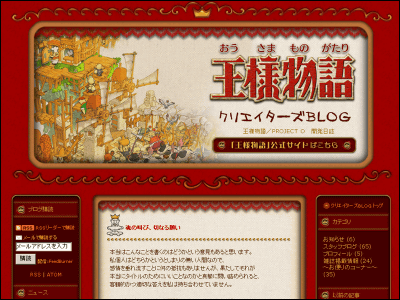 It became clear that a nameless staff of a game maker worrying about the sluggish sales of their Wii software is performing a sad petition on their official blog. The pathetic "We don't want to die..." sentence tells the seriousness of the situation.

Read on for detail.

A shout of a soul, an ardent wish - King's Chronicle/PROJECT O Creators' BLOG(Archive)

In the post titled "An ardent wish" on the official blog of Marvelous Entertainment's new Wii game "King's Chronicle", the staff is seriously pleading us to buy their product.

Marvelous Entertainment is known for cheap-but-good games like "No More Heroes"
,"Farmland Stories: Waku Waku Animal March", "Lune Factory Frontier", "Oboro Muramasa(lit. Mystic Muramasa)", "Arcrise Fantasia" et cetera. They are also famous for game adaption of animes, comics, and novels, such as Reborn!, Golgo 13, To Loveru, Pretty Cure, and so on. So why are their games becoming unmarketable? From their blog,


Probably this just shows us where we stand.
We know that the game market is shrinking, but there still are products which sell.
We did our best, but maybe it wasn't enough.
He promised to keep their game impressive and exciting as long as their company survives in the industry, but on the same entry, he types the sorrowful note which tells "We don't want to die..."

For their latest "King's Chronicle" they tell customers to reserve a copy, for the shops won't even stock up the game without reservation.

There is a rising issue that Nintendo has half the market share of Wii software, which is too much. There are few company with acceptable sales. Although Nintendo has sold 8 million consoles, the market's latest "Arcrise Fantasia" sells only 25,914 copies while "Wii Fit" of 2007 still sells 9,258 copies. Nintendo seems unrivaled in Wii software market, but is it a good thing?

(JP)This week's Ranking | Mediacreate



Related Post:
"Dragon Warrior IX" to be postponed due to the serious bug on software - GIGAZINE

NintendoDS, everywhere: Nintendo develops DS-aided education system - GIGAZINE

Return of tabletop RPG? "Sword World RPG" coming to Nintendo DS in gamebook style - GIGAZINE