EMOBILE raises the communication speed to 3 times at a stretch and is proceeding to the next generation PHS "XGP" and WiMAX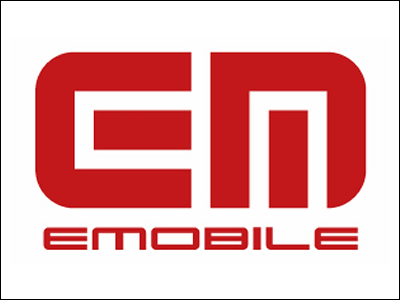 It was revealed that EMOBILE, a cellular phone company that is mainly engaged in data communication services, will raise the communication speed to 3 times the current speed at once.

UQ WiMAX provides "WiMAX"And WILLCOM 's next - generation PHS"XGP"Next-generation high-speed communication service such as" e-Mobile "seems to compete by raising the communication speed all at once.

* Added to 12: 27

Details are as below.
Mobile phone line data reception reception speed 3 times e-Mobile Mobile - latest news: IT-PLUS

According to the Nihon Keizai Shimbun news report, eMobile says it will raise the speed of communication service to about three times the current speed from early August.

This is realized by introducing the communication standard "HSPA +" for the first time in Japan, which is an application of the current third generation mobile phone (3G) to improve the radio modulation method etc, It will be raised from 7.2 Mbps maximum to 21 Mbps maximum.

"HSPA +" is a next-generation high-speed communication standard with a downlink maximum of 100 Mbps for which cellular phone companies are planning to migrate "LTE (Long Term Evolution)According to the following link, NTT DoCoMo, which will introduce LTE in 2010, softbank mobile will increase the cost of terminals 2010 We intend to introduce "HSPA +" in the year.

【WIRELESS JAPAN 08】 "SOFTBANK's 3.9 G is HSPA +, LTE cost high", Matsumoto Toruzo Vice President: ITpro

・12:27追記
Formal announcement was made from e · mobile. A new price plan was introduced to provide new services, a "two-stage flat-rate" superlight data plan 21 "and a fully flat-rate" data plan 21 "are newly established, and areas and terminals will be announced later Thing.

First generation in Japan, introducing HSPA + for the first time in Japan Receive up to 21 Mbps data communication service from the beginning of August - Available from 580 yen per month with the lowest plan - | e-Mobile Co., Ltd.