Japanese RPG is not popular? Square Enix's "Last Remnant" suddenly got half price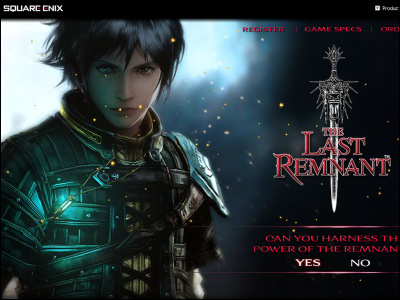 Square Enix's new RPG released on November 20 "Last RemnantAlthough it was released in less than two weeks, it became clear that it was sold at half price in the United States.

It is the same work that Xbox 360 version was released earlier as RPG for SQUARE ENIX's next generation game machine, apparently it seems that evaluation overseas is not very good.

※ It was added at 11:10 on December 3

Details are as follows.
Amazon.com: The Last Remnant: Video Games

According to Amazon.com of the United States, as of 3 December 2 at 3:00, the Xbox 360 version of "Last Remnant" is sold for 29.95 dollars (about 2850 yen) which is half the price of the regular price of 59.99 dollars (about 5700 yen). Also on the review siteEvaluated to 5.3 with 10 full marksIt seems that overseas is forced to struggle.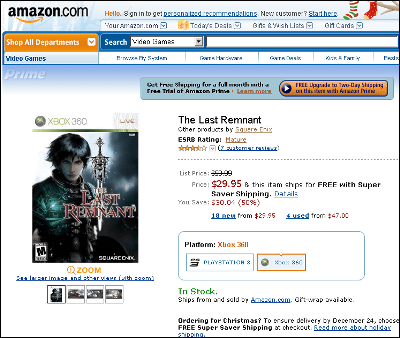 In Japan,We will sell over 100,000 copies in the first week of releaseIn addition to showing strong sales, from Amazon.co.jp from fixed price 8190 yenOnly about 20% discountedThere seems to be a large gap between the overseas market and the Japanese market, considering that it is the opposite situation to foreign countries.

· December 3rd 11:10 postscript
As of December 3rd at 11:10, Amazon.com has been updated, and the selling price is 5 dollars, 56.99 dollars (about 5,300 yen). I do not know whether I had temporarily dropped a large price cut temporarily to reduce inventory, or was an oversized sale for the holiday season, or both, but it is very unusual for the half price to be released early Is not it?