The penetration speed is overwhelming, finally the number of Blu-ray recorder sales exceed the DVD recorder for the first time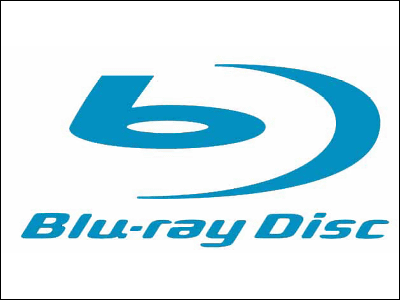 Blu - ray won the seat of next - generation DVD in March of this year, but finally it seems that the number of Blu - ray recorders sold exceeded the sales of DVD record for the first time for the first time.

And it is said that the speed of penetration greatly exceeds the speed of transition from VHS to DVD recorder.

Details are as follows.
(PDF file)Blu-ray recorder sales trends Quantity composition ratio of DVD recorder for the first time exceeded 50%

According to the GFK marketing service Japan which is investigating sales trends in retail stores of consumer electronics retailers, among the recorders using optical disc such as DVD and Blu-ray, the volume composition ratio of Blu-ray recorder is 1st November It seems that it has exceeded 50% for the first time in the week.

This is due to the fact that Panasonic, Sony and Sharp introduced a new model with improved functions from September to November 2008 and that a model with an average price of 80,000 yen with single tuner installed appeared in Blu -ray We are pushing up demand for recorder.

By the way, the average price of the Blu-ray recorder is decreasing gradually and it is expected that the feeling of value will increase in the future, so it seems that it seems to be one of the eye-catching items of home appliance mass merchandisers in year-end sales battle.

Although it is the spreading speed of Blu - ray recorders, considering from the 10% of the quantity composition ratio which is considered to be spreading, in terms of the period until reaching 50% of the volume composition ratio, we switched from the video deck to the DVD recorder About 1.5 times the time, there is not much replacement from the video deck.

This is a graph of popularization speed. Although it took 82 weeks to switch from VHS to DVD recorder, the time it took to move to a Blu-ray recorder was 53 weeks, which is spreading about 1.5 times faster.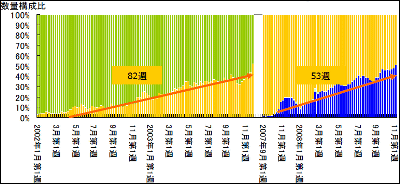 It became clear that the Blu - ray recorder is spreading rapidly, but with this, it seems that a situation such as "video software is only released on DVD, despite the fact that high - definition television is beginning to spread" Will it be improved? It is a very worrisome place.
in Note, Posted by darkhorse_log