A pair of Mr. Donut's new product "Frocky Shoe" which added Pon de Ring and French Cru ller ahead of time Taste Review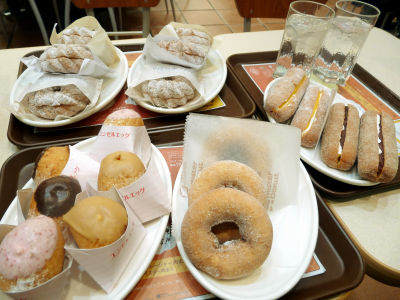 Mr. Donut will release 11 new products and 13 renewal products such as "Frocky Shoe Apple", "Froky Shoe Blueberry" and "Frokey Shoe Chocolate" from November 1. In the editorial department I was excited about going to buy on November 1, but since the reader told me that there is a store with new products already, I flew immediately I went.

It was a worthwhile new product that only went through the trouble to go.

Review from below.
A glad new product, thrilled. | Mister Donut

This means that new products are being sold first "Esaka Yoshino-cho Shop".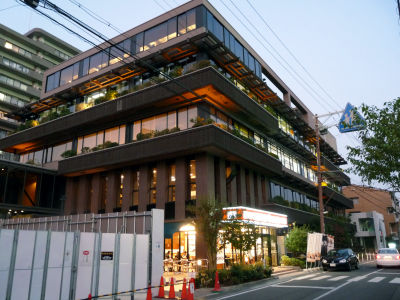 The whole building is a facility called "Mister Donut College", and it seems that training etc. are taking place.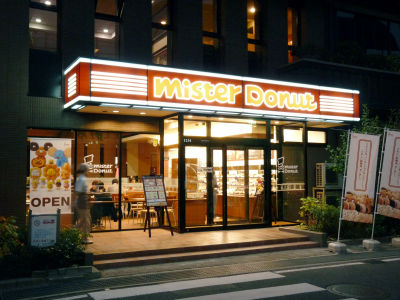 In addition to the inside of the store, seats are also set up outside.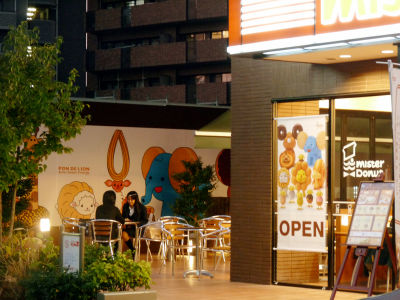 Notice of new product "Frocky Shoe". Although it is on sale from November 1, it is on sale at this store.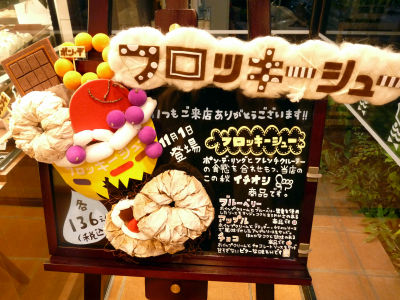 As expected it was just a new product, it seems that it was quite a sale.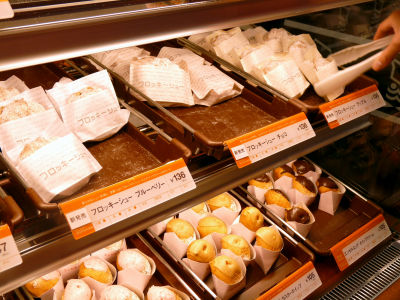 So, I purchased a new product that will be released from November 1st.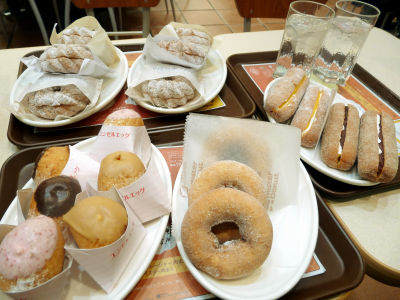 Flukey shoe 3 types. Yellow wrapper is Apple, purple wrapper is blueberry, brown wrapper is chocolate.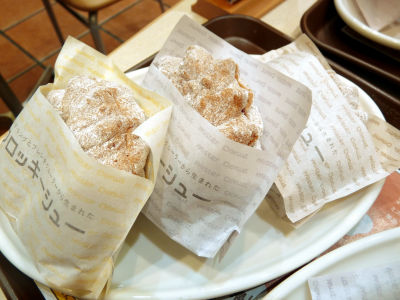 It seems that it was born from Pon de Ring and French Kruller.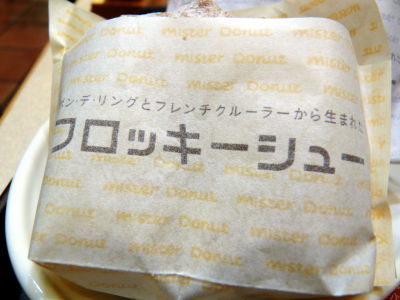 The contents of Apple. It has a very sweet scent, and the taste is like a French Kurura packed with Apple jam. Both cloths are different from Pon de Ring and French Crueler. It looks rugged and looks solid, but it is very soft, elastic and sweet. This new fabric is pretty tasty.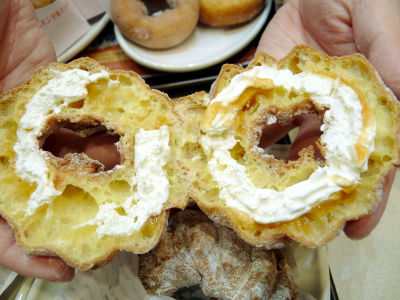 blueberry. It has moderate sweetness and sourness, and it feels just right for breakfast.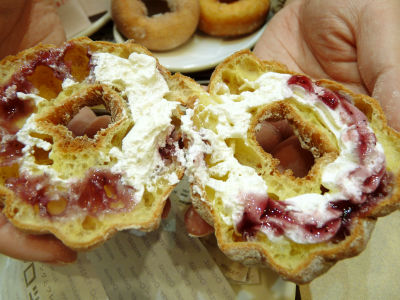 chocolate. Although it is sweet, bitter taste of chocolate has tightened the whole taste somewhere. A well-balanced dish.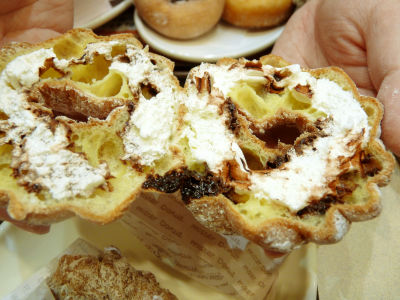 There are also three types of angel eggs.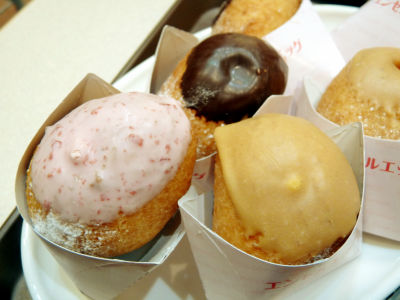 Whipped cream filled with chocolate is full of whipped cream inside.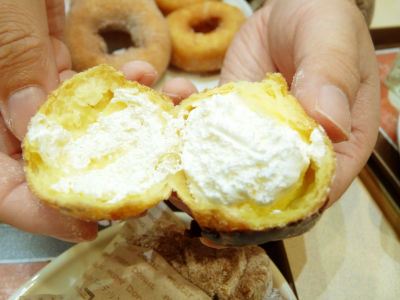 "Strawberry whip" is covered with strawberry both inside and outside. When you eat it strawberry flavor spreads steadily in your mouth.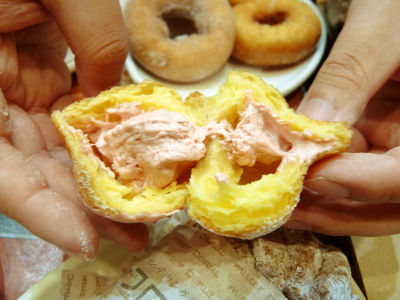 The last is "Custer whip." There is a sweet custard cream and sweet crispy cream. Among the new products of this time, the most sweet thing may be three kinds of this angel egg.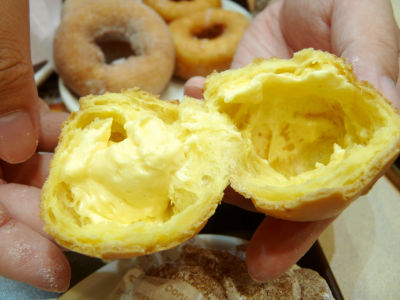 Sugar cake and honey cake. Unfortunately the cinnamon cake was sold out. Sugar cakes are covered with sugar, but the sweetness is the thinnest and the taste of the material is felt directly. This cloth tastes pretty egg flavor, but it feels pretty tasty. Honey cake has no sweetness on the fabric, and it has a good harmony coupled with the outside sweetness. Both of them take away moisture in the mouth, so I would like to eat with coffee or tea.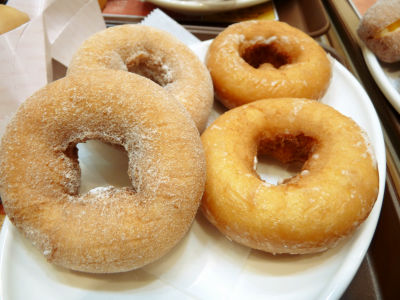 The last is a fried bread donut.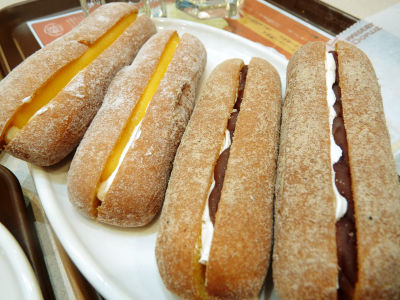 Custard & whip. I call him "fried bread donuts", but it was more frustrating than oil fried bread that would juice when it gnawed. I think that it is the same as a sugar cake as a dough. The custard 's sweetness is not too strong and not too weak.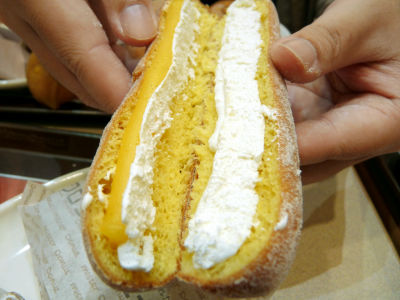 This is Azuki & Whip. Since Azuki taste is pushed out to the front without hiding, it is a place where you want sipping green tea rather than coffee.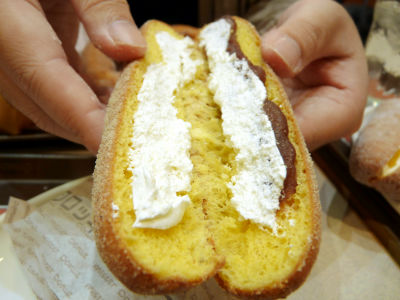 The interior of the shop was quite expensive with a high ceiling and was a relaxing space. Also, although it is a place far from the station which is never good for transportation, it was impressive that the customers had bought a donut and left home.