9 scripts useful to know to create an attractive website


Not only those who create websites as personal website creation and work, but also when you ask someone to order and create sites, it is quite clear and concrete image It will be easy to communicate to your opponent, so you should be able to communicate smoothly. Or you may find it easier for the story to proceed by having the client recognize the existence of these resources.

So there are a variety of free scripts useful to know to create an attractive website from the following.
Woork: Useful resources and tutorials for developing stunning web sites

1. ModalBox
http://www.wildbit.com/labs/modalbox/
You can display Web 2.0 style dialog box and so on. It seems that it was inspired by the dialog box of Mac OS X and made it, so it seems that movement is quite like that. If you click the "Start demo" button on the linked page above, you can see the demo actually running.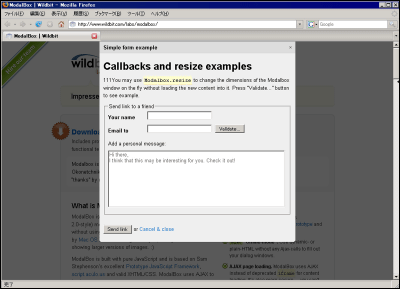 2. jQuery Cycle Plugin
http://www.malsup.com/jquery/cycle/
It is a jQuery plug-in that enables lightweight slideshow. It is possible to use various switching effects such as shuffle, zoom, fade, turn down, curtain, click and slide. Since the demonstration is prepared on the link destination page, it can actually be seen by eye and confirmed.



3. Today's timetable
http://www.cod3.net/timetable/
A script that adds a timetable to a web page. Originally it was made for radio programs, just by scrolling smoothly to the left or right just by placing the mouse cursor up, pop up explanation by clicking, or in a moment in a certain time period It is feeling that it can be used considerably for the schedule display. A demonstration is prepared on the link destination page.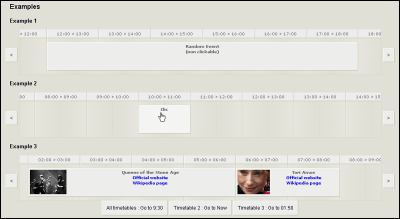 4. Embed QuickTime
http://www.solitude.dk/archives/embedquicktime/
As the name implies, you can embed QuickTime format movies on the page with jQuery plugin. You can also embed mp3, wav, aiff, m4a, avi, wmv, mpg. Unlike regular embedding, firstly display the image image, you can prevent embedded page QuickTime movie from playing just in case you click it, it is possible to prevent pages from becoming too heavy in QuickTime . In addition, Drupal module and Wordpress plug-in are prepared from the beginning, and demonstration is prepared on the link destination page.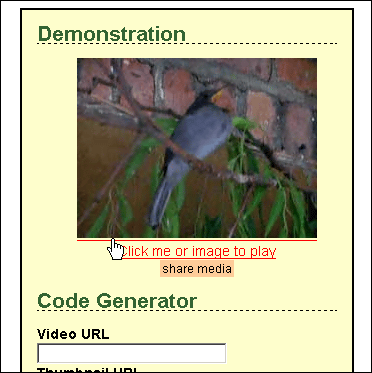 5. FancyBox
http://fancy.klade.lv/
It is a script that can make a Mac-like effect box. Automatically add a window of the size that matches the image, add it automatically (drop shadow) effect when zooming, preload, call up multiple image sets, even inline or iframe In addition to images, you can also call embedded movies such as YouTube, and even other pages. Since each image effect can be turned on and off, it is possible to make it clean and to make it gorgeously on the contrary, and it also supports fine customization by CSS. A demonstration is prepared on the link destination page.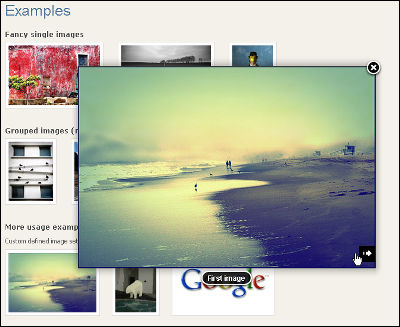 6. View-source
http://www.mochikit.com/examples/view-source/view-source.html
It is a script that improves readability by color coding so-called source code or highlighting it. It might be nice to use it in such cases as "Copy this code and use it." The above link page itself is a demo.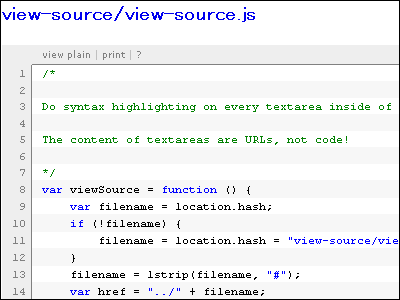 7. jQuery 3 State Switch Plugin
http://www.memorycraft.jp/project/jquery/j3ssw/index.html
As you can see, it is a jQuery plug-in for creating radio buttons and select buttons and displaying the current state in an easy-to-understand manner. It can be used as a button for sorting, or as a button for filtering selection of search conditions, etc. It is possible to improve usability by making visually easy to understand "What kind of state is now?" Demo is prepared on the link destination page so please click and confirm it.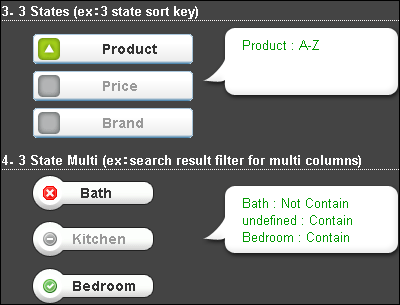 8. Flash Gallery
http://www.flash-gallery.org/
Easy to win It is a slideshow created by Flash aiming for easy installation. It can be used without knowledge of programming, it makes it possible to display images in a specific folder or images uploaded to Flickr in a slideshow format or to embed them in a web page. The effect of automatically resizing according to the size of the image has also been added, and several demo galleries are installed on the link destination page and you can grasp the general atmosphere. You can customize it fine.



9. jQuery Feed Menu
http://www.komodomedia.com/blog/2008/10/jquery-feed-menus/
One RSS icon is prepared, and clicking on it will link the links to the various formats in a staggered fashion all at once. Not only RSS, it is convenient to combine various links into one button.