Finally low price notebook computer "EeePC" starts selling for about 30,000 yen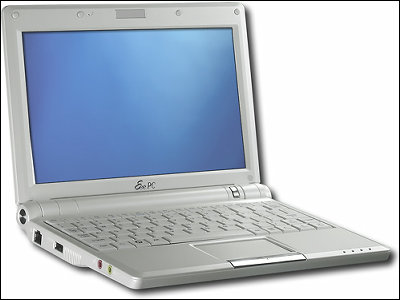 Since its release in January of this year, it became clear that the model with Atom processor of low-priced notebook PC "EeePC" boasting explosive popularity is sold for about 30,000 yen.

It is an overwhelmingly inexpensive model than a competitor's low-priced laptop computer which is sold for 50,000 yen units, but what exactly is it?

Details are as follows.
JkOnTheRun: Asus breaks sub- $ 300 price barrier with Eee PC 900A at Best Buy

According to this article, ASUS 's "EeePC 900 A" model is sold at US $ 299 (about 30,200 yen) at the mail order site "Best Buy" in the United States.

"EeePC900A" is equipped with Intel's Atom processor N270 (1.6 GHz), 1 GB memory, 4 GB SSD, 1024 × 600 8.9 inch LCD, OS adopted Linux. It is a model that adopted wireless LAN and SD / MMC card reader.

I do not know if it will be released at the same price in Japan, but it may be wonderful that you can purchase a laptop for around 30,000 yen without subscribing to a mobile line contract or provider.