Failed to install Vista SP1, what happened after that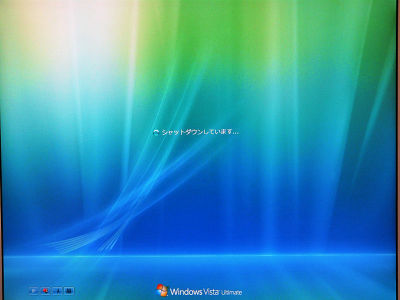 Why did you install Windows Vista SP1 why?Although I could not restore it, I could not restore it, but I was at a loss, but I gave up restoring, I turned off the power, and still could not finish giving up and turning on the power again, I was able to start up normally for some reason. The cause is unknown, but SP1 did not hit, and it seems that the restoration succeeded as a result.

Anyhow, it is possible to rechallenge with this, but this time I did decide to install after doing properly properly properly rather than installing it as a batting actual production like the last time. It should be strange that it can not be installed without problems in whatever environment it is originally ... ....

However! Despite preparing to a certain extent, it was still a matter of unprecedented trouble and it was supposed to be what. More details and movies of further trouble are from the following.
After restoration, a dialog like this is displayed. Problem Problem name is "BlueScreen" ....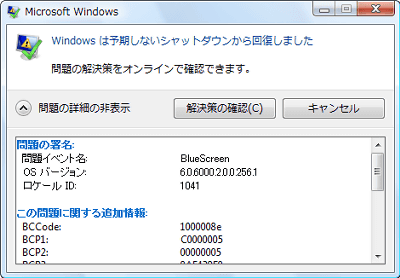 "Files useful for explanation of this problem", but it is meaningless to see inside with a text editor ... ... probably not knowing that it is not a person inside Microsoft ... ....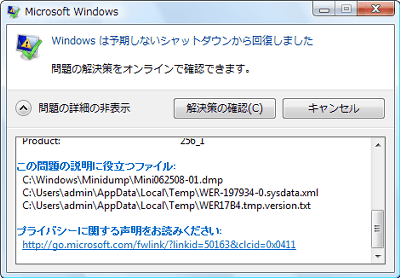 So, first of all, I will take a closer look at Ultimate, Microsoft's Vista SP1 site. Then, such a sentence is in "attention in automatic updating".

Microsoft Windows Vista: Automatic update installation of Windows Vista Service Pack 1 (SP1)

Windows Vista SP1 can not be downloaded by automatic updating if the PC contains a problematic driver when installing Windows Vista SP1. If you wish to install,Manual installationcan. It is possible to install manually from the download center.
That is, if Windows Vista SP1 is not displayed as a candidate in Windows Update, "It's too early, wait a little longer". It certainly did not appear on Windows Update at the time of last failure, so we installed what I downloaded.

However, when you look at Windows Update after being resurrected, it is displayed properly.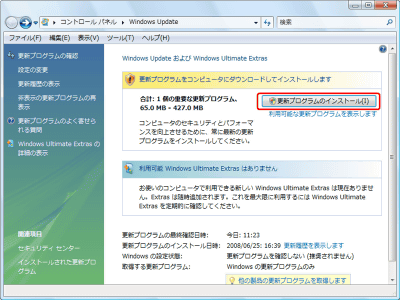 Apparently it seems to be OK. Of course, all security patches other than this Vista SP1 have been successfully installed in advance. It should be okay with this, but just to be sure, I will investigate a bit more.

Microsoft Windows Vista: Windows Vista Service Pack 1: Confirmation point before installation

1. Make sure that the computer is running Windows Vista.
confirmed.

2. If the computer is running on battery power, connect the computer to an electrical outlet so that the computer does not turn off during installation.
I connected.

3. Close all open files and programs before installing SP1.
It closed.

4. When downloading SP1, if you are running the 32-bit version of Windows Vista, select 32-bit SP1. Also, if you are running a 64-bit version of Windows Vista, select 64-bit SP1. To check which edition you are running, click the Start button, right-click Computer, and then click Properties. You can check the operating system under [System type] in the [System] section. When installing SP1 from the installation disk, the appropriate version will be installed automatically.
It was a 32 bit version.

5. Make sure there is enough free disk space on the computer's hard disk to install the service pack. A minimum of 7 GB of free space is required for 32-bit SP1. A minimum of 13 GB of free space is required for 64-bit SP1.
The free space was also okay.

6. Back up the files to an external hard disk, DVD, CD, USB flash drive, or network folder.
Since I have failed once already, I have backed up thoroughly.

7. If you can not change specific system files depending on the configuration of antivirus software, the installation of SP1 may fail. In such a case, temporarily disable antivirus software. The general way to do this is by right-clicking the icon of the antivirus software normally displayed in the lower right corner of the computer screen, and click [Disable]. Please be aware that if you disable antivirus software before installing service pack, it is risky. Also, be sure to enable antivirus software after installing the service pack.
I uninstalled and deleted all anti-virus software related. Please note that in case of OfficeScan you may encounter problems other than the latest version.

About OfficeScan Windows Vista Service Pack 1 Support | Support: Trend Micro

Furthermore, this time it's automatic rather than manual, so check the automatic update installation procedure of Vista SP1.

Microsoft Windows Vista: About automatic update installation method of Windows Vista SP1

It is here that I got stuck last time at the eighth stage of the last.


1. After restarting, the installation screen will be displayed.
2. Restart will be done several times during installation. Please wait while turning off the computer while installing.
3. After installation is completed, you can log on to Windows Vista.
Naturally, I never turned off the power during installation last time .... It's strange ... ....

Of course it is obvious that it will be the same result as last time if it is only this, so search further and search it.

Vista SP1 official version destroys ACPI.sys and makes it inoperable | Essential Thinking Dojo

Vista SP1 Installation Precautions | Essential Thinking Dojo

4. Temporarily disable service and startup (★ important ★)
If extra services and startup programs are running, it seems that installation of Vista SP1 may fail, so please shut it off.

To remove all services and startups, click the start button, select "Specify file name", enter "msconfig" and click "OK"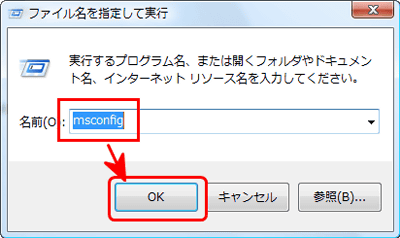 Click the "Service" tab, check "Hide all Microsoft services" and click "Invalid All"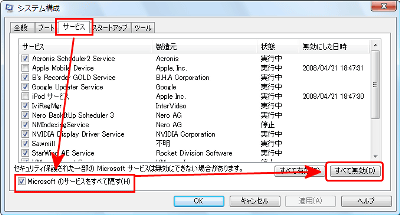 Then it becomes like this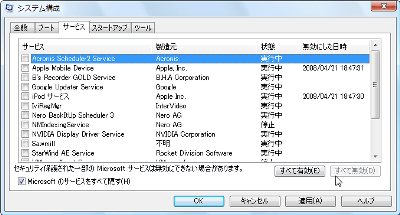 Next, click the "startup" tab and click "disable all"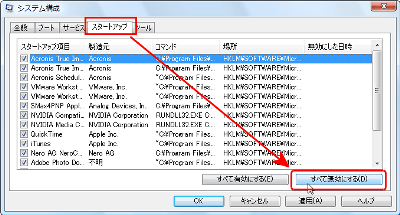 Then click "OK"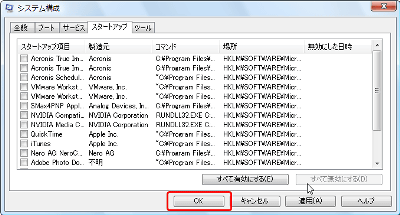 Also, I found a record that failed in the same way as I did last time. I will take a look at it for the time being.

Photo report: Failed to install "Vista SP1" in pictures: News - ZDNet Japan

33. Failed to install Windows Vista SP1 - Homes Reminder - MB-Support PC beginner's support page

It does not seem to have a cause as usual ... I decided to give it a breath as nothing begins where I was doing forever.

So, when I tried WindowsUpdate it displayed SP1 properly.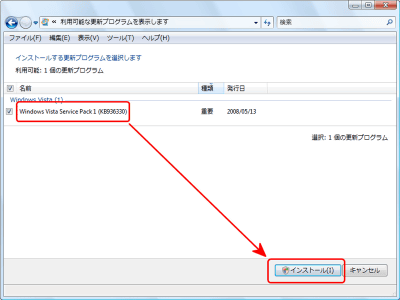 There seems to be no problem related to hardware driver. Click "Install update".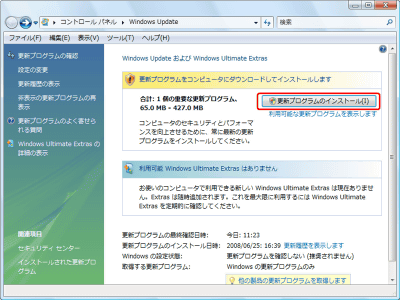 Downloading ......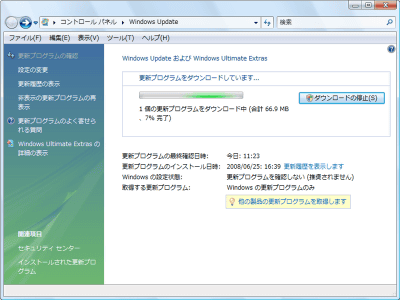 Preparation for installation ...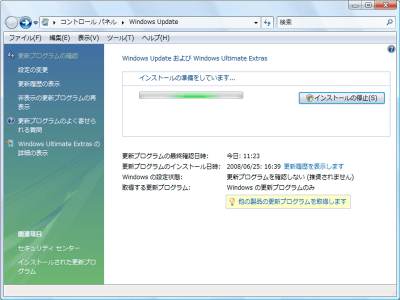 I am installing ...... I hear that the hard disk is making noise with somehow.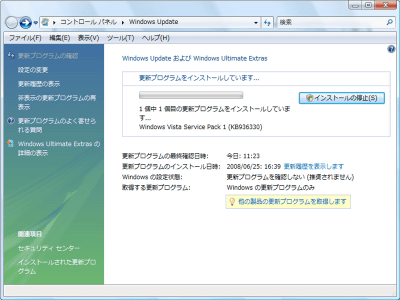 And further installation progress ... ... will it work?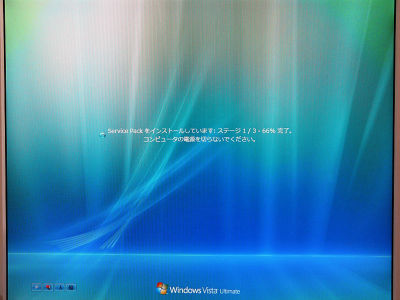 Wait for a while ......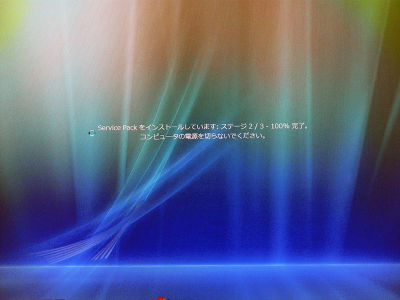 Shutting down ...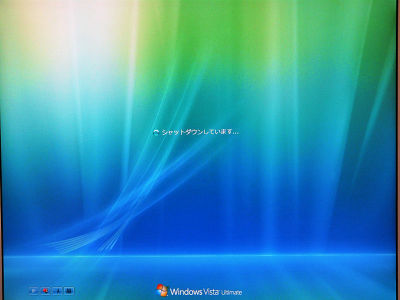 And, as it is, it enters the same infinite restart hell as the last time. In short, "failure". Again Blue Screen ... .... Since it can not be helped, I will put a Vista DVD and boot, I will try to restore it. Last time, even this restoration failed, but how is this time?

Click "Restore"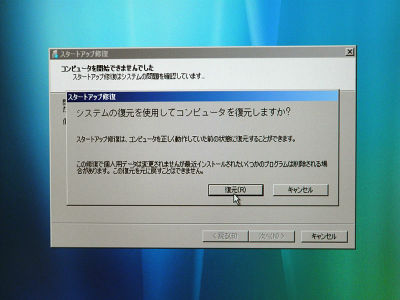 I am about to repair ......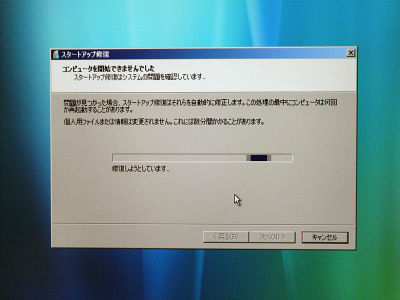 It seems to be completed. Successful restoration.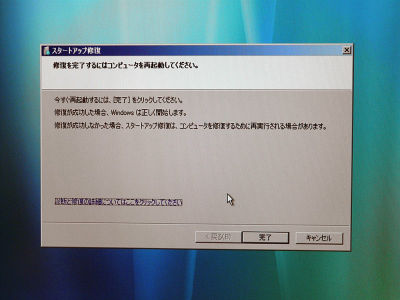 But, next time this is ... what is this ...? The screen repeats blinking at a furious momentum ... ... no more ......


I believed in miracles and tried restarting, I managed to recover. The graphics driver is up to date and should not be a problem ... but what the hell ... ....


So, currently uninstalling the software one by one is repeating "installing Vista SP1 → restoring on failure" .... When will it be possible to install ... ?.