Continuation ・ Site summary 2008 version piggybacking on April Fool's Day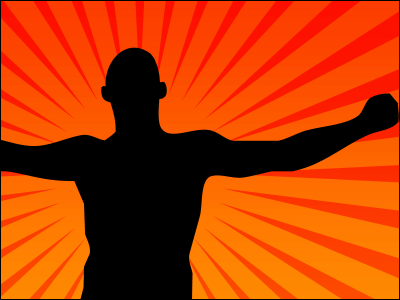 I started updating at exactly 00:00 on April 1st, and after 6pm I was tired and went to bed, but I woke up just before noon. So, it has become too long as a single article, so I decided to continue it as a separate article in this way. The server is screaming for too many accesses, but I will update it without worrying about it at all.

So, the second summary of 2008 is from the following.
■ team-60%
The page of the free product purchasing squadron 'Cyber Wholesale ' that starts with 'Nuclear power is an earth-friendly clean energy' and is broken everywhere.

■ Hiroshima Maid Cafe Cafe Meipuriti
The most crazy magazine from Hiroshima, which has a transcendental level of enthusiasm, is launched, and you can do whatever you want in a hot and humid world unrelated to Moe, with a special price of 250 yen. It's similar to some weekly manga magazine, but it's because of my mind.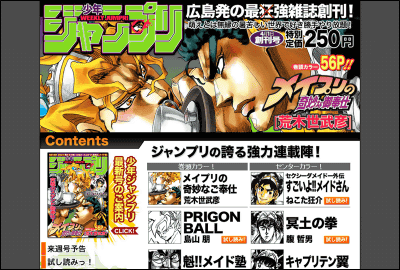 ■ MouRa | Manga 'Mi Chao!'
'Today in April 2008, humankind will be destroyed!' That's why it became Kodansha's original conspiracy investigation site. Updated every Friday, you can uncover the plot for free by setting members.

■ Full-scale political battle! MMORPG 'Prime Minister online'
The ' GoonZu Online ' page has been replaced by a different game that I don't understand.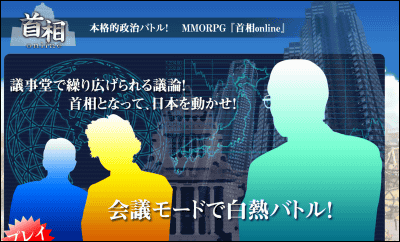 ■ User-participation news site --newsing
There is an incarnation of the web that you have never seen somewhere.

■ You, Okera to the occasion
It should have been a site called 'Kimi, Opera Tsukaimahe ' that recommends the world's fastest browser Opera, but now it is a site that nurtures 'Okera'.

■ Kochi Ngbank-We are sincerely supporting Kochi and people from Kochi, the climate of Kochi and the specialties of Kochi!
The free vocational coach introduction site 'Coaching Bank' has been renewed this year as well.

■ Airemu Animal
Irem, which is famous for its radical change in the official website, is strange again this year. It seems that a link to the closing ceremony will be displayed when you collect stamps.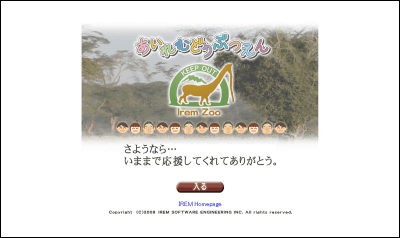 ■ Moejira group Mojira group
From today, Moejira-gumi has become a promotion site for Moejira-gumi.

■ Notice from Seesaa: [Important] Please be careful about blog monsters
Monsters are wandering around on the article, so click on it to start the battle. There is even an ending properly.

■ Window company-[NEWS] Approaching the appeal of desktop comic software 'Vokeroid'
The appeal of this software lies in the fact that it is now possible to perform comics on the desktop that could not be produced without humans, and the super-loose weakness character of the early sleep Miff.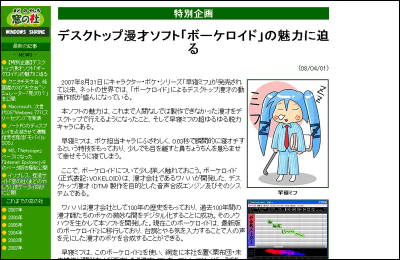 ■ Window Forest-[NEWS] Impress releases the fabrication site 'Window Company (Mado Yashiro)' for mobile phones
The top page is small, but the link destination is a normal design that is easy to read, so you can rest assured.

■ nixi
The page was hijacked by the president and turned into 'nixi', which is not mixi.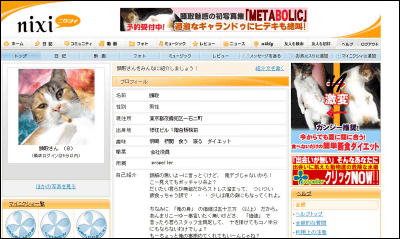 ■ Welcome to Suneo Channel!
' Doraemon Channel ' was hijacked by Suneo.

■ Hot News Today / Nintendodon portable music player 'VViipod' is now available!
Hit the Nintendo portable music player market.

■ @nifty: Daily Portal Z
' How to peel quail eggs well ' ' Outlets made by craftsmen ' 'How to become a dragon with shadow puppets' 'I have seen the next World Heritage site' Vehicle storage facilities in Nakano-ku, Tokyo '' ' High speed with PASMO' 'Road ', 'For the taste of fried tofu and yogurt ', etc.

■ MEGA goo
A huge search about 10 times larger than our company, everything is big, and 'eyes' move.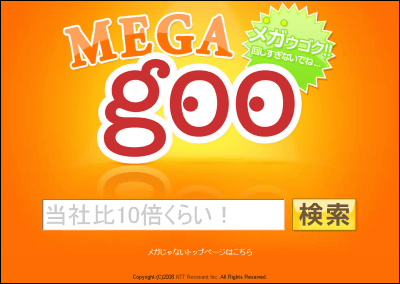 ■ Insult School Director / Slave Club-Reading Training Record-
A girl reading / slave ranch upbringing adventure forbidden to play under the age of 18. 'System' isn't fashionable, or it's in a heavenly state .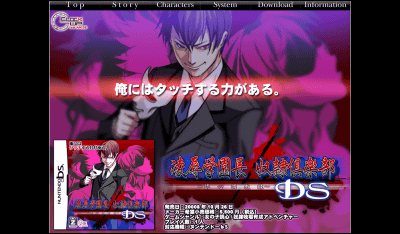 ■ Breaking News (VIP) @ 2channel (yutori)
A link to the world's first Kuchibir video site has appeared.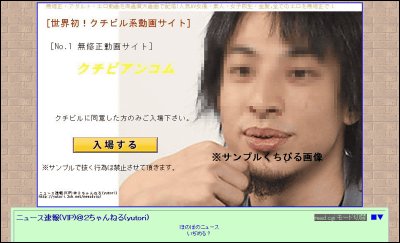 ■ UNiSON SHIFT OFFICIAL HP April Fool's Day
A project that breaks common sense has started, where everything is mixed and you do not know what it is.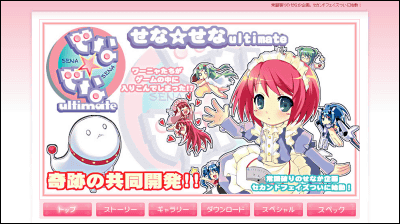 ■ Virtual Net Yandere Young Wife, Chiyu 19 years old
Be careful of slight grotesque.

■ Queen's Gate Official Homepage
It should have been 'Queen's Blade Official Homepage ', but something is wrong.

■ Active high school girl gravure idol 'Shibacha pot beauty' official website
The official website of the manga artist 'Ami Shibata ', who is famous for Nangoku Shonen Papuwa, was hijacked by a dog.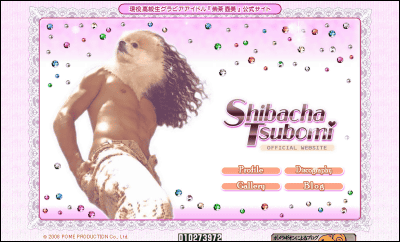 ■ XNEWS -Japan's largest Xbox psychic information site-
Japan's largest Xbox, Xbox 360 specialized information site ' XNEWS ' has become Japan's largest Xbox psychic information site.

■ RUNE / CAGE top page
From now on, Haruruko will lie.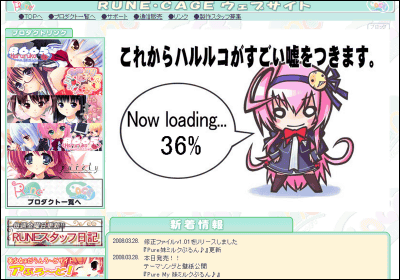 ■ JSN seems to make a game exclusively for April Fool's Day.
It's supposed to be a rental server shop, but for some reason, the blockbuster slapstick school comedy ' Liar is the Beginning of a Lover ', which has greatly improved the scenario, graphics, gameplay, etc., has started distribution.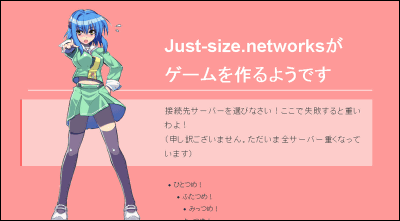 ■ [Business] About the establishment of a top-secret manufacturing shopping site that can be used with peace of mind
The mysterious release of the provider ' EditNet' in Setagaya Ward.

■ Aprils Official Site
The band ' Aprils ' is breathtaking when it becomes perfume-like and re-debuts.

■ Wizard of Az ~ Futami ~
A game maker called ' Lump of Sugar ' has announced a joint project that feels like something.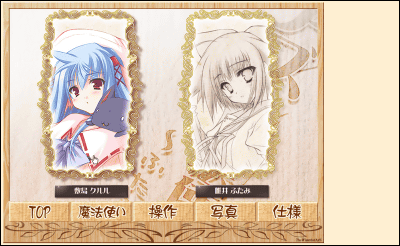 ■ Inverse Kinematics, the evangelist of love-May peace come to the world-
I will no longer make doujin games.

■ Momotaro Kingdom | Planetary land is on sale!
The mail-order site ' Momotaro Kingdom ' of 'Famicom Shop Momotaro' starts selling the land of the planet. free shipping.

■ 3DCG Bishoujo Game Maker ILLUSION
'Artificial Boy 3 Mokkori' will be released, 'Why don't you flirt with us?'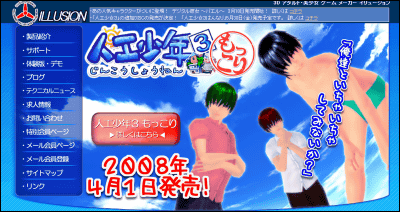 ■ Takeyu Aira Official Homepage
The second work of Minato Soft, 'You are the Lord and the Butler is me'.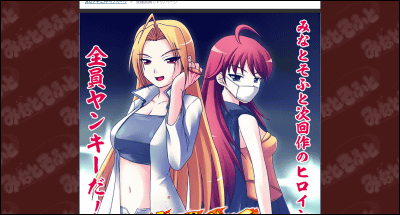 ■ Rewrite | Key Official Home Page
The production of Key's latest work 'Rewrite' has been decided . Can it be rewritten? Her fate.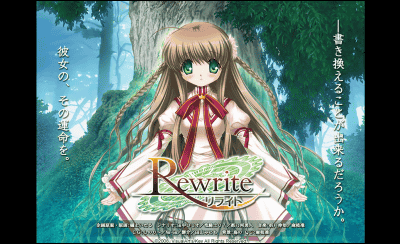 ■ Game * Spark --Domestic / Overseas Game Information Site by GDEX
It seems that I'm tired of the reviews.

■ Haniwak Bay 00
I'm not just interested in travel planning! If you like vehicles, ruins, or wet rice crackers, come visit us!

■ ALICE SOFT HOME PAGE
There is something at the bottom.

■ Maniak Hanshin (April Fool's version)
Annually, the site inside the Hanshin Electric Railway has become April Fool's Day.

■ Sumikko National Caravan '88 -Shake hands with a famous master! ~
An OP movie of the vertical scrolling shooting game 'Sumikko-chan' that controls 'Sumikko-chan'.

■ Hakuban.in
It's a whiteboard instead of a blackboard.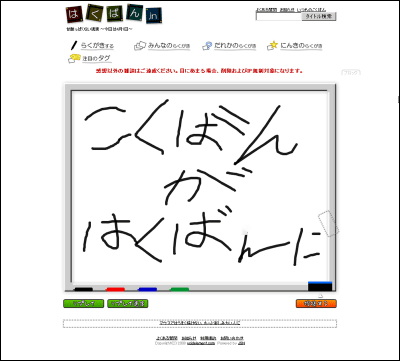 ■ Google Pun Search β
If you search for 'Gundam' or 'vodka' on Google, the search results will be strange. Details are also written on the Google Japan Blog.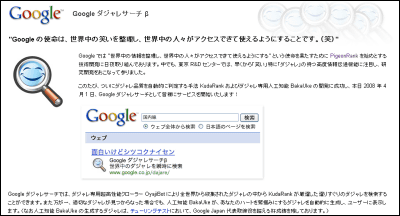 ■ JUGEM | Blog Health Examination
It seems that the health check of the blog will be done only on April 1st.

■ firefox.jp
The site of a person involved in a domain name dispute. Every time I reload it, I am skipped to various browser pages. Is it a kind of irony?

■ Hatena Haiku
Hatena Haik's posting form is now a real haiku posting form (5, 7, 5). The illustration submission form has also been changed to brush mode. It has been released properly.

■ Sai shaved mule
The mission of Sai-bozu mule is to develop software technology for sharing worldly desires.

■ [NS] Released 'Nintendo DS Air' which is thin and light
The long-established Nintendo fan site, which has been in business for 11 years, is posting a scoop.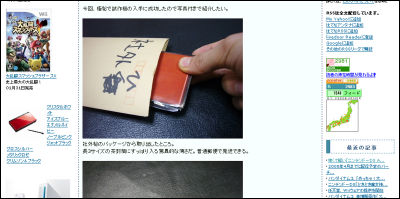 ■ paperboy & co. / Pepabo Spring Thanksgiving Day 2008
A live broadcast of the bartering of Kazuma Ieiri's book, 'I was able to become the president (with a handwritten scribble)'.

■ 404 Blog Not Found: Release undecided-I tried to love each other with the decisive alpha geek
Uho! a good man!

■ All shiitake mushrooms
All Shiitake is an extension that makes all the buttons on the Firefox toolbar shiitake.

■ Interior next door-Company profile
Ahahaha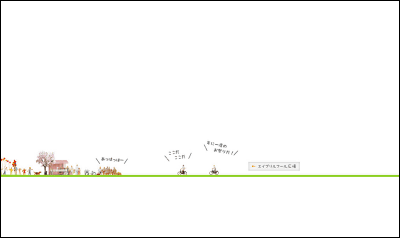 ■ [Hello coterie mail order] Circle [back Hatena 48 hand] of fresh tentacles, the insult-packed ○ Chang book! !!
It looks like a douujinshi sales site somewhere.




■ Game Freak
The developer of the 'Pokemon' series has moved from Sangenjaya to the North Pole, and it seems that he will look at the world from the end of the north and create new works.

■ Slashdot Japan | If the destination of the bus is different, 'Shae'
Have you ever been in trouble when you were waiting for a bus at a bus stop and a bus from a different destination came in and the entrance door opened even though you didn't get on? Therefore, the Nihon Bus Association decided 'a signal to see off the bus' after consulting with the National Police Agency. That is the pose of 'Shae'.

■ Slashdot Japan | Professor Knuth announces WEB 3.14
'Web 2.0 is old. AJAX and PHP have integrated text and code, similar to literate programming, but WEB 3.14 makes it simpler and more beautiful to implement.'

■ Slashdot Japan | Don't be fooled by April Fool's Day
'Watch out for strange creatures,' 'Radio is off,' 'Don't believe the British media for the time being,' 'He'll do it again,' 'Watch out for too good stories.'

NicoNico News-Scoop! Under development of VOCALOID for male big artist
New software 'Gackpoid' using YAMAHA's voice synthesis engine VOCALOID2

■ Nico Nico News- 'Nico Nico Douga 2.0 (laughs)' starts today!
Added a function to order pizza by typing @pizza during video playback

■ NicoNico News-Pizza arrives by posting comments! '@Pizza' starts today
If the word '@pizza' such as '@pizza is delicious' or '@pizza is delicious' is included, it is OK and you will be skipped to 'Nico Nico Market (β) --Pizza Corner'.

■ NicoNico News-Nico Nico Douga Development Team succeeds in controlling space-time!
The Nico Nico Douga development team belonging to Dwango was the first in the world to elucidate the mystery of time and succeeded in developing technology to freely control space-time.

■ The stupid guy is stupid-April 1, 2008 Limited Kaidoku Product List Page | Joshin
That 'Joshin' is secretly participating in the war, and is selling kennel-type pet washer-dryers, mugenmuchimuchi, jumper chairs, etc.

■ Magical Marine Pixel ☆ Maritan Official Website?
I don't understand why Hobby Japan and the Comic Gum editorial department cooperated.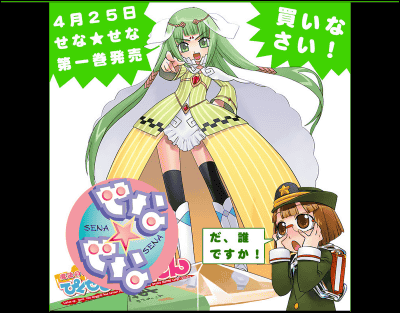 ■ The third Vocaloid will be released!
A page layout that looks like you saw it somewhere, and a virtual singer that seems to be somewhere.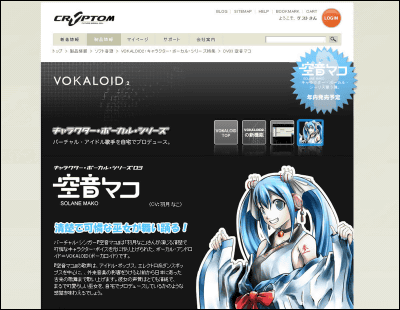 ■ Notice of the end of the weekly VOCALOID ranking-Nico Nico Douga (SP1)
It seems that it is influenced by the soaring crude oil price and the big brother.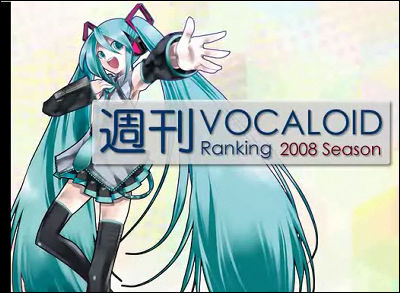 ■ Air Shinsho
By synthesizing the cover image of a fictitious new book and writing a 'book review entry' for the new book, bloggers can easily enjoy April Fool's Day.

■ mana official site
A story project that you have seen somewhere.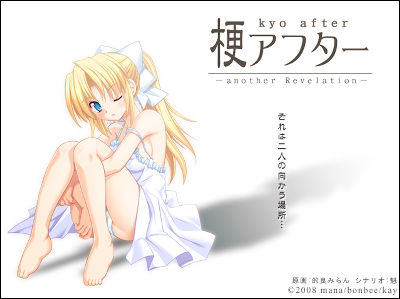 ■ Sub fuel tanks released one after another ... For a limited time | Response.
Even the images are posted properly, and the atmosphere is just like that.

■ Shadow that does not exist in the night vision system, release postponed due to unscientific reasons | AUTO GALLERY NET: News-Car information site
While driving at night, there was a problem that the night vision system showed a figure that should not be there.

■ Individual users can also get sponsors and buy new cars cheaply !? | AUTO GALLERY NET: News-Car information site
If an individual puts a big deck and a sponsor name in the coloring of a new car purchased at a dealer, the new car purchase price will be reduced accordingly.

■ That sexy car wash finally landed in Japan !? The first store you care about opens in Kanto | AUTO GALLERY NET: News-Car information site
A woman with a high degree of exposure puts car shampoo on her brush and clothes and uses her whole body to wash the car, but the sexy car wash has landed in Japan.

■ [F1] Following this season's night race, we will introduce a dirt race this time !! | AUTO GALLERY NET: News-Car information site
From the 2010 season, dirt races on gravel (unpaved roads) will also be introduced in F1.

■ PHOENIX Project
It's usually an independent music site, but for some reason it's an eroge company-flavored site. You can also download and play the trial version.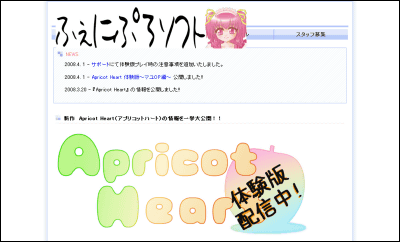 ■ Super Mekakko Senki Battle of Machina
The site of the dream cooperative front simulation RPG of machine girls has appeared.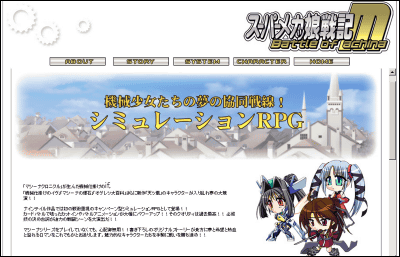 ■ Apaman Shop Tsukiten [Search site for rental condominiums, rental apartments, rental housing, rental real estate]
It seems to be 400km east of the Apollo 15 landing site.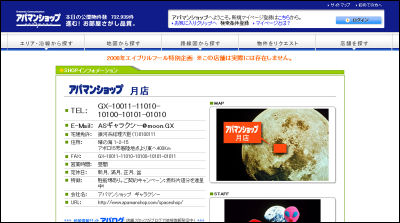 ■ Six Apart-Recruitment of priests
A company famous for 'Movable Type' is looking for a job. As a monk, you will be in charge of the entire Six Apart company.

■ AI Love Network --Diary
In the diary of Ken Akamatsu, the author of 'Magical Teacher Negima!' Serialized in Weekly Shonen Magazine, 'As part of the 50th anniversary project of Magazine and Sundae ...' Magic Teacher Negima! 'And' Hayate the Combat Butler! ' The mysterious description that 'a collaborative manga has been realized'.

■ Network magazine, magazine name changed!
Network Magazine is a network-centered IT technology information magazine released by ASCII, but from the next issue it will be called 'Dengeki Network Magazine'.

■ Toy Story mail order banana flavor
The store specializing in the movie 'Toy Story' has become a store specializing in the Great Buddha characters in Nara.



■ Review beauty salon-Beauty discount
The Japan Cosmetology Association has announced that it will subsidize beautiful people.

■ Crowdsourcing service 'Kobitto-san' by DRECOM Sys.Dev.One Group
The 'Co-Bit3' engine handles the tasks that you should normally do, and reports to you the results of someone else doing it.

■ Roquesta President's Diary: Rocket Start Announces Blog Parts for Energy Saving Measures
If you paste the blog parts and turn off the switch, it will be pitch black. You can actually try it because there is a switch on the upper right of the page.

■ ●● Search window peephole
You can look into someone's search results by entering a name.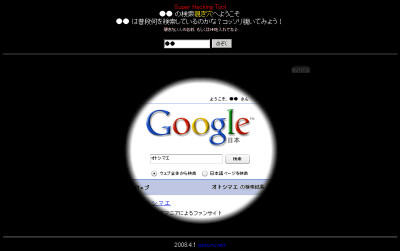 ■ Abolition of provisional udon tax rate from April 1 Sanuki udon price reduction
From April 1st, the provisional tax rate for Sanuki udon tax (25.1 yen per ball) will be abolished in Kagawa Prefecture, the 'Udon Kingdom'.

■ Meow / Chiharoom
The official website of Chiharu Sasano, a four-frame manga artist, is now all in cat language.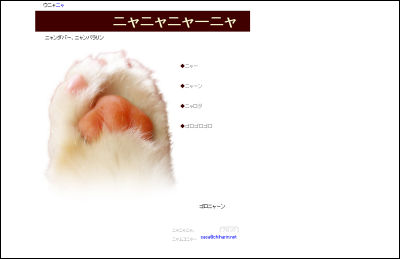 ■ Himapi.Com-Invades US Department of Defense network
You can break into the US Department of Defense's robust iron wall network.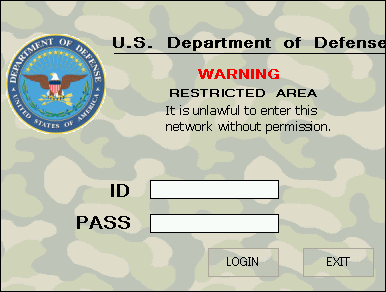 ■ 'DS April Fool's Day' announced to be postponed on the day of release --iNSIDE
The new release date has not been announced, but the person in charge commented, 'It was postponed because it was not completed. It will take about a year to complete.'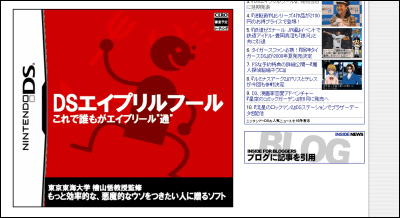 ■ IM
The official site of the drama CD label has become a fictitious game site. You can also download the trial version, and it seems that the trial version contains the acting of voice actor Takahiro Sakurai in full voice.




■ Barvillage
The MMO communication & collection game ' Barvillage ' has finally become a romance simulation game.



■ Hangame-Exhilarating action !!! Arad Senki
A mysterious old man appears in the middle, and if you click it, you will be skipped here.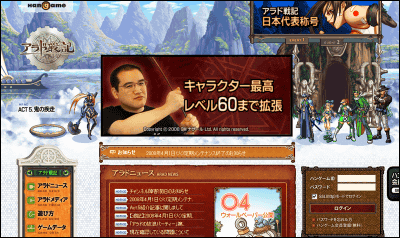 ■ The place of activity is the universe! Impact of mass adoption of UFO development engineers / Tech Research Institute
Mr. Junichi Yaoi who hits the engineer with passion.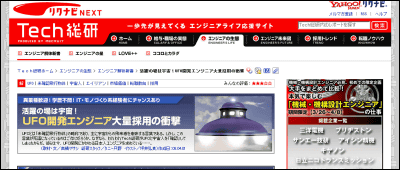 2008/04/01 19:52
As a result of this hellish April Fool's blame, which seems to be endless, the editorial staff finally began to shout, 'I don't know what's lying and what's true. It's all a government conspiracy!' I got sick and tried to escape from the editorial department. On the desk of the editorial staff in charge, a laptop computer that was left unlocked while writing the manuscript was found, and why this happened, the hard disk was thoroughly focused on the image file. We are investigating the behavior. In addition, the editorial staff in charge usually watch TV and eat rice every time, so it is suspected that it is related to TV and rice. I can't turn my head anymore.