The successor model of Nintendo DS Lite is thin type with memory installed, without GBA slot?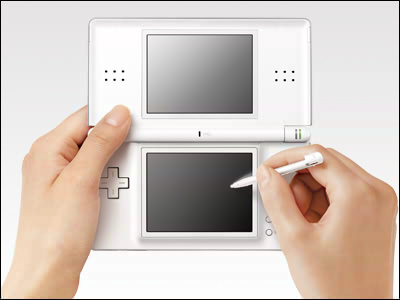 The latest model of Nintendo's portable game machine "Nintendo DS"Liquid crystal screen may become even biggerWe took up that in GIGAZINE, but the succeeding model of the Nintendo DS Lite will be thin in addition to the large screen, as well as a memory installed, the Game Boy Advance (GBA) slot may not be installed is.

If you truly discontinue the GBA slot, I took up earlierGameboy's "virtual console" might be released for Nintendo DSIs there a connection with the story saying?

Details are as follows.
Analyst: DS redesign already done - News at GameSpot

According to this article, Evan Wilson, an analyst at Pacific Crest Securities said that Nintendo has already developed a model that will succeed Nintendo DS Lite, and the new model will become thinner by not having a GBA slot It said that he said that it has large screen LCD and onboard memory.

However, regarding the release timing is undecided, at least until the momentum of sales of the current Wii and Nintendo DS Lite settles down, there is no announcement of successor models.

Indeed because the popularity does not show declining, in order to improve production efficiencyWii's release within the year corresponding to DVD playback was canceledIt is a possible story that the appearance of the successor model will still be ahead if you think about it.