A fighter aircraft that was buried in sand for 65 years will be discovered during World War II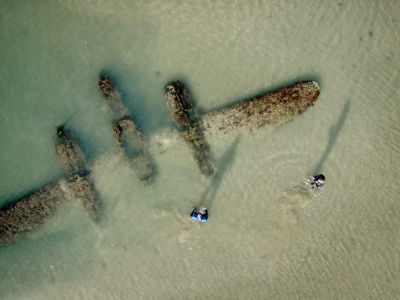 A fighter plane, P-38 Lightning, which was lost at the time of World War II was found on the coast of Great Britain and North Wales. It seems that it has been buried in the sand for a long time but it seems to have become apparent as abnormal weather continued and the sand was washed away or removed. Apparently this aircraft is the oldest among existing P - 38.

Details are as follows.
Shifting sands reveal World War Two fighter plane lost for 65 years | the Daily Mail

The aircraft was discovered in North Wales' coast, the detailed location is not clear. It was discovered by a family who visited the seaside bath around July this year, but it seems that at that time it was thought that it was an unmanned machine used in air shooting training in the 1950s. However, a local airplane lover visited a newspaper photo and came with a pin, contacted an American aviation historian, and the aircraft was confirmed from the serial number and other records.

P-38 in flight from the front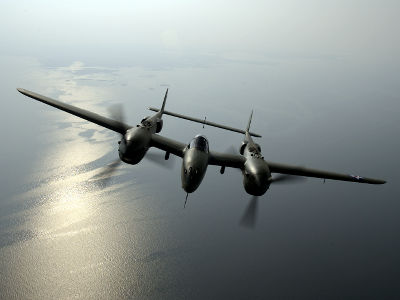 The discovered P-38 was aircraft manufactured in 1941, moved to the UK in 1942 in order to take a military duty in the Netherlands and Belgium. The pilot was then the 24-year-old Robert F. Elliot's lieutenant. On September 27, 1942, due to the fuel shortage during the practice mission, we had no choice but to lapse to the beaches of Wales. Although we lost the fuselage to the shallow and lost the wing tip at the wing tip (winglet), the majority of the aircraft and lieutenant Elliot seemed intact. However, the veteran pilot Elliott who performed the air battle more than 10 times was shot down in Tunisia over the next three months and became a person who did not return. Bodies and passenger aircraft have not been found.

Robert Elliot (64), who is investigating the life of his uncle for nearly 30 years after coming to Lieutenant Elliot, told the news that the aircraft was found "This is a historic discovery, it is very moving".

P-38 at air show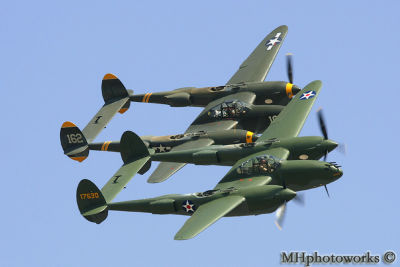 By MHphotoworks

The International Group for Historic Aircraft Recovery(TIGHAR: International Group for Discovery and Restoration of Historical Aircraft) Mr. Rick Gillespie is in the process of collecting P-38. "Although the US military is supposed to remove the machine gun and, according to the record, it is supposed to have withdrawn the aircraft, actually it is not done," Mr. Gillespie said. "The aircraft was slowly covered with sand and had been sleeping quietly there for 65 years.It seems that nobody knew there was an airplane because the beach was closed during the war, as if it were a scotland It is like a brigadoon (a strange village that appears only once in a hundred years) in the story of "It is like that.

TIGHAR will also cooperate with British experts and will recover nearly intact but fragile aircraft in the following spring. The Duxford Empire War Museum and the British Air Force Museum are showing interests.

Silhouette of P-38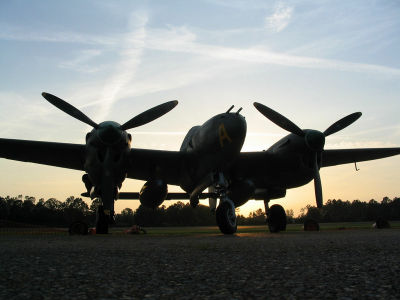 By Roger SmithCreative Commons

P-38 Lightning is a fighter aircraft developed by Lockheed, which began operations in 1941 and eventually 9942 aircraft were produced. In pursuit of speed performance, it adopts twin-faced and twin-torso style with two motors. German army masterpiece fighter at the European frontFocke Wolf Fw 190It was feared to be called "a devil of twin torso" fighting more than equal to one another. In the Pacific Front, at low altitudeZero FighterYaFaintAlthough it was sometimes to be awkward, he was active on the front line until the end of the war by establishing an advantageous tactic, as an ace pilotRichard BongI leave my name. Also, at that time the Commander of the Allied FleetYamamoto shooting 56 deathsIt is also famous as the body that made it.

This is a rival machine, Focke Wolf Fw 190.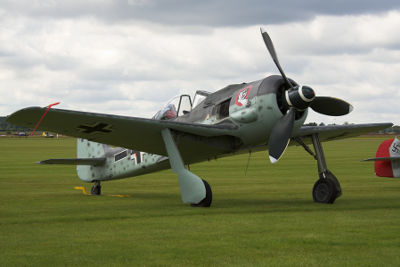 By benallsup

The image of the flying P - 38 is below.
YouTube - Lockheed P-38 Lightning Fighter (Color)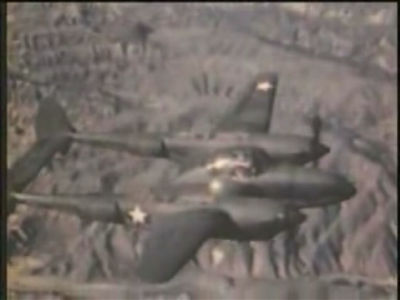 · Reference Link
P-38 (fighter plane) - Wikipedia