NTT DoCoMo Announces New Rate Plan and Release Date of 905i Series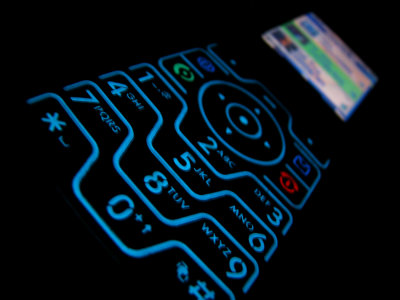 NTT DoCoMoTo announce on November 1In accordance with the launch of the FOMA "905i series", we announced the introduction of a new price plan and the release date of the 905i series.

In addition to becoming able to choose whether to pay the method of payment for the purchase price of the mobile phone all together or installment payment, if the basic monthly usage feeMinimum 1050 yenThere are plans etc that you can do with it.

Details are as follows.
Press release presentation: Provide new purchasing method and price plan | Notice | NTT DoCoMo

According to this release, the 905i series will be releasedNovember 26 (Monday), When purchasing a mobile phone terminal by a new contract or a model change, in accordance with the needs of users "Value CourseOr "Basic courseIt seems that it will be possible to select a price plan from the two courses of "

· Value course
A course that allows you to select a cheap "value plan" for monthly basic monthly charges (before applying various discounts) 1680 yen (tax included) when purchasing target mobile phones to be released after the 905i series. In addition, when purchasing a terminal with "Value Course", you can also choose payment by installment payment in addition to the same payment method as cash, credit card, etc. same as before.

· Basic course
Course where DoCoMo discounts 15,550 yen (including tax) from over-the-counter sales price (basic purchase support) by promising use for 2 years when purchasing target mobile phones to be released after the 905i series. For the price plan, choose from the conventional rate plan.

Comparison of a conventional rate plan and a value plan. When applying "Fami-wari MAX 50" etc., the monthly basic usage fee will be at least 1050 yen. Call charges are the same.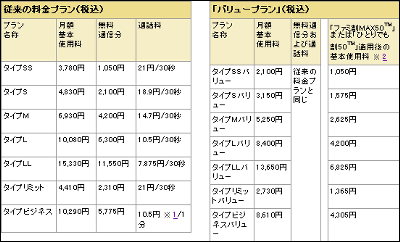 Terminal payment image on value course. In addition to lump sum payment, you can choose 12 payments (payment period 13 months), 24 payments (payment period 25 months).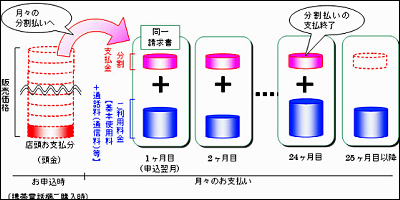 As a bonus for both "Value Course" and "Basic Course", if you purchase the 905i Series during the campaign period, you will be discounted from the over-the-counter sales price of 8400 yen (including tax), and only the "Value Course", basic charge Maximum 3 months, maximum 2100 yen (including tax) discounted, "Mobile payment compensation delivery service" can be used for free for up to 3 months.

KDDI announced the other day, you can choose the purchase method of au mobile phones "How to buy au"Simple Plan S" was set up that the calling fee will be 15.75 yen for 30 seconds in addition to the basic royalty of 1050 yen, but DoCoMo's "Value Plan" has a basic usage fee of Is it that we did not dare to lower the call fee just by lowering it?