Nissin, a new "Cup noodle bacon big" newly released with baked bacon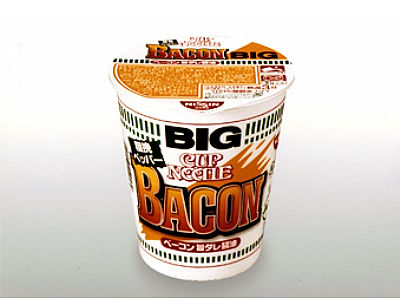 It seems that Nissin Foods will launch "Cup Noodle Bacon Big", which has an eating response using fragrant bacon from September 3 (Monday) all over the country. The price is 175 yen (tax not included).

Details are as follows.
- Cup noodle big with eating response using savory bacon -
New type cup noodle "Cup noodle bacon big" information on new release

According to the release, noodles are the usual Kosi and sorghum soup, the soup is based on ginger and garlic, meat extract, soy sauce flavor with charcoal scent and rough pepper accented, main ingredient smoked with cherry chips It seems to add potatoes that respond to eating bacon, colored corn, red peppers, green onion.

It seems to be pretty fragrant taste with bacon and pepper. It seems to be slightly plain, but how about the real thing?