"PassMark Rebooter" free software to measure boot time by rebooting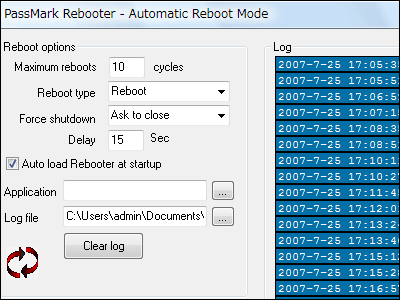 Although it is stress test software that measures whether it is stable even if you put a load on benchmark software, it can repeat reboot at specified time intervals, and it can start automatic login and start up at shutdown before restart It is packed with quite useful functions for forcibly terminating the software you are running, recording the time from startup to finish in the log file, and calculating the average startup time.

Actual download and usage are as follows.
PassMark Rebooter - Reboot and restart your PC automatically
http://www.passmark.com/products/rebooter.htm

If you unzip the ZIP file downloaded from the above page and activate "rebooter.exe" which is inside, it will be like this screen. First of all, you specify how many times to restart.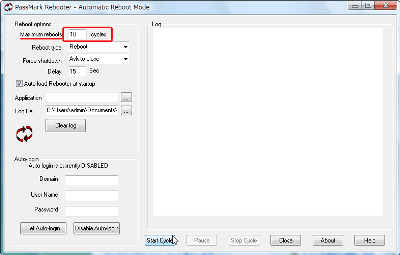 Next select the type of test. This time it is a test to reboot, so choose "Reboot".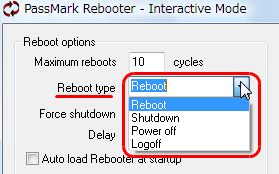 Then, make settings at shutdown. "Ask to close" is a type that issues a dialog when there is software that does not end. "Force to close" is a type to forcibly terminate, "Force if hung" is a type that forcibly terminates when hung up.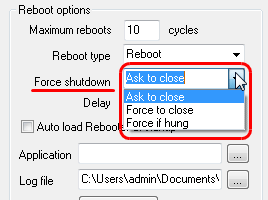 "Delay" is the interval from the completion of rebooting to the next rebooting and it is necessary to open at least 15 seconds. Then check "Auto load Rebooter at startup". By doing this, you can let the reboot cycle run automatically.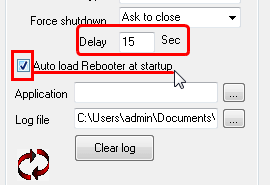 Also, if login is required, enter "Auto-login" in the user name and password, domain name if necessary and click "Set Auto-login", you can log in automatically .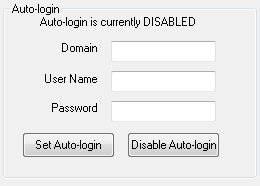 Finally, confirm the setting and click "Start Cycle" if there is no problem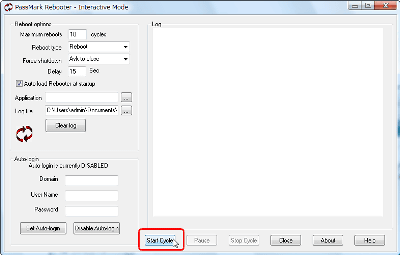 Then the countdown is started and the cycle of restart is entered.



When restarting is completed for the specified number of times, such a dialog will appear, so click "OK".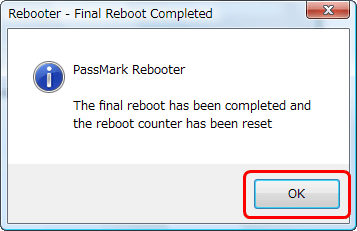 Let's check the log at the end.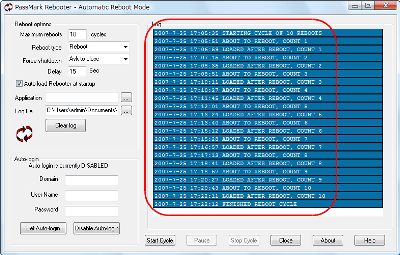 In this case, it became like this.

01 th time: 1 min 08 sec
02 th time: 1 min 20 sec
03 th: 1 min 20 sec
0th time: 1 min 18 sec
05 th: 1 min 23 sec
06 th: 1 min 32 sec
0th time: 1 min 29 sec
0th time: 1 minute 28 seconds
09 th: 1 min 30 sec
Tenth time: 1 minute 28 seconds
------------------
Average: about 1 minute 24 seconds

So, if you change the hard disk to the above specifications, change the composition of the machine, cut off the startup software or service, how much influence the startup speed, such as reducing the font etc. It can be used to investigate whether there is. It seems likely to be likely, so it's soft, so you may know that there is no loss.