Rakuten books start services that can receive purchased items at FamilyMart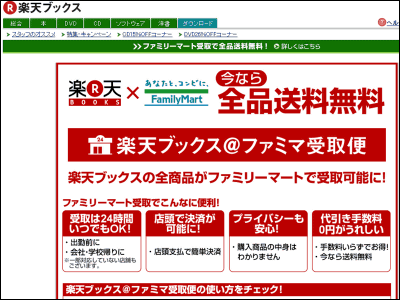 Rakuten Books from today, services that can receive over 1.8 million items, such as books, CDs, DVDs, PC software etc purchased at the online shop site "Rakuten Books" at about 7,000 stores nationwide FamilyMart "Rakuten books @ Famima received flight "was started.

The shipping fee is free, as soon as the item arrives at the shop front, notice e-mail of the item arrival will be delivered to the designated e-mail address, and that for the mobile phone will also be started. In addition, in commemoration of the start of service, campaign will be carried out to earn points just as much as the amount purchased with Rakuten Books and luxury prizes.

Details are as below.
We can receive goods of Rakuten Books at FamilyMart shops across the country
"Rakuten books @ Famima receiving service" started

According to this release, in "Rakuten Books @ Famima Received", by delivering items ordered by "Rakuten Books" using FamilyMart distribution network, at the storefront of FamilyMart designated on the evening of the third day after ordering It seems to be a service that makes it possible to receive items. The items ordered will be kept for a week after reaching the shop front.

"Rakuten Books @ Famima Receipt" is here.

Rakuten Books: Rakuten Books @ Famima Receipt

Also, as a service opening memorial event, from 1 pm on Thursday May 17 (Thu) to 4 th June (Monday) 9: 59, one from 100 people purchased from Rakuten Books, Rakuten supermarket "One person in 100 people is a free cash campaign" to reduce points up to 100,000 yen, as much as the purchase amount, will be held, and from 10: 00 ~ 2/2 (Monday) June 4, 2007 Until 23:59, just by accessing with a mobile phone and entering an address, it seems that "a total of 3 million yen worth of luxury gift!" Campaign will be carried out, won a grand prize totaling 3 million yen.

By the way, with similar servicesSeven And WaiIt is preceded by, but here is the item purchasedAbout 11,1700 Seven Eleven storesYou can receive with. However, unlike FamilyMart, it may be a difficult point not to expand to all 47 prefectures.