Getting started with Google AdSense Part 1 "Break through the review"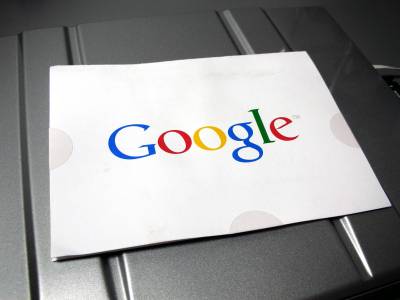 I changed the Google AdSense account of GIGAZINE again from personal account to business account, I applied the new application again, so I will publish the whole work record at that time divided into several times. The contents are quite long, but it is roughly like this.

· How to apply
· Points of review
· Procedures after passing the examination (tax information)
· Register bank account to transfer earnings
· AdSense setting 1: Color palette for matching to the site
· AdSense configuration 2: a channel for seeking effective settings
· AdSense setting 3: Filter that plays advertisements that do not lead to revenue
· How to make AdSense for content
· How to make AdSense for search
· "Stop advertisement on this site" display stop
· Google AdSense hunting countermeasure

The most famous affiliate is Amazon, etc. which can be easily started, but if you make the appropriate settings, the revenue will be much higher by Google AdSense. For commentary see below.
◆ Before applying
* Since it does not matter if you do not read, skip to the next item if you want to start right now

First of all, as a common pattern, the threshold until the beginning of Google AdSense is high, it is frustrating at the judging, even if it goes through the examination, then it goes down to the various settings afterwards, and in the end it is inappropriate and ridiculous setting to petapeta and site It is very often that you put the code and say, "I will not get any profits! It will not be an assignment! Wow!

To keep things from happening, we need attention. First, it takes time. Especially in the examination there are few who pass by one shot. There is a strange relationship here, and there is a strong tendency that the rate of return will be higher overall for sites that do not easily go through the review. Especially, if you have a lot of content after a long time since opening the site, the profitability tends to be quite high and it is prone to stable earnings.

Also, Google AdSense actually requires fine configuration and ongoing maintenance. This is also a time-consuming task and it is quite a hassle. Conversely, there is no such thing as "to make money by doing nothing just by pasting."

If you keep in mind the above, the results will differ later.

◆ How to apply

First of allGmailBut anything is OK so let's make a Google account in advance. That person is smooth.

thenGoogle AdSenseAccess "and click" Click here for application ".

After entering the URL of the website and the information of the applicant in all Roman characters, check two items in "Select product" and put all the last five checks. Then click "Send Information"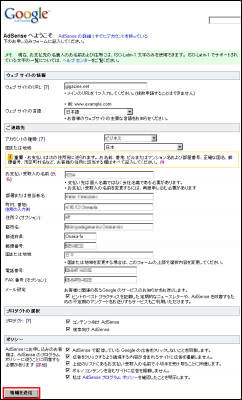 Since you already have a mail address and password, let's choose the above selection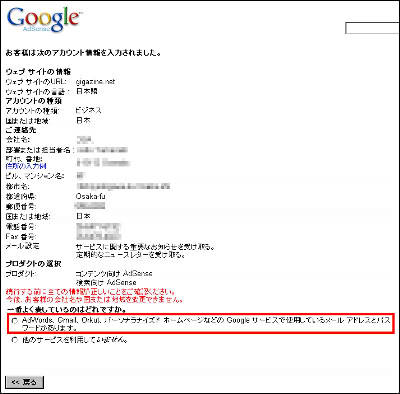 Select "Use existing Google Account for AdSense", enter information on the acquired account, and click "Continue". In my case I have united with accounts like Google AdWords and Google Analytics.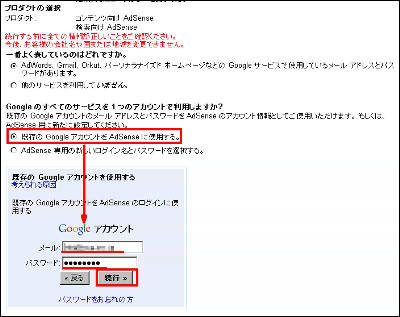 Application completed. As soon as the next day the examination result will arrive via email.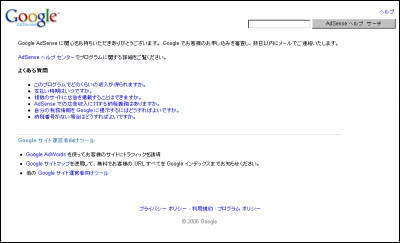 ◆ Points of review

Part 1: Link broken
Fairly many cases are judged to be "preparing" due to broken links and fall out of judging. In this case OK if you block the place where the link destination may return 404 error etc. to a moment. However, if the link destination to the outside is an error, it seems that it will not be caught if the destination is skipped by redirect. In other words, when it is in a state where it is dead end and it is forced to push the "return" button of the browser, it is out. So, if you click on WikiName like Wiki, it will not be called out because it will be a new page creation. There are the following possibilities when it falls even if it fixes it many times.

Part 2: It has not been judged in the first place
Although it may be surprising, as long as you do not hesitate to appeal the reconsideration request by e-mail from Google AdSense review, someone will never see you and the work will proceed fully automatically. So, if you are playing a bot for review, it will be the result of the examination "Preparing" or "The page is not displayed". In this case, most of it happens when you are playing overseas hosts with .htaccess, or if you are doing a process such as playing an IP address that can not resolve the host name, or if you are setting not to show through proxy . This was the case of GIGAZINE.

Part 3: Display contacts
This is often the case when dropped by blog. In the case where you are displaying spam for e-mail addresses but you have different characters in between so that you do not know by speech, "@" is set to "at", etc. It is dropped by saying "I can not contact you." So, it is the quickest to put a contact mail form. Anyway, surprisingly this case is cautionful, it is a blind spot. This was the case of another site that I personally opened in the past.

Part 4: Inappropriate content
Although the text is various, it is exactly what it says, "It was confirmed that Google's specialists did not meet the standards of the AdSense program" by Google specialists. It is probably the most reason for being dropped. Google tells us how to avoid this. The reason for dropping to the following link is clearly stated.

Google AdSense program policies Google AdSense Help Center

First of all, if you have content-matched ads like Google AdSense, say "competing ads and services", let's out. Next, let's check if you mention the contents described in "You can not use AdSense on sites that contain the following content." Even when the link destination was content violation it was out without exception. So, even if there is no problem with the contents of your site, it will be dropped if there is a problem with the linked content. See also the following page.

Webmaster Help Center - What is Google's webmaster guidelines like?

Even if you are in conflict with the "quality guidelines - specific guidelines" out of this. Especially out almost certainly affixing affiliated sticky. It will also be out on banners of mutual link type. Because there is no flexibility because it is fully automatic judgment, be careful. However, if it is dropped for the first time, the difficulty level will never rise for the second time and the third time, so there is no limit on the number of times to reexamine, so you can pass around that if you do it endlessly.

· Part 5: No advertisement
Let's install the "AdSense preview tool" below.

Google AdSense Help Center: How do I install / uninstall the preview tool?

After installation, right-clicking will come out as "Google AdSense Preview Tool" so you can click on it to see what kind of advertisement will appear on your site. In the case that the language setting is Japanese but the advertisement is all in English, it is highly probable that it is not indexed by Google or it is highly likely that it is not being visited, or it is blocked. It is described in detail below.

Webmaster Help Center - Why is my site blocked from the Google index?

in this case,Google Webmaster ToolsIf you use, you can easily identify the problem and you can also check if it is being crawled. It is easy to pass through when it is re-examined after it is known that it is surely crawled.

You can test Googlebot with "Google Webmaster Central" - GIGAZINE

I have never heard of falling down from the judgment for reasons other than the above, so let's do our best so I can pass through as soon as you block the cause.

◆ Procedures after passing the exam (tax information)

After passing the review, you will receive an email with the subject "Welcome to Google AdSense." Once it arriveshttps://www.google.com/adsense?hl=jaYou will be able to login from.

Logging in will result in incomplete long terms of use, so please check and click "I agree"




Please note that the contents of this Terms of Use have a version translated into Japanese and all the rules are written so all subsequent AdSense measures will be interspersed with this agreement. From now on, we will proceed with measures while reading this terms of service.

Google AdSense - GOOGLE AdSense Online Standard Terms and Conditions(Must read)

For the time being, I agree to the terms and we will see this screen. It is a screen that you will see as we get tired of it. Since I need a procedure for the time being, please click on "Please click here for details"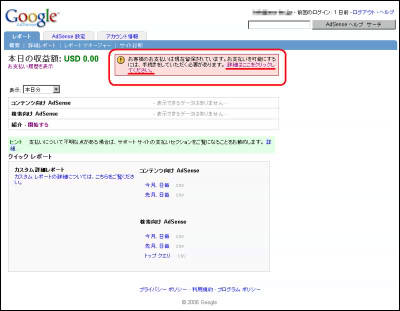 Click "Send Tax Information" or click "Account Information" → "Tax Information"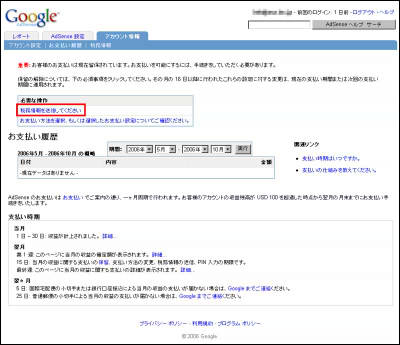 Select "No" and click "Continue"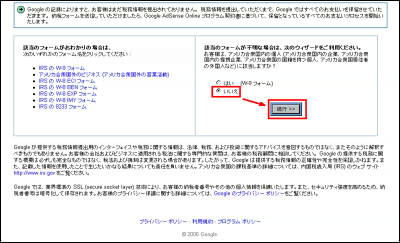 Select "No" and click "Continue"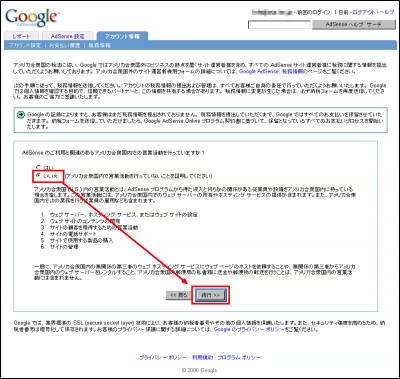 Enter your name at the time of application and click "Send"



This screen is complete. Please click "payment history" and return.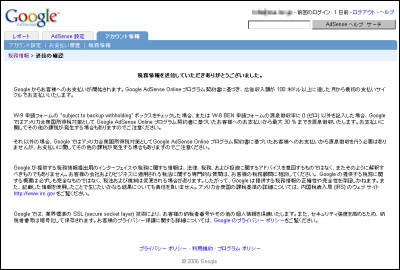 ◆ Registering a bank account to transfer income

Next will be your choice of payment method. Let's proceed as instructed to transfer to bank account. First click on this link



Select "Add a new bank account" and click "Continue"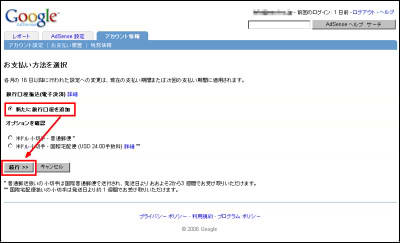 After entering the account name written on the cash card, enter the nickname (anything is ok), enter the account information, then click "Continue"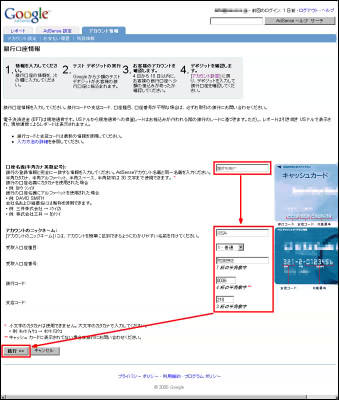 This completes input.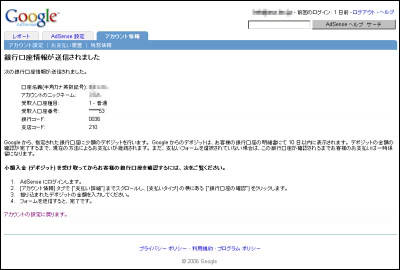 After a while there is payment from "Google Ink" in the account. It is about one week or less.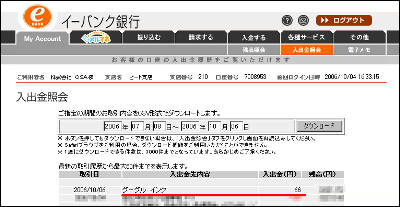 Click "Check bank account" from "account information"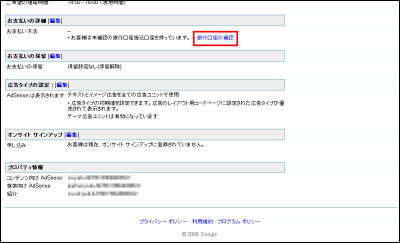 Enter the transferred amount and click "Send"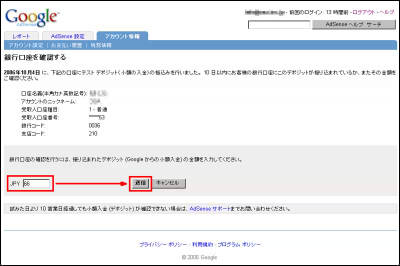 Click "Yes, I will set it as the default bank account information"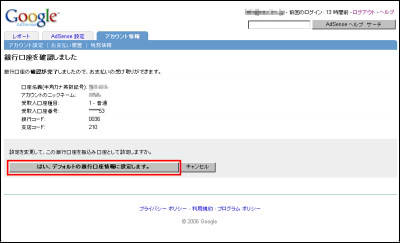 ◆ Entering PIN information
Coming so far is the final stage. Click "Account information" → "Payment history" as "Please enter PIN" comes out



Enter the PIN code in this blank. So this important PIN code will be mailed by Google from 2 weeks after 3 weeks. So, if you do not know what kind of things will come, you will almost certainly get thrown away by your family, cohabitants ... ...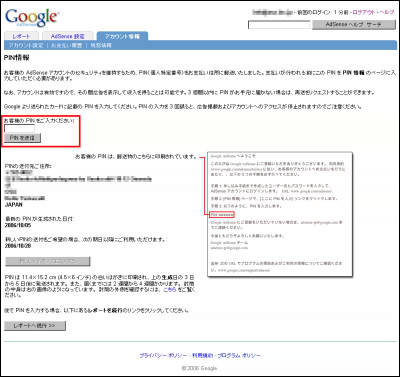 This is a letter from Google. Even if I looked at it I just broke the high quality paper in half. Actually I was about to throw it away ... ....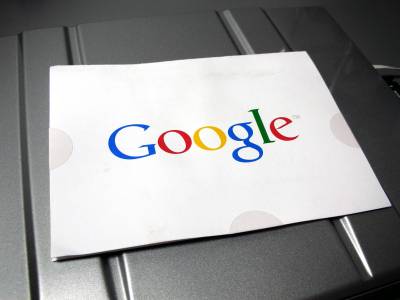 It seems that it is shipped seriously from the Google head office when you look at postmarks etc. It is probably because the reason for taking time is probably because it is shipping service. Moreover, the notation is an alphabet. If a person who does not know the circumstances sees it is going to garbage box with haste.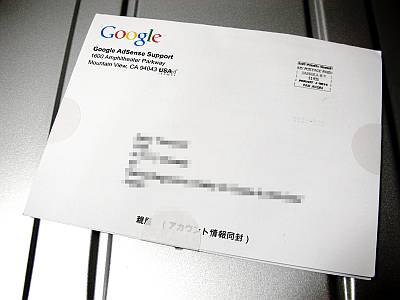 Because the PIN code is properly written inside, let's enter this number in the blank field. In addition, there is a deadline to deliver, and if it does not arrive, it is possible to be re-shipped.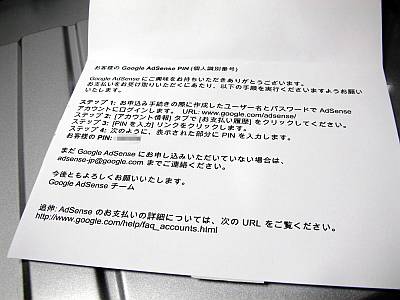 If anyone is living together for the time being, let me remind that all the people living together watching the above picture and saying "Do not throw me away even if it came!"

So the next time will be next time again.

· AdSense setting 1: Color palette for matching to the site
· AdSense configuration 2: a channel for seeking effective settings
· AdSense setting 3: Filter that plays advertisements that do not lead to revenue
· How to make AdSense for content
· How to make AdSense for search
· "Stop advertisement on this site" display stop
· Google AdSense hunting countermeasure