I went to the Internet advertising agent "Elep" who is good at SEM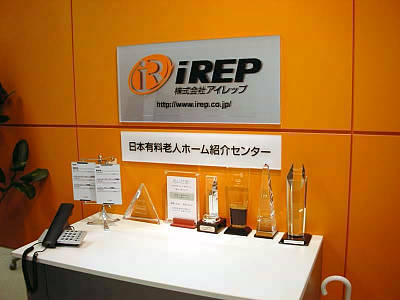 As a matter of fact, an advertising agency specializing in so-called SEM "AileptI got the opportunity to visit.

SEM is Search Engine Marketing, a marketing method that increases the number of visitors from search engines to specific sites of their company, combining SEO commonly, search engine optimization, listing advertisement, keyword linked advertisement, etc. It is intended to demonstrate the maximum effect. When trying to do something on the net, the influence of search engines can not be ignored, so search engine measures are essential tasks no matter what site.

So, what about the Google Certified Advertising Professional and Overture Certified Professional, and in what circumstances is SEM really effective? And I've asked various questions about Google APIs for unknown advertising agencies.
◆ What exactly does Google certified Advertising Professional do?

GIGAZINE (hereinafter abbreviated as G):
I wrote that there are some employees who are qualified as "Google Certified Advertising Professional" while watching the irepp site. What kind of qualification is this?

Ileep (hereinafter abbreviated as I):
There are about 200 companies now in Japan, which is an authorized distributor of Google. Therefore, Google has a certification system of "professional system" for the time being. That's why an agency that has some degree of communication with Google from around us can go to take the qualification exam. That qualification acquirer enters irep.

G:
What will you be able to do if you have that qualification?

I:
It does not mean that you can do something technically if you have this qualification, it will prove that you have such knowledge. It is a proof that you have certain minimum knowledge in Google AdWords. Although some of the skills are included in the test content, if we say that we can consult if we can do it, that is another problem.

G:
Is that basically a qualification for Google AdWords?

I:
That's it. Although the test content has not been disclosed by Google, it also comes out of course to talk about general Google, so it is proof that you have some insight on Google and Google AdWords.

◆ What exactly does Overture certified professional do?

G:
Another "overture certified professional" is this similar qualification?

I:
It is the same feeling. Since Irep is a recommended accreditation agency for Overture who has only 8 companies in Japan, the qualifications that can be possessed are different from those recommended certification agents, authorized agents and general agencies.

G:
What is the difference between each agent's difference?

I:
Basically, it is to some extent sales, the operation system and the backup system change completely. For example, comparing a recommended authorized agency and an accredited agency, one advertisement can not be posted to a certified agency, and there is no such thing that only a recommended accreditation agency can be posted. To the end, since it conforms to the guidelines for publication, whether you go through an agency or apply directly online, there is no difference in that point. However, for the client (client) you will need to make adjustments in various ways. It will support a certain support system for recommended certified agents. Then it will be fine-grained countermeasure and communication will be able to be densely taken.

G:
It is the difference of agents in the sense of support quality difference. Certainly not everyone has sufficient knowledge.

◆ Which sectors are more clients?

G:
As a matter of fact, what kind of business are many customers asking for work?

I:
Especially, we are doing omnidirectional, but there are still few individual companies. Since SEM is inherently proportional to the volume searched by the user, even if the profit ratio is high, the number of searches is small in the beginning, it is hard to realize the effect if business type, work, or phrase which is not often searched because it is originally not searched Competition will not happen no matter how large the market it is a model with low profitability. Basically the advertisement of the net is a system in which the ranking etc. is decided by the competition called the auction system, so it is worth the fact that the bigger market and big profitable industry is the largest amount to drop money.
Then, there are many insurance relations and finance. Specifically, it is consumer finance, insurance, life insurance etc. Then it is human resources system. I am changing jobs and part-time jobs. The car relationship is also big. From dealers such as Toyota or Nissan you are dealer like secondhand car handling, that is because many cars. Normally it is real estate with many searches, and after that it is a normal commerce system. Because of one low revenue, the budget dropping will be slightly smaller for larger market size.
As Irep does not specialize in any type of industry, it means that you are doing it by SEM.

G:
I heard a bit strange things, but what exactly was the industry that I said so far, what was the client that changed quite a bit?

I:
I do not have a relationship now, but since adult and gambling relationships use innovative techniques for these models, there are places that I can do quite desperately. However, honestly, their model is not to say with yakitori for a while, but after all it is a model that attracts guests in a short period to some extent and switches, so it is essentially different from the direction that AiRep aims . So, now I have no relationships.
Also, in a very niche where industrial products, who will investigate? There was something like that. The number of searches is only about 10 times a month, but if you do not take such measures, you can not find that one. Once sold, it has a very enormous sales, so it was worth doing. It may be medicine or patent related. Because it is a niche, it took search engine measures to get it found.
Also, if you have a product name with a brand, I will search by that product name, but if not, I will search by various words. Combine various keywords. If it is normal, I will suggest various things here, but if the expertise is high, it is hard to extract that word. On the contrary, when it comes to this situation, there are cases where it is impossible for competitors who are taking countermeasures against search engines, so there was a case that we choose eyep.

◆ State of ordinary office

Various awards that have been won so far are decorated at reception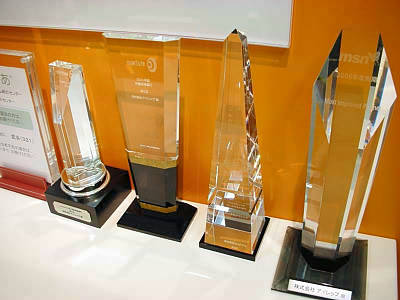 This is the office in the office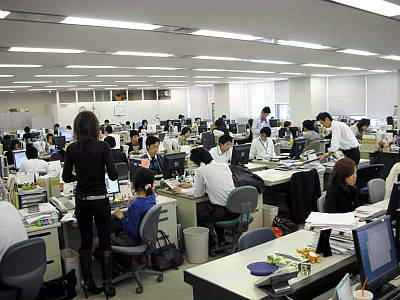 ◆ About how many staff / employees are in total (including full-time employees, contract employees, system-related, designers, bite etc.)

I:
It is about once more than 100 people. About 80% are full-time employees, and after that they are contract employees and temporary staff. System management and designer are temporary workers. However, as for the designer, we may outsource it according to the direction. That's because there are occasions when I make pages that receive advertisements called LPO in my work. I do everything from the direction of this reception page to consultation, but because I can not hold so many people, I have something to do with individual designers or partner company.

◆ Rough general schedule of the day (Flextime for work attendance, meeting in the morning, coverage in the afternoon, etc.)

I:
In general there are two major patterns to divide from 9 o'clock and 10 o'clock.

G:
What kind of difference is that two patterns?

I:
Basically, I leave it to autonomy. There are cases when some of our clients normally move from 9 o'clock, so we schedule voluntarily according to them. In that sense, it is difficult to say a general schedule because it is different for each member.
It is a major way to handle e-mail processing and meetings in the morning, visit the client from the afternoon, go back to the company in the evening and meet with the members.

G:
In a week, the moon - money is the basis?

I:
As a company, it is closed on Saturdays and Sundays. However, the net moves on Saturdays and Sundays (bitter smile)

◆ How do you like lunch? (Percentage of eating out, Percentage done by convenience stores, etc.)

I:
Basically it is a box lunch, because the location of AiRep is Aoyama, there are also people who are going to a nearby restaurant or someone who is going to a school food at a nearby Aoyama Gakuin University.

G:
Is it a school meal? It is!

I:
Because newcomers are lunch, you can not use 1000 yen or 1500 yen each time (laugh)

G:
surely. What other lunches are there? Who is that ...?

I2: (Other irepe male employees who were present)
Half is my wife's handmade lunch box, the other half is a nearby cafe. There are many things like cafe meat. If you are busy you will be McDonald's nearby (lol)

I3: (Other irep female employees who were present)
Well, it's a convenience store or a cafe (bitter smile)

G:
It really is a lot of difference ~

◆ Boasting of the office (Appealing point that other companies in the same industry do not lose here, or even pride of office environment such as all you can eat all you can drink like Google)

I:
As we are seeing it is a simple company ... do you have something ...?

(Discussing a while ago)

I:
Oh, there are many comics in the rest room (lol)

G:
Is it what everyone brought?

I:
Basically that is ... ... Well, for the most part I am bringing (laugh)

G:
What is the point that you can not lose to other companies in the same industry?

I:
It is a location, that there is a place called Aoyama. An advertising agency is often referred to as an agent of "○ ○". Shibuya-san or Akasaka-san? So, Aire is "Aoyama-san" is not it? When I say Aoyama's advertising agency, it seems that somehow a vague sense of fashion comes out. In that sense, it is a good location.

G:
Is not it feeling that the office environment is not so attentive or so sticky so much?

I:
Basically it's no use crazy so much. I made it as simple as possible. So, there is no president office room. Normally both the president and executives are flat. It is the same floor on the same desk.

G:
Is there something like it like a policy?

I:
The number of employees is also increasing and it is inevitable that we can not talk about corporate culture or culture externally, so I am keeping in mind that making a talking-friendly atmosphere is not easy.

G:
Is there not an event in the year?

I:
Eleph basically has a drinking party for each business division every quarter, collecting members in the form of kickoff every quarter, what to do in the future, reports on performance, and various communication is not it.

◆ Episodes and legendary episodes that struggled at work

I:
Originally when my venture started running out, I did not have any housing allowances. The employees are still staying for over twenty people, and the days of staying continue, it has become like a state of being dead at the desk. Then the delegate came and came and died if it kept as it was, so we decided to live nearby because we will give you a housing allowance. So, I checked the amount of the competitor 's housing allowance and if it was within 3 kilometers, I got a house allowance so I decided to live.

G:
If you looked at the competitors, how did you find out?

I:
Uh, even if I say a competitor, I have a lot of social correspondence, I phone and examine it. How do you get there? (Laugh)
There are quite a few sideways connections. I do not have the same trouble, I can not talk about the business that competes after all, but it is quite different from the others. I talk about it, variously.

G:
It is quite steady and steadily doing various kinds of atmosphere.

I:
That's right. I feel somewhat flashy as an advertising agency, but since it does not have anything to do with it. It may be the reason why it is related to its own standing position.

G:
Also, Irepp is doing a job other than advertising agency, "Japan nursing home for nursing home introduction center", but how is this done?

I:
Originally, the representative is from a recruit series, but I am interested in contributing to society and something. If you say how you think business as a company, you are going to support marketing for clients. To support after-marketing will have marketing know-how. Then, it can be applied not only to clients but also to themselves. Matching business. The Internet marketing division has been mainly offering the net, and it became to introduce paid nursing homes introduction business etc. in the senior market through the Internet.

◆ Customers who are assuming that such customers / companies would like to have their work done

G:
What kind of customers do you suppose?

I:
Because it supports marketing on the net, it is easy to do with a client if it is closely related to a net, which is easy to see because it is a conversion, that is, a result. Because, unlike the existing mass advertisement so far, advertisements via the Internet are direct. I understand the number of clicks and how many people actually purchased or how many people requested information. It is helping to consolidate and monetize among them.
Recently, when you are searching for a search window on a TV such as a TV and doing "Please search for ~ ~", that is kind of branding. However, clients that directly generate other real profits, mainly from the small to the big one, are the customers.

Tips on requesting SEM (what kind of things are possible, what kind of results should be expected)

I:
Basically it would be better for the customer to understand the method to some extent.

G:
What degree of comprehension should I have?

I:
There are technology-oriented marketing and marketing such as listing, and there are hundreds including them all. Then there is compatibility with the company, but since the data comes out firmly, as you see what you are doing as a result, when you see a report that such outcome has come out, you are selling ah Not only is it a level that you can judge what is going on? I want clients to have an eye to see such things.
At least it is also worthwhile if you understand what you are using and how you are doing what you are doing, and there is something to put together a partnership.

G:
If that happens, where is the irepp itself a clear difference with other companies, where does it look like urine? When requesting.

I:
As a specialized agency, it is a point that you can commit systematization and semi-dedicated resources. The basic stance is to add added value to the merchandise received from the client. It is the difference of thinking about what you sell. Whether it sells advertisement space or sells a solution, it means that we value the fixed goods.

G:
In the end what kind of results should the client of the requestor expect?

I:
After all it is finally the profit of business. What part of the goal is called Aire is responsible?

G:
Does that mean that it is better for the client to set something like a target number to some extent?

I:
I agree. But suddenly I want to sell 10 million yen in search engine marketing! Even if it is told, I do not know whether there is a market that can make that 10 million yen sales really, what kind of competitors there are, that kind of thing is not understood here. Of course, I know it empirically. After all, I do not know unless clients give me information.

◆ I am running on such a system (rough configuration such as server OS and number of units, or team organization etc.)

I:
The keywords that Ileep manages is very enormous.

G:
Is not it

I:
In the past it was hundreds or thousands of thousands or hundreds of thousands. As a matter of course, you can not manage it with Excel etc. already. There is a need for a mechanism to spit out with PHP or CGI, so there are such systems. Since the API is released, I will use them.

G:
Is there such a thing?

I:
For example, in the case of Overture, there is a tool called an automatic bidding tool, but in the case of Eleph, we offer a tool called i-bidder to customers.


G:
It is an advantage of using an agency to be able to use tools that use such APIs. What is the scale of the server used?

I:
It is a Linux server and a Windows server. I use both. Since it is not provided by ASP, it is a feeling that putting a dedicated server according to the client rather than configuring a number of units with a balancer. Because processing is big. We need some specs and capacity.

◆ Future policies (We plan to develop such feelings, etc.)

I:
I am a company specializing in search engines, but I think that search will increase in various forms in the digitalizing media. Of course the possibility of searching from the television by digitizing the TV also comes out. It is mobile search if it is recent. Humans act as long as there is a desire for action. I will focus on the searching act. Then you will add value to the new service.
Also, as an elephant I am not sticking to just the Internet, but I'd like to do marketing support and matching business, so in that sense the representative says "I want to make an industry."

G:
What about because whereabouts forecast of the future of the search industry?

I:
Various companies, including Dentsu, are making plans, but I think that from the next three to five years will become even bigger. It seems that the major advertiser who has called the national client until now has turned to a net other than the so-called existing advertising medium. It will take a little more until this is a solution. It is a big advertiser like this pulling the market.
After that, a small advertiser in the province, that is, it is making a structure for local people. Overture in the US has already announced, but I am planning to distribute localized advertisements. As it is still a frame like this frame, the price is not decided but it is a model that is sold on an auction system, so the base will spread from both the top and down.
Also, a variety of new mechanisms such as RSS, social networks, etc. are coming out. Social bookmarks and so on. We associate that with the user's search and associate it with the customer's customer attraction. That is one of SEM. I wonder if such a market will grow even if I change my name.

G:
To what extent will Internet advertising expenses increase?

I:
The advertising expenditure in Japan is said to be 6 trillion yen including sales promotion, but we anticipate that it will increase until about 1 trillion yen or less. I think net advertising will grow as much as this. Considering the SEM in that, I think that it will be around 30% in Japan. The share of SEM should grow more explosively.


next time,"Press Release Delivering ValuePress' Value Value Press Approach"…stay tuned.