"Nissin Spa spa king little Japanese style creamy cheese" is on sale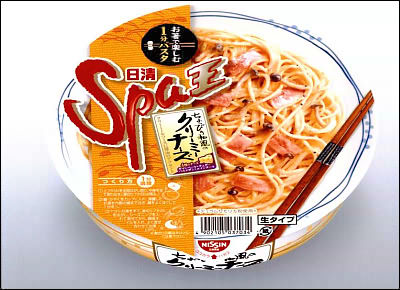 New release all over the country from October 23 (Monday), tax 200 yen.

Cream based Italian pasta with 4 different cheese this time. However, there seems to be a little Japanese style with addition of soy sauce accents to it. Since chopsticks are also placed on the cover, it may be like it somehow.

Details are as follows.
- One minute pasta to enjoy with chopsticks. Soy sauce accents to creamy sauce -
Cup containing raw type spaghetti
"Nissin Spa king little Japanese style creamy cheese"
Information on new release

The contents of the four cheeses are Camembert, Cheddar, Parmesan and Emmental. The ingredients are bacon and hiratake. The area around Hiratake is the royal road of Japanese style spaghetti, is this. I can not imagine cheese + Japanese style, but what kind of feeling is it? Expect great.