A mini game "Squares 2" that gathers rectangles with a mouse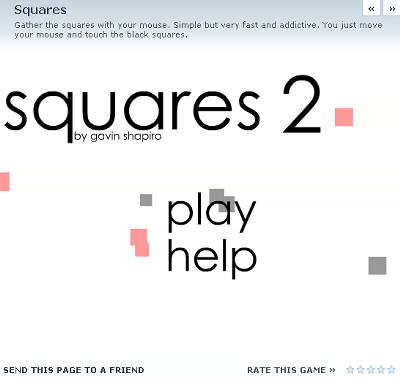 A simple mini game where you move the mouse cursor to move your own black square and collect the same black squares as yours while preventing them from hitting the red square. Simple is just interesting.

The interesting thing is that as your score increases, your own aircraft grows bigger and the speeds of all speeds are increasing. Especially whether it can break through 10,000 points is a division of fate. It depends on how you can efficiently get items that come out periodically on the way.

Play is from the following. I wrote a brief rule explanation and item explanation, then a strategy method.
Squares 2

The black square is the score, the red square is touched out. Black circle is an item, it will activate as soon as any one of 1000 points added, invincible, slow motion, or smaller machine is taken. The red circle is a trap, 1000 points deduction · Change to all red square · Speed ​​up · One of the enormous machines is activated.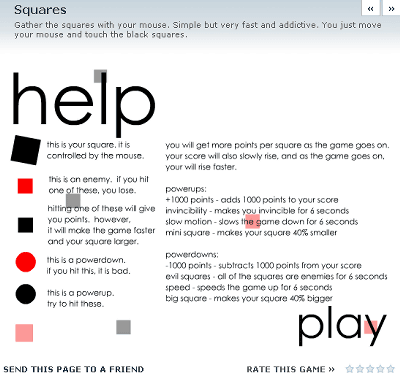 However, red circles will rush at high speed even during slow motion so be cautious.

When you start, you get black squares and circles while avoiding red squares or red circles that appear one after another from all directions.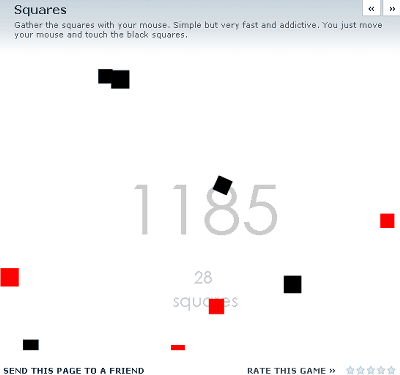 To the extent of reference, this is my highest score currently.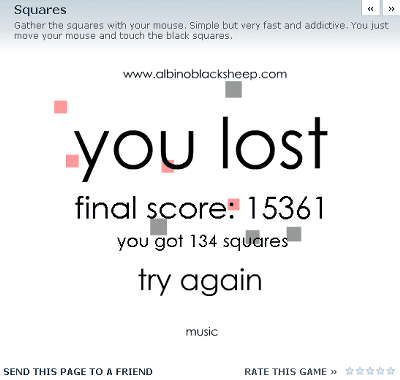 The position of your aircraft is important as a strategy. The early stage will continue to draw points as long as your own machine gets bigger and speeds up until you speed up. This is to earn as much as possible while maintaining attention. The strategy changes with the black circle you get first. The addition of 1000 points and slow motion are not very meaningful, but the effect of making your own machine unbeatable is essential if you aim for a high score. Especially if you can make your own machine small in the middle stage it is possible to develop considerably advantageous. If you can get invincibility with your own machine growing big at the end of the game, you can move the mouse during the invincible time and increase it by about 5000 in the meantime. In addition, if you are in a long-term battle, enemies will appear from the top and bottom, right and left, so if you concentrate on moving your machine around the central score score as much as possible, you can reach around 10,000 points easily and easily.

Omaque 1:This is also a game of the same family, or the like

Omake 2:A game that keeps escaping for a long time by grasping the square in the center. Excellent if you escape 18 seconds or more!