I went to "AKIBA PC Hotline!" And "Window Forest" editing department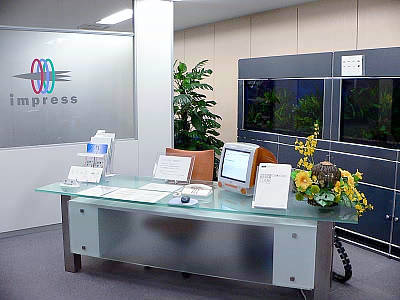 So, at IT event news site finally it is famous as "super"Impress WatchI went to the interview on the occasion. This time I covered the "AKIBA PC Hotline!"When"Window ForestEditor-in-chief of the editorial department.

Both are well-known sites that there are no unknown people if they are middle-level or higher among the readers who are reading GIGAZINE. I tried to approach realities that are concerned about how the two sites were born with the circumstances and how to make future policies.
◆ To Impress
This is the building with Impress. Here is the editorial department.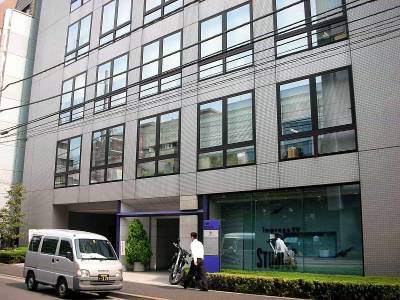 A state of the first floor. Beautiful, is not it what the atmosphere is out.



So, let me guide you to the upper floor and start coverage.

◆ "AKIBA PC Hotline!" And "Window Forest", History of Initiation
GIGAZINE (hereinafter abbreviated as G):
When did you start "AKIBA PC Hotline!" And "Window Forest" from around the time? If you are reading past articles, there is something long ago that you do not know when you are doing.

Impress Watch (hereinafter abbreviated as I):
The predecessor is "Akihabara Map" Why do not you put it in ... "AKIBA PC Hotline!" Is like this.

- March 1995
"Akihabara Map" opened. At that time only Akihabara map and shop information.
URLはhttp://www.impress.co.jp/akibamap/

- June 1995
Opened the "AKIBA Hotline!" Section to post the news of Akihabara.

- September 1998
Changed site title to "AKIBA PC Hotline!"

- January 1999
Migrate server for Watch series.
The URL ishttp://www.watch.impress.co.jp/akiba/

I:
At first, I posted a map of Akihabara. In the first place, there was a Akihabara map made with Windows' s help file and it was said that we would convert it for the web, then it was said that we will post news this time. That is exactly June 1995.

G:
I see. Well then, what about the "window of the windows"?

I:
If you enter the history of the predecessor, "Forest of Window" is older than "AKIBA PC Hotline!" It is like this.

- 1994
"Akiho Window" opened in Tohoku University.

- October 1996
"Window Forest" opened at Impress.

I:
"AKIBA PC Hotline!" And "Window Forest" have a predecessor and they were ahead of the current watch, so "○ ○ Watch" is not named. Well it is still so ....

G:
"Forest of windows" is quite famous among those who frequently use software. With the feeling that it started with such a toko, including the wikipedia and the cotton and history on it.

I:
I think that most of the people today do not know the history of the establishment.

◆ In the first place How did the "○ ○ Watch series"
G:
So, what kind of series of "○ ○ Watch series" was made with?

I:
In the first place, "INTERNET Watch" began, that was the first paid e-mail magazine in Japan, then let's do the web again in the future ....

G:
Is the e-mail magazine ahead and the next web expansion?

I:
That's right. Because, in those days, there was no web media yet in Japan, because there was no e-mail magazine in the first place. At that time, I received a subscription acceptance fee by FAX. I started with the staff at the time of the founding of INTERNET Watch, and after that it was going to go also this, so "PC Watch" also started, derived from it and made it a series ... In fact, There was something like lifewatch, what was it, surely "sports watch" or something that was doing, but it collapsed in the blink of an eye in a blink of an eye.
Maybe in the future, I think that officially what we do mostly will be named "○ ○ Watch". It might be a bit different if it is a pattern that puts an external site somewhere. Sometimes you are asked why the window company and Akiba are not named "Watch"? When. In short, there is a historical background, you can really change.

G:
Indeed, there are certainly many historical backgrounds when listening. Also the window was updated every day about 4 years ago and it was updated even in the middle of the night. Awesome. I thought when the forest of the window was absent at that time.

I:
It is not time to put on the news at that time, is not it?

G:
Well, it was a software update announcement article.

I:
Ahhhhhhhhhhhhhhhhhhhhhhhhhhhhhhhhhhhhhh there is history. When I started getting the window, it was a Vector method. I will post anything that came. A lot of people sent software for the first time, actually using it and registering it together after writing a review, but that's not going to turn around. It became a trigger and criticism became stronger on the net, so it does not go around as an actual business and it is inconvenient for the person who uses the service naturally ... and so on. Because it took me six months to register it after I applied for software registration. Several months have passed since I applied for registration and it is not good anymore ....
So, what should we do now? There are also things like negative campaign .... Well, as the style of "Watch" already exists as a business model, I said that I would turn it over, then I told you to do it. Then let's try advertising with the main issue of issuing news. In fact there was absolutely no income at all, the forest of the window. It was a crisis of survival at that time what to do as a project. Then it is a feeling that we change to the form which said the policy earlier, and it reaches now. So I was not able to catch up at that time if I had to do it until the night.

G:
Indeed, that is amazing.

◆ Moe boom and "AKIBA PC Hotline!"
G:
Akihabara has been talked about in the last few years. Was the access increased for those of "AKIBA PC Hotline!" At that time compared to the past? Or maybe there were a lot of people who increased their own PC boom at a stretch?

I:
Simply put, in long-term charts, it used to be a sharp rise in the past. Now which one is parallel? Although I was decreasing for a while for a while though ....
But well, that trouble is deep in that one too ... (bitter smile). In the old days Akihabara was famous for electricity and radio. So, in a sense when we said that it would be exciting with my own PC, we are taking this one this time in the same way as the current Moe system! Momentum, exactly this is the new generation! It came with the image that it was able to get on it. But suddenly when I notice, the so-called "Moe system" came crying the same thing this time. Because I'm not a Moe family person, if I lick a little whether it is such a temporary boom, if I suddenly notice it, it has become such a city completely and it is Odoroki.
I am saying "Akiba" from the title already in the media in the media. Right now it is said that Akiba gets moeier than PC, and there is such a gap. However, it is hard times because there is something saying that it is no longer catching up with Moe based on "AKIBA PC Hotline!" Soon.

G:
Does that mean there was a time when we thought about turning around for a while?

I:
Actually, the first site name is "Akihabara Map", the corner name in it was "AKIBA Hotline!", But in fact, it was known at that corner name then. Then, once again, "AKIBAPCHotline! "As" PC "I put on. If we do not put in letters "PC", I thought that I could not do something new with Akiba as the axis. For example, if you do "Moe" now, "AKIBAMOEHotline! "And elsewhere. This is the reason that "PC" attached the name. However, as well I'm thinking as if I do not have anyone who can do anything in maid with "AKIBA PC Hotline!" (Laugh). Now it seems that there are not many people who can do such things inside the company, so feel free to tell me if there really is anyone wanting to do in the future. When it tells clearly that it is "I want to moe!" At the time of application of personnel, it is good that it is! And so we can also return it.

◆ How many staff are there?
G:
About how many people are there in staff at all?

I:
"Window no Mori" has four people in the company without externally contracting with me. The person of "AKIBA PC Hotline!" Feels like 4 people plus an external writer without entering me.

◆ What is your day's work schedule?
G:
How do you feel about the general general schedule of the day?

I:
Well, "Forest of the Window" truly makes a meeting from about 10 o'clock every month from Monday to Friday, after about 18 o'clock I will issue all the mail version, then I will search for it again.

G:
Do you search for story at night?

I:
It is quite busy with various things such as making articles, FTP maintenance, and so on, for other times as long as there is no more time at night. Those who are "AKIBA PC Hotline!" Are basically working hours from Tuesday to Saturday, most members start interviewing in the evening and finish is almost the last train. It is still nice to end with the last train.

◆ How is lunch done?
G:
What do you do for lunch and dinner?

I:
Is it lunch? Actually this is pretty mysterious even in the editorial department (bitter smile). Why is everyone eating what, when and where they are eating No one has exchanged information. I am doing it, though ... I usually buy McDonalds and I am eating in the editorial department, so everyone else is asking what I'm eating. I do not understand anything about other people (lol)

G:
Everyone says somewhere to eat and eat, do not eat inside.

I:
I agree. It is somewhat in the evening, but it is almost out.

G:
Well then, is it only the editor-in-chiech feeling "Naka-ekki" (Nakashoku)?

I:
I am basically eating here. It is sad that I am eating out somewhere outside alone (laugh). If you are buying something at a convenience store and are eating, if you are going to Akihaba it's like Mos Burger and so on.

※ Postscript postscript:
According to an additional survey after the interview this time, there are people who are going around a maid cafe with a rookie and people who eat hot ramen in the summer at "AKIBA PC Hotline!" In addition, there are comments such as "Akihabara increased meals but I am troubled because food expenses are so high that there is no common people."

◆ office environment, workplace, company boast, here is a good place
G:
Is not the atmosphere like workplace harmonized by rules?

I:
There are basically many looser things about publishers in many ways. Instead, there is a place where the sense of that person is questioned, there is not a hierarchical relationship so much, and if somebody says he wants to do it, he will let me do it. I thought that I was a good place like that and joined the company. But there are many things that is not good. Basically I leave it to individual qualities, so I do not have to educate as a company. Although I have begun to think about newcomers education somehow in the past several years, since I have only mid-career so far, I have only experienced or experienced people who have experienced some experience. Right now, the group as a whole is about to adopt new graduates. That is why there is a need to educate. In this way it will gradually become like a normal company. As a good old-fashioned place, it is basically left to individuals' qualities. I have never been told to do such things as to do oh and even if I asked if I could not do this kind of thing, I was angered when asked if I could do such a thing. It was a company that you could do without permission if you wanted to do it. Basically I also thought that it was good so I also do it like that, do a submachine to my subordinates I do not say anything like to do this, oh well, that boss' s boss is what It will be a story that I will not say that (bitter smile). Basically, I leave it to the things individuals want to do and are free-handed.
Basically, our company basically has no money, so it is not mode. It is about doing interesting things first and, as a result, going to work as a company. I'm going to end up going back when I do not have enough motivation to go on funny things. That's why, let's raise sales by 20% next year, ok! As this company does not have a sales promotion system nori like sales, such a point may be "loose" as a company (laugh).
Originally I originally had an individual work "Akihabara Map" at the beginning, and actually it started from the place where I put it in the CD-ROM of my own PC-based magazine of Coco's company. So, let's expand it on the web, I just just made it to the web, at first. After that it was supposed to have started the news, and at that time it was just like I personally entered impress.co.jp and borrowed it. Perhaps "Akihabara Map" may be so in the meaning of becoming a company from a personal site. But there are already few people who know such a thing ~ Sorry.

◆ Legendary episodes and struggling episodes
I:
After all it is the time of the window forest. At one time I was criticized from outside and there was a time when I got stuck. Conversely, I thought that it would turn into a style of Watch so it went well as a result. The semi - annual turning point in that sense was very exciting in a sense, and it was also very painful. I already got scolded by e - mail from the author, so I do not know if I really turn around as a business, but it was a wonderful period that everyone worked hard.
Actually, I, I think that if you asked something about this company's first achievement, "Window Forest" was rebuilt. Although "AKIBA PC Hotline!" Was done with extension of my hobby, there was a point that the extraterritorial law was made to do it without permission, and that was also a hard work though. In comparison with that, "Window Forest" was desperately desperate because I thought "It's the biggest blunder if I crush it over there!" Impress Watch itself did not have so many genres so much, so everyone was serious.
"AKIBA PC Hotline!" Was the first time I had a hard time. It was hard at that time to post the price of the shop on the web. But since prices are being put out in public places, there is no reason not to investigate it and put it on the web. That was already a belief, I did not think that I was wrong about what I was doing. But, at that time I was hated by every shop. I was surveying completely at the mask around the beginning. Write a story about a junk store, do not show the price! I was e-mailed.

◆ Assumed readers
G:
I guess you are doing it from the beginning thinking of advanced readers.

I:
I agree. For example, in the case of "AKIBA PC Hotline!", Either way, in the pyramid, at the summit, everyone should buy what we bought here in five years. In other words, rather than everyone else, we are in a spirit of using it five years ahead of schedule. Now I do not think anyone like this will be going to do with 2 video cards, and I think that it is strange, but the fundamental direction is the same as the old days, is not it? It may be useless, but I mean that it's time to spend money on technology and do some fun things.

Tips for browsing the site
G:
Do you have any tips for browsing the site? I think that I decided to think out something like that, but ....

I:
I wonder if you are not considering it anymore (bitter smile). There are lots of things that are difficult to use, and I care what you like, but what are the tricks ... ...? Since "AKIBA PC Hotline!" Is still in a weekly based design, it is a feeling that back numbers will come to the page on a weekly basis after all, so I think that it is convenient to that person personally, but it is a bit old-fashioned When. I think that "AKIBA PC Hotline!" Is going to be daily, but I think that it is quite nice to see it on a weekly basis as it is, how is it?

G:
So that means that the entire site was laid out with a sense like turning over pages of magazines.

I:
As far as "AKIBA PC Hotline!" Is concerned, it has taken shape since it is based on an old weekly base style. I forcibly do it now, I keep doing the old design like a daily, but I guess that I can not do it anymore. I am trying to increase the number of news by making it a daily drip method.

◆ I am using this system
G:
What kind of system does both sites operate?

I:
It is a data center + multiple server configuration that I do not know anywhere now, but it is amazing to think now when Impress Watch started 10 years ago (laugh). Now I feel like a personal home server. Editor-in-chie: I put Windows NT + IIS on the server nearby, and I tried to do advertisement display with the "Hidemaru" macro.

G:
Have you been doing random ads with the macro of the text editor "Hidemaru"?

I:
Moreover, I feel I had failed (laugh). At that time the web media was not just Watch, and there was not anything neatly about ad delivery systems. But sales are getting something ad .... It was nice to have taken advertisements, but it was a story about how to advertise on the page. Moreover, in the old days, the server was IIS, all of the editing department man was managing it. At that time, the engineering department was not even done, and I operated the perpetual PC as a server.

G:
Does the server have fallen in the past?

I:
There were several times in the past that the server will fall. It was a while that there was a thing that when I put a file for demonstration with GAME Watch, I fell over the band with a great momentum and fell down. I am not much of anymore because I am improving the bandwidth and server capability these days.

◆ Future directions
G:
In what direction will "AKIBA PC Hotline!" And "Window Forest" go forward?

I:
Both are very troubling places, in other words it will be fun. For example, as far as "window forest" is concerned, distributing files in binary itself is against the trend, is not it? Because it's Web 2.0 age. For example, even Excel ends up being told that it's OK to googleSpreadSheet. So, I am planning to convert the current style of that "window forest" and decide to throw away the style itself of distributing on the site itself. I think that I'm going to do something like that in the future as well.

G:
Do you think BitTorrent or something like that, ahhh, with file sharing fellows.

I:
I have it as an idea, but it is difficult to do as a business. Well, conversely, Web 2.0 is also distributed on the server for everyone, so it will not be necessary to distribute it in binary, surely. Then, we do not have meaning to have FTP site, so in reverse it will be a collection of links. However, if it comes to me, if it is a spreadsheet, it will be something other than GoogleSpreadSheet, and if you do not know it will develop from there.
As for the future direction as to distribute in binary if the relation of software changes, we also have to change, too. Which means packages are no longer sold, I thought that the trend of selling online will come, but I can not come at all (bitter smile).
Until now I was mainly engaged in free or shareware of individuals, but I was thinking on the policy to arrange all the items made by makers in the same line regardless. But, as manufacturers do not have much to do with download sales. As time goes by, the era of Web 2.0 is about to come, so maybe there is a "window of forest" to introduce such services.
Also, if you are going to expand something, it may start not only the media "AKIBA PC Hotline!" But different things. There may also be "Moe Watch".

next time,"Until my sister desktop is completed"…stay tuned.