ChatGPT traffic drops for first time since launch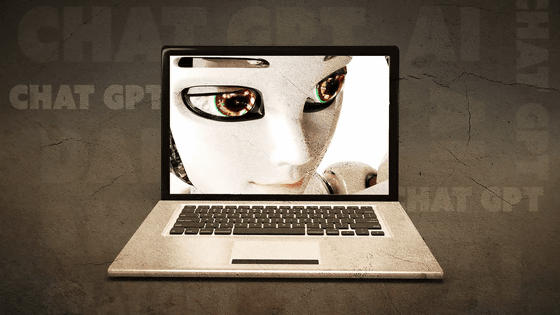 It was found that OpenAI's chat AI `` ChatGPT '', which was released in November 2022 and has attracted a lot of traffic, recorded a decrease in traffic for the first time since its release in June 2023.

ChatGPT Drops About 10% in Traffic as the Novelty Wears Off | Similarweb

https://www.similarweb.com/blog/insights/ai-news/chatgpt-traffic-drops/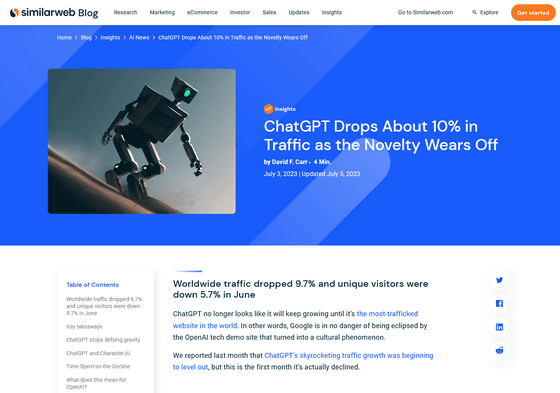 ChatGPT's explosive growth shows first decline in traffic since launch | Reuters

https://www.reuters.com/technology/booming-traffic-openais-chatgpt-posts-first-ever-monthly-dip-june-similarweb-2023-07-05/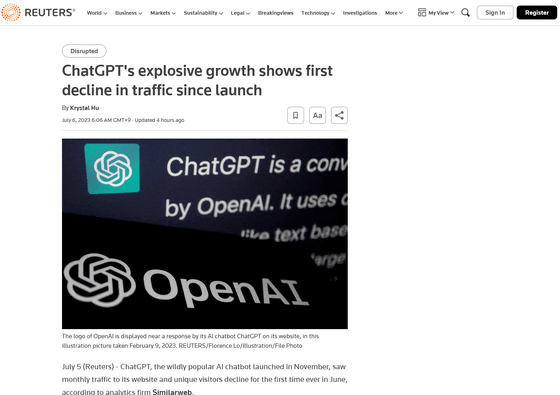 According to SimilarWeb, which analyzes web traffic, ChatGPT's traffic has increased sharply since its release, but the momentum slowed down to almost the same level in May 2023. In June 2023, it turned to decrease for the first time.

The decline was 9.7% lower than the previous month, the number of unique visitors was down 5.7%, and the time spent on the site was down 8.5%. Even so, it is still the service that attracts the most users as a standalone chat AI, and it is also a stand-alone chat AI that is far ahead of character.

Below is a graph comparing the traffic of ChatGPT (blue), Bing (orange), character.ai (purple), and Google's Bard (black) worldwide.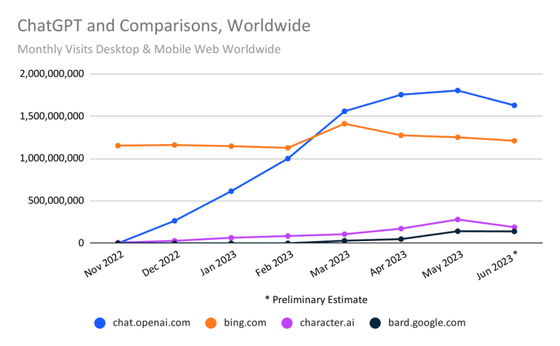 According to SimilarWeb, the time spent by site visitors has already been on a downward trend for several months.



It is speculated that the reason for the decrease in traffic is that the novelty has faded and users have left, and that the iOS app was released in May 2023.

Reuters said this slowdown in growth could help control ChatGPT's running costs, as OpenAI CEO Sam Altman commented that operating costs were 'dizzying'.