It turned out that Acer was hacked and stolen 160 GB of files containing confidential information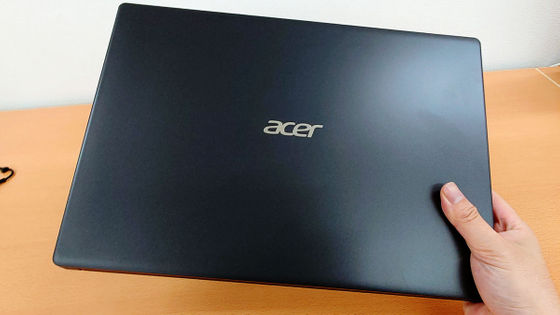 It turned out that Taiwan-based computer maker
Acer
was hacked due to unauthorized access in mid-February 2023, and approximately 160 GB of files were stolen.
Acer confirms breach after 160GB of data for sale on hacking forum
https://www.bleepingcomputer.com/news/security/acer-confirms-breach-after-160gb-of-data-for-sale-on-hacking-forum/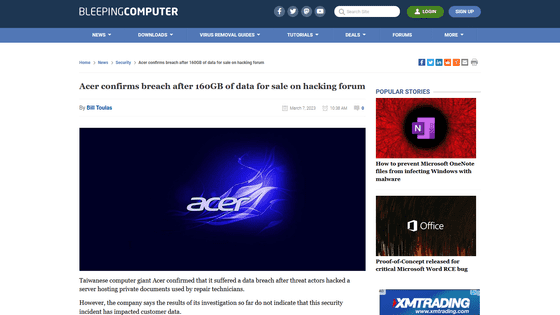 Acer apparently a new data breach, 160 GB of data available for saleSecurity Affairs

https://securityaffairs.com/143150/data-breach/acer-data-breach-160-gb.html
ANOTHER Acer Data Breach? Hacker Claims to Sell 160GB Trove of Stolen Data
https://www.databreaches.net/another-acer-data-breach-hacker-claims-to-sell-160gb-trove-of-stolen-data/
It was a hacker group called 'Kernelware' that hacked Acer. Kernelware hacked Acer's server for repair technicians in mid-February 2023 and stole 655 directories and 2869 files totaling 160GB. Kernelware also sells the stolen data in an auction format using the virtual currency
Monero
on cybercrime forums.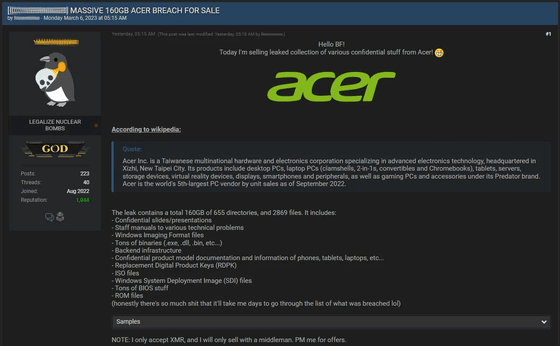 The data that Kernelware claims to have stolen from Acer is as follows.

・Confidential slides and presentations
・Staff manual for technical issues
・Windows imaging format file
・A large number of binaries such as .exe and .dll
・Backend infrastructure details
・Product model documents for smartphones, tablets, laptops, etc.
・Replacement digital product key
・ISO file
・Windows system deployment image file
・Many BIOS images
・ROM file

Kernelware has released the schematics and documents of the display ' V206HQL ', BIOS, and screenshots of confidential documents as evidence of stealing data.

An Acer spokesperson said, ``In mid-February 2023, unauthorized access was detected on one of the servers for repair technicians. There is no evidence that it was saved in ', he denied the leakage of customer data while admitting that the data leakage was true.

A large-scale cyber attack on Acer also occurred in March 2021, and at that time, Acer was required to pay a ransom of $ 50 million (about 6.8 billion yen) due to a ransomware attack.

Acer suffers ransomware damage, ransom is more than 5 billion yen, the highest ever - GIGAZINE