Intel announces processor for 13th generation Core mobile with up to 24 cores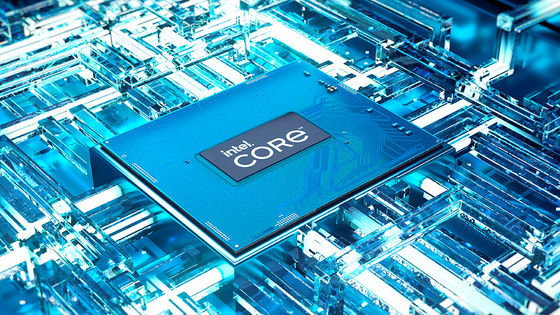 by Intel

On January 4, 2023, Intel announced the 13th generation Intel Core mobile processor family. The new lineup includes 32 processors, including the first 24-core flagship model 'Intel Core i9-13980HX' for notebook PCs.

CES: Intel Extends Performance Leadership with World's Fastest Mobile Processor

https://www.intel.co.jp/content/www/jp/ja/newsroom/news/intel-announces-worlds-fastest-mobile-processor.html
13th Gen Intel Core Processors
https://www.intel.com/content/www/us/en/newsroom/resources/13th-gen-core.html
Intel's 13th Gen mobile processors include the first 24-core laptop CPU - The Verge
https://www.theverge.com/2023/1/3/23536804/intels-13th-gen-mobile-processors-specs-release-date-price-ces-2023
Intel Unveils 13th Gen Core Mobile Processors: Raptor Lake-HX, H, P, and U Series, Up To 24 Cores
https://www.anandtech.com/show/18703/intel-unveils-13th-gen-core-mobile-raptor-lake-hx-hp-and-u-series
Intel's new mobile 13th generation Core processor adopts the same architecture ``Raptor Lake'' for desktops
announced
in September 2022, and the highlight is the maximum single thread performance compared to the previous generation. The HX series for high-end notebooks with 11% faster multitasking performance and 49% faster multitasking performance.
In particular, the flagship model 'Intel Core i9-13980HX' has 24 cores boasting a turbo frequency of up to 5.6 GHz, and Intel calls it 'the world's fastest mobile processor'.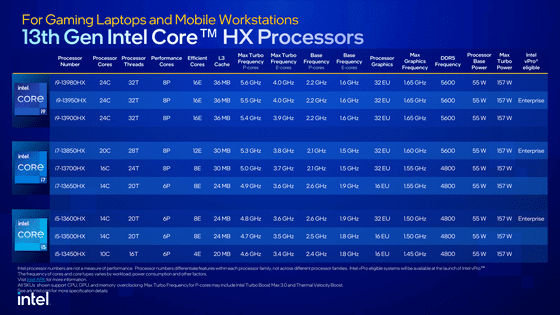 by Intel

In addition, the number of cores has decreased from the flagship model to a maximum of 14 cores with 6 performance cores and 8 efficiency cores, but the H series, which is a CPU for
enthusiasts
such as gamers, is also being deployed.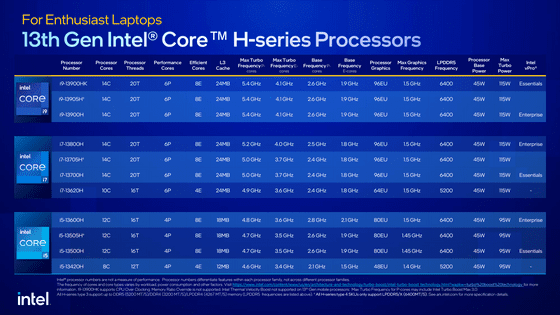 by Intel

The P series and U series are positioned for thin and light notebook PCs.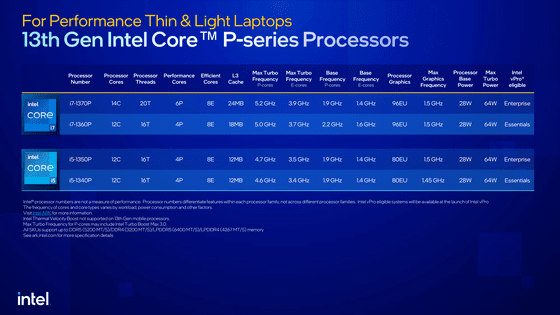 by Intel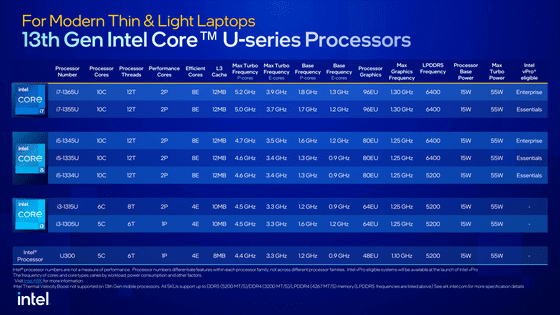 by Intel

According to Intel, the new series is expected to arrive in 2023 with more than 300 products from brands including Acer, Asus, Dell, HP, Lenovo, MSI, Razer, Republic of Gamers and Samsung.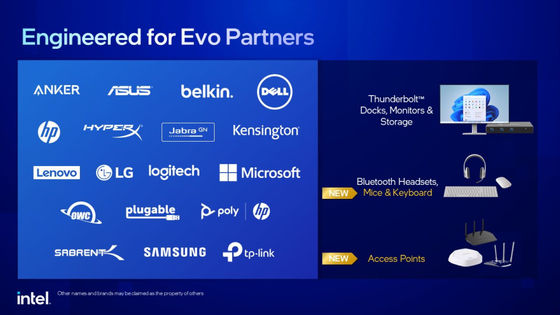 by Intel

Intel also announced its 13th generation desktop CPUs. Designed for the mainstream, these CPUs are said to improve single-threaded performance by up to 11% and multitasking performance by up to 34% over the previous generation.
by Intel