``Nissin's Donbei Tokumori Tempura Chili Oil Soba'' Tasting Review in which oversized crispy tempura is soaked with spicy sauce of chili oil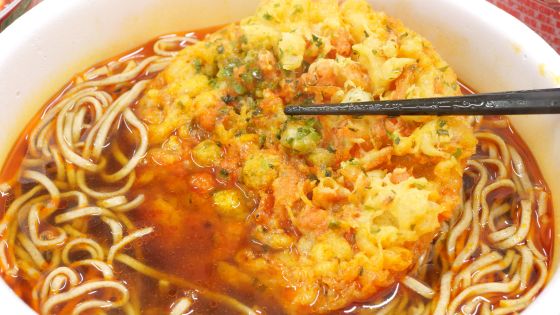 `` Nissin's Donbei Tokumori Tempura Chili Oil Soba '' using sweet and spicy sauce with chili oil was added to the Donbei soba series, which is characterized by its crispy tempura, on November 28, 2022 (Monday). . It is said that it is finished in ``this winter's best cup'' where you can enjoy the fragrance of oversized tempura and the sweetness of soup at the same time, so I actually ate it and checked the taste.

``Nissin Donbei Tokumori Tempura Oil Soba'' (released on November 28) | Nissin Food Group

https://www.nissin.com/jp/news/11088
I found 'Nissin's Donbei Tokumori Tempura Oil Soba' at the instant noodle section of the convenience store. Look for the red chili oil written in red letters.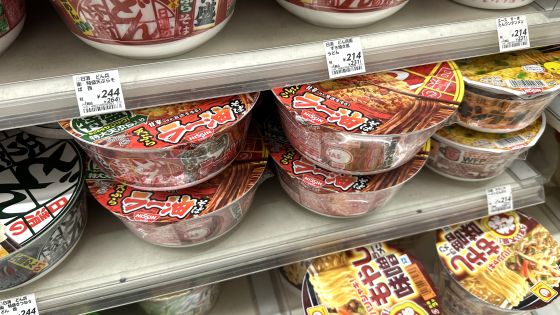 I bought it and brought it home.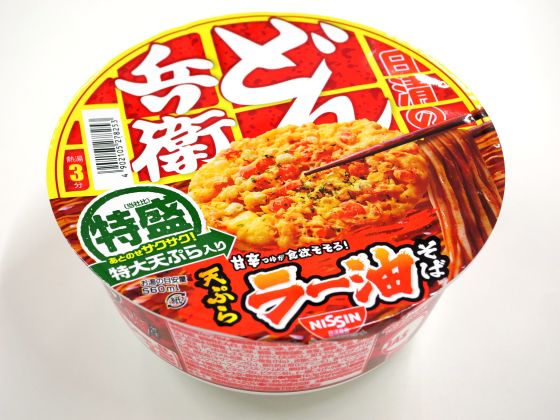 The name is instant cup noodles, and raw materials include Japanese-style ingredients such as buckwheat flour, soy sauce, and bonito powder, as well as lard, beef tallow, and spice extracts.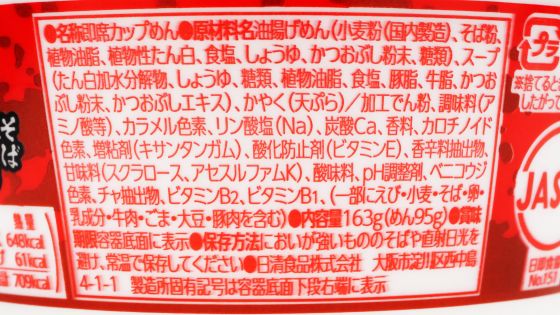 The calorie is 648 kcal for noodles & kayaku, and 61 kcal for soup. The total calorie of one cup is 709kcal.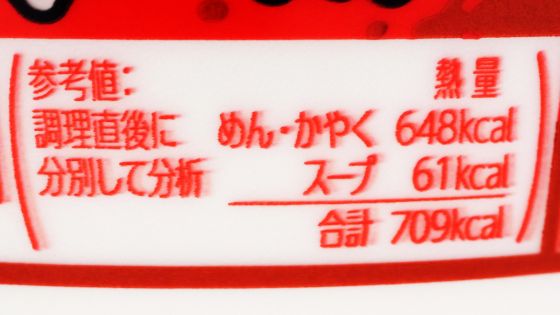 When I opened the lid, it contained liquid soup and oversized tempura.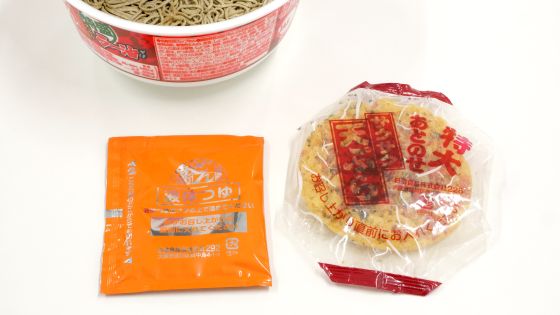 After removing the liquid soup and extra-large tempura, pour boiling water up to the inner line.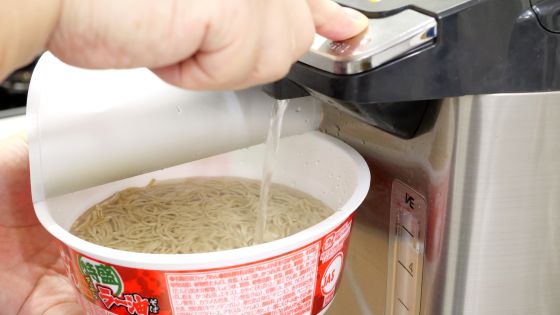 Put the liquid soup on the lid and wait for 3 minutes.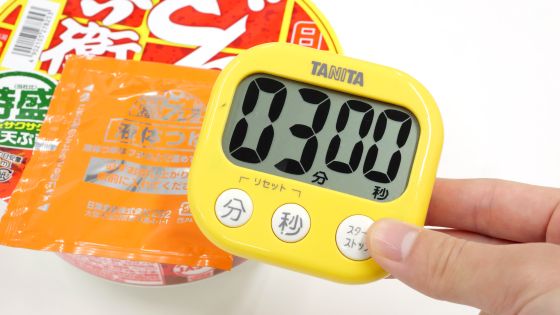 After 3 minutes, add the liquid soup.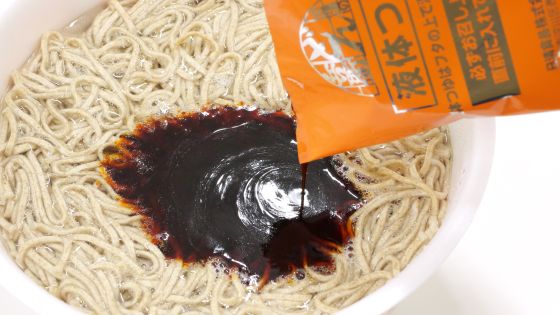 When mixing the liquid soup, the scent of sesame drifted.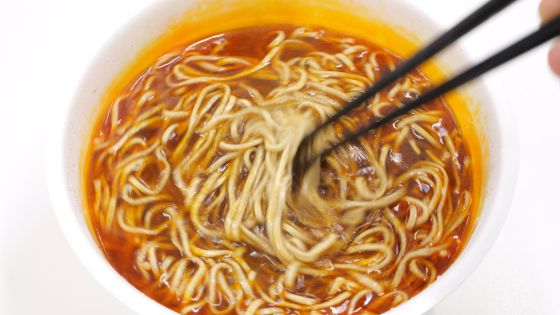 Red chili oil floats on the surface of the soup.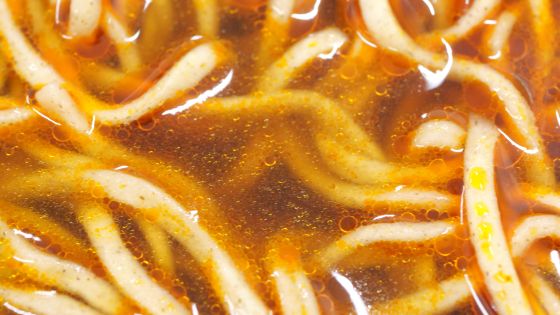 Finally, top it off with extra-large tempura and you're done.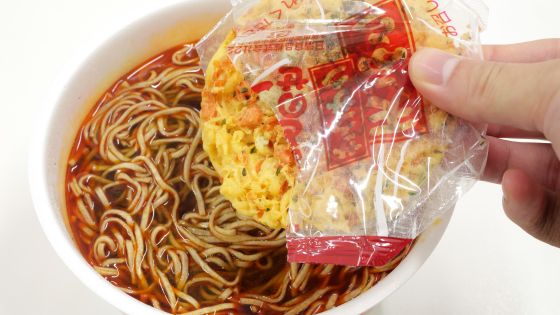 The completed 'Nissin Donbei Tokumori Tempura Oil Soba' looks like this.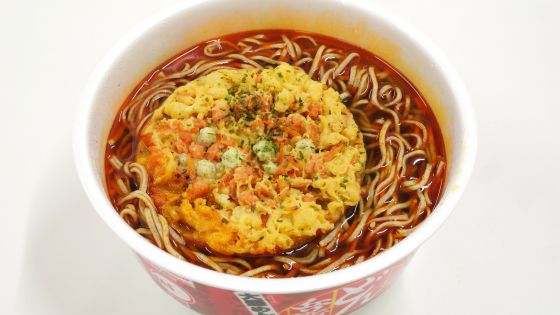 When you first slurp the soba noodles, the sweet and salty sauce is entwined with the straight noodles, whetting your appetite. A little greasy was added by chili oil, and it was finished in a rich taste as soba.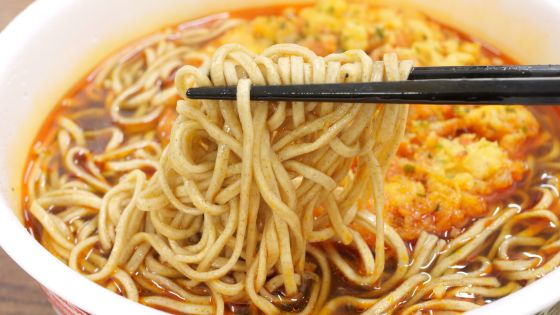 Next, when you eat extra-large tempura, you can enjoy the familiar crispy and fragrant taste of the part that is not soaked in soup. The sweet and salty soup overflowed in the mouth, and at the same time, the tempura oil spread in the mouth. 'Nissin's Donbei Tokumori Tempura Oil Soba' is a cup with a rich flavor overall.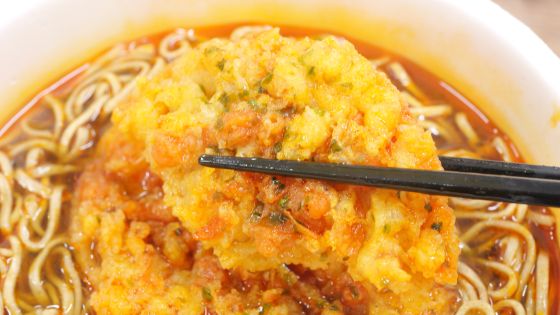 `` Nissin's Donbei Tokumori Tempura Oil Soba '' is 276 yen excluding tax and will be sold nationwide from November 28, 2022. Also, at the time of writing the article, you can get 12 pieces at Amazon.co.jp for 3213 yen including tax (about 268 yen per cup).

Amazon | Nissin Foods Nissin Donbei Tokumori Tempura Oil Soba 163g x 12 | Donbei | Buckwheat Mail Order