Google terminates cloud game service Stadia, supports full refund of games & hardware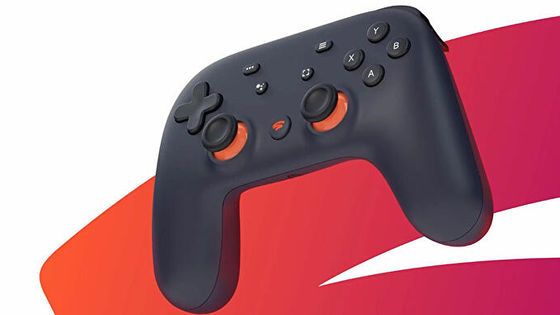 It became clear that the cloud game service `` Stadia '', which wasannounced by Google in March 2019 and started service in November of the same year, will be terminated on January 18, 2023.

A message about Stadia and our long-term streaming strategy
https://blog.google/products/stadia/message-on-stadia-streaming-strategy/

Google is shutting down Stadia in January 2023 - The Verge
https://www.theverge.com/2022/9/29/23378713/google-stadia-shutting-down-game-streaming-january-2023

Report: Google Killing Stadia, Refunding All Purchases
https://kotaku.com/stadia-google-refund-cloud-streaming-assassins-creed-1849597014

Google Stadia shutting down in 2023, Google confirms - Polygon
https://www.polygon.com/23378721/google-stadia-shutting-down

Stadia is shutting down in January | Eurogamer.net
https://www.eurogamer.net/stadia-is-shutting-down-in-january

Phil Harrison, vice president and general manager of Google's Stadia division, posted 'Message on Stadia and long-term streaming strategy' on the official blog. Among them, Harrison said, ``Over the years, Google has invested in various aspects of the game industry.We help developers develop and distribute game apps on Google Play. We reach global audiences on YouTube through live streams and short videos, and our cloud streaming technology helps us deliver immersive gameplay at scale.'

He continued, 'Several years ago, we launched Stadia as a consumer-facing gaming service. Stadia's approach to consumer-facing game streaming services was built on a strong technical foundation, but it didn't do as well as we expected. We have made the difficult decision to end Stadia's service because we were unable to acquire more users,' he announced the end of Stadia's service.

Stadia players, find an important update on Stadia here: https://t.co/IIFRYiIYUu

— Stadia ☁️???? (@GoogleStadia) September 29, 2022


In addition, we announced that we will support refunds for all Stadia-related hardware purchased from the Google Store, as well as all games and add-on content purchased from the Stadia Store. Users will be able to play games on Stadia until January 18, 2023, and most refunds will be completed by mid-January 2023. In addition, Google says that it will respond to refunds for game hardware and purchased games, but refunds for the paid subscription service 'Stadia Pro' will not be made.

Below is a summary of FAQs associated with Stadia's end of service. Hardware does not need to be returned and Stadia Pro users will be able to receive service until the end of service.

Stadia Announcements FAQ - Stadia Help
https://support.google.com/stadia/answer/12790109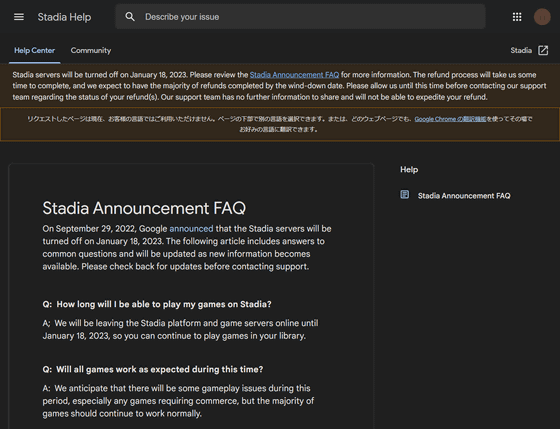 The Stadia development team will be dissolved and members will be assigned to other departments within Google. "We thank the Stadia development team for their groundbreaking work and look forward to continuing to impact gaming and the rest of the industry at large with the underlying Stadia streaming technology," Harrison said. , the cloud streaming technology cultivated with Stadia will be applied to other fields.

In addition, in February 2021, Google closed the department for developing Stadia-only games.

Google closes Stadia dedicated game development department, Stadia itself will continue - GIGAZINE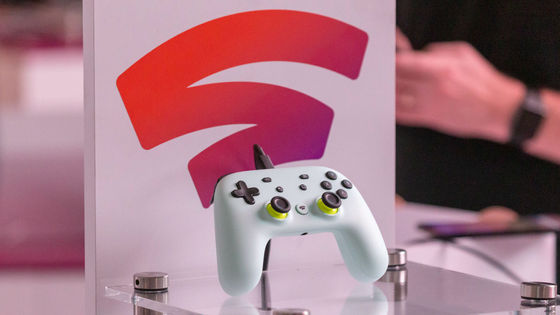 Regarding the end of Stadia's service, The Verge said, ``The recently announced Logitech G CLOUD , a handheld game console specializing in cloud gaming, was the only cloud gaming service that did not mention Stadia. Stadia has been around since the beginning of the service. Faced with end-of-service rumors, and Google often shuts down projects just a few years after they started, Stadia, Google's cloud gaming service with little ties to the gaming industry, ended early. was a strong candidate for

Game media's Kotaku said, ``Stadia's fortunes weren't meant to end from the beginning. Given Google's track record and Stadia's journey so far, it's questionable whether they've properly tackled their ambitions. The development department for Stadia-exclusive titles was closed in 2021, and the project in pre-production was also canceled, so some developers who were involved in development felt betrayed.' He pointed out that he had not made an appropriate effort. In addition, `` Microsoft's acquisition of Bethesda '' is cited as one of the major causes of the end of Stadia service.