'Patlabor EZY' will be unveiled as early as 2024, and director Yutaka Izubuchi will announce it at 'Mobile Police Patlabor Bukkake Talk'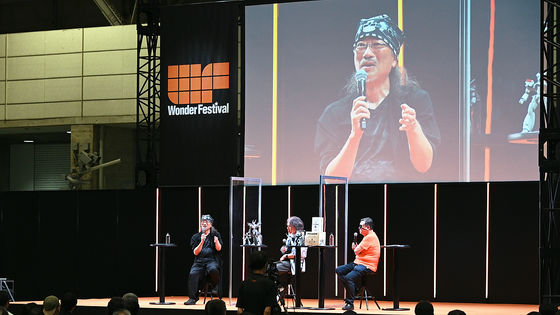 A stage event entitled 'Mobile Police Patlabor Bukkake Talk!' Was held in '
Wonder Festival 2022 [Summer]
', and Yutaka Izubuchi, who is the director of the new '
Patlabor EZY
', announced the main story early. It was revealed that it will be the next year (2024).
Mobile Police Patlabor Official Website
https://patlabor.tokyo/
13: 45–14: 15 @ Official Stage

'Mobile Police Patlabor Bukkake Talk! 』\

[Cast]
Yutaka Izubuchi (Mechanic Designer)
Teruhisa Tajima (Art Director)
Senmu Miyawaki (Representative of WF Executive Committee) pic.twitter.com/Zt7tbnS380

— Wonder Festival Official (@WF_officialinfo) July 7, 2022


Chairs were lined up in front of the stage at intervals.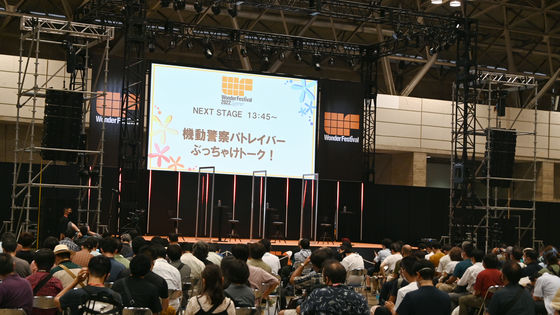 Mr. Izubuchi, Mr. Tajima, and Mr. Miyawaki who took the stage.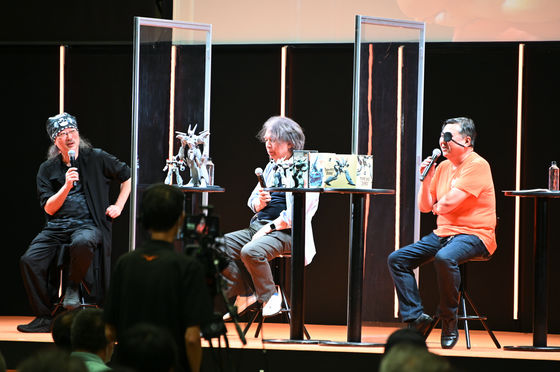 The talk event started with the story that Mr. Tajima also designed the Kaiyodo logo. In the first place, when designing the package for 'Mobile Police Patlabor', Bandai's producer Shin Unozawa consulted with Mr. Eikichi Yazawa's office, 'Is there a good designer?' Mr. Tajima, who had been there, was mentioned, and Mr. Tajima decided to work on animation for the first time. He said that he worked by incorporating the idea of CI (corporate identity), which makes it easier to develop various products by unifying the fonts.

After that, when Kaiyodo released products related to 'Mobile Police Patlabor', Mr. Tajima said that he would like to go with Patlabor. According to Miyawaki Senmu, Kaiyodo at that time had the idea that 'the contents of a garage kit are a game', and it seems that some packages were handwritten with magic, and when I saw Mr. Tajima's package design, He thought, 'Why can this old man do this?' After that, the Kaiyodo logo designed by Mr. Tajima will be used for a long time.

As of 2022, the production of the new 'Patlabor EZY' is underway for this 'Mobile Police Patlabor'. According to Director Izubuchi, after the first announcement in 2017, there were twists and turns that could not be talked about even in a blunt talk, and then it became a system that can be made over time.

The work is in the process of being conte, and Director Izubuchi said, 'I was told above that you shouldn't tell me if it's a series, but if you say this, you'll understand.' Said. However, it was not revealed whether it was a TV animation, multiple theatrical versions, or some other form.

It is said that you can see 'at the earliest next year (2024)', and on this stage, three still images were released from the 90-second pilot film.

In addition, it was revealed that the 98 formula is still in operation during the work. It is unlikely that such an aircraft will be replaced with a completely new one, and it is assumed that it will be updated and used.

It was also announced that the 'Makuhari International Labor Show', which is not the 'Tokyo International Labor Show' that appears in the film, will be held at the Wonder Festival in the winter of 2023. According to Miyawaki Senmu, it will be an event to collect Patlabor that has appeared so far, and Director Izubuchi proposed to make a diorama of Makuhari Messe in Makuhari Messe and arrange items there.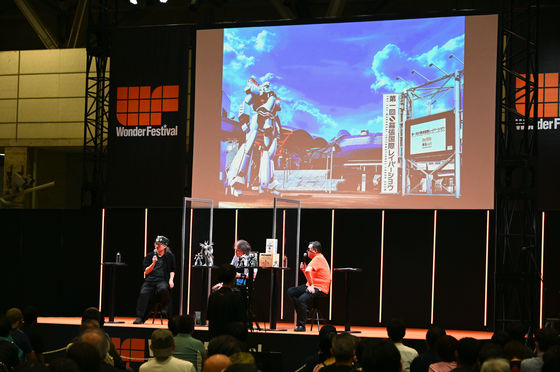 The pilot film will be released for the first time on Saturday, August 13, 2022, in the special project 'Pato INFO Special Edition Patlabor Day Commemorative Talk Show' of the Mobile Police Patlabor membership official fan site 'Special Vehicle Division 2 / Branch'. .. Please refer to the following articles for other publication schedules.


'Mobile Police Patlabor EZY' pilot video will be released in the summer of 2022 --GIGAZINE