I went to the live-action version "THE NEXT GENERATION Patlabor" deck up event where the full-size large patrol bar with a total height of 10 meters stands up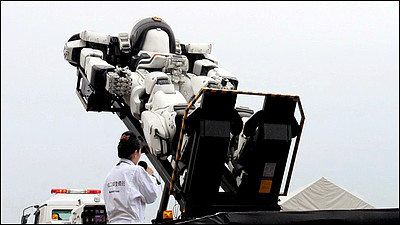 Movie version"THE NEXT GENERATION Patlabor"Chapter 4 will be released from Saturday, August 30, but the real size 98 type AV Ingram which appears in the play was the first deck up in West Japan. Together with the Patlabor main body and the transporter for movement, I went to Osaka Nanko ATC Piloti Plaza where the event is held to confirm the overwhelming powerful Labor with this eyes.

98 Formula AV Ingram Deck Up Event Movie "THE NEXT GENERATION Patlabor": Osaka Minamiko ATC
http://www.atc-co.com/event/000846/

"THE NEXT GENERATION Patlabor"
http://patlabor-nextgeneration.com/

The event was held at the Asia Pacific Trade Center (ATC) located in Osaka Prefecture Osaka City Suminoe Ward, Minami Kohoku 2-1-10.


Arrived at Osaka Minamiko ATC.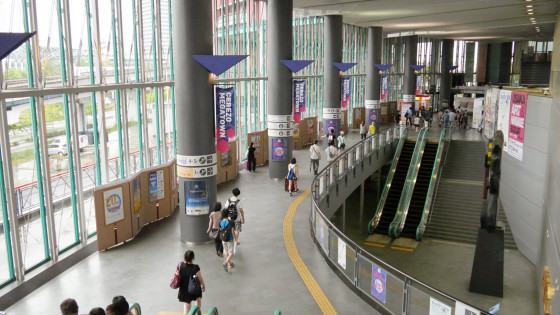 There was a big announcement of the deck up event in the hall.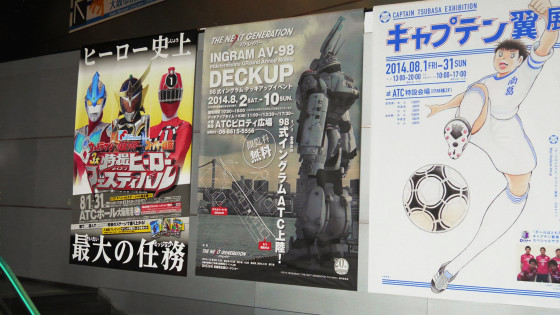 Although it is unfortunately rainy, there are people who have already headed to the venue even one hour before the event starts.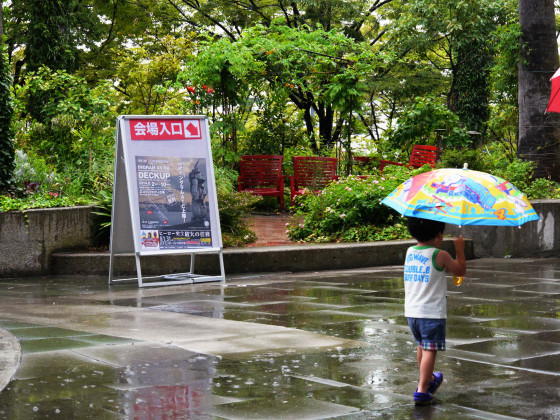 Go down the stairs and head towards Piloti Square ......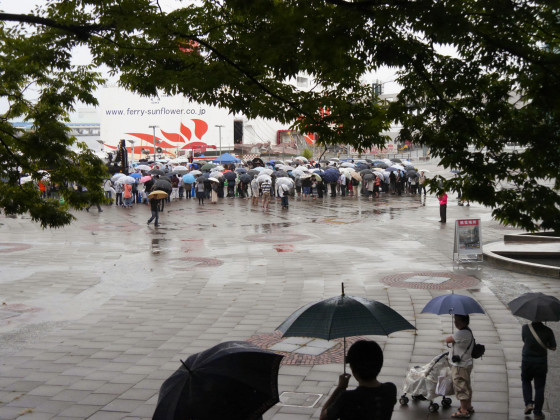 I found a crowd.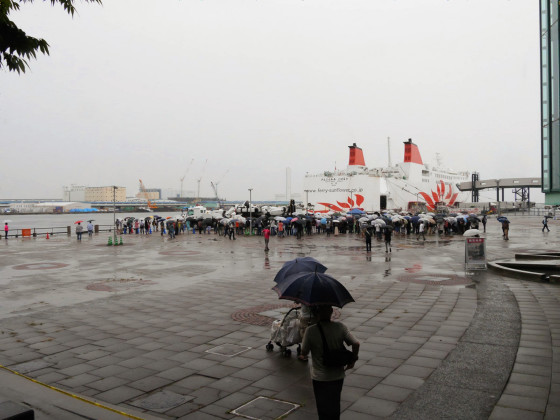 98 type AV Ingram lies in the middle of a crowd.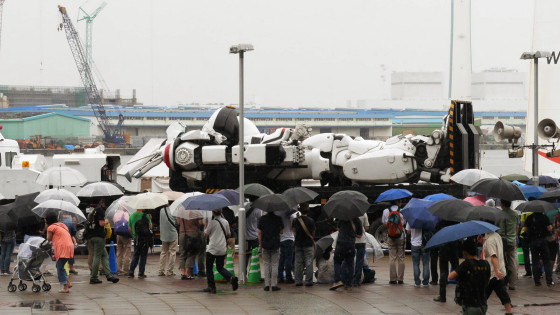 There are so many people that I can not see it well, but as I approached ... ...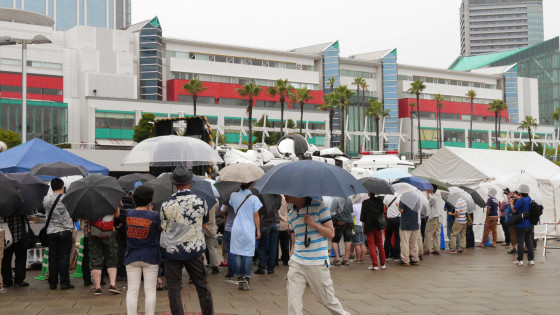 This is the 98 type AV Ingram.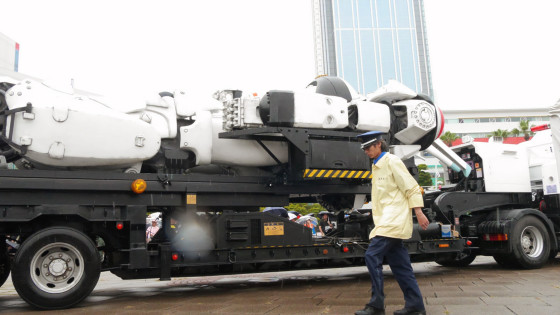 I am lying in the transporter of the Metropolitan Police Department.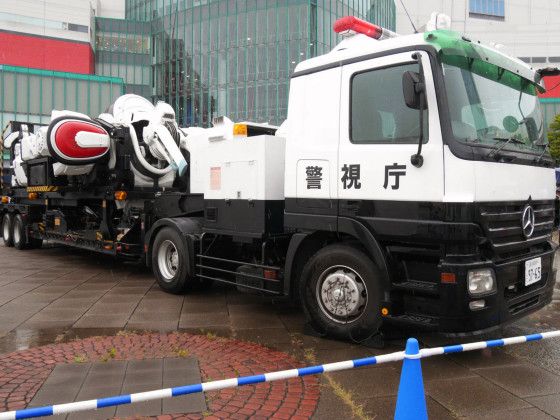 A special group 2 department maintenance team came out from inside the vehicle.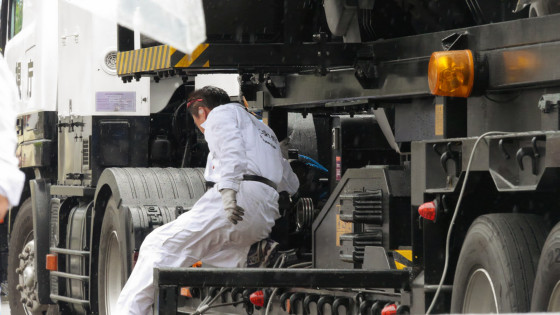 Harmonious.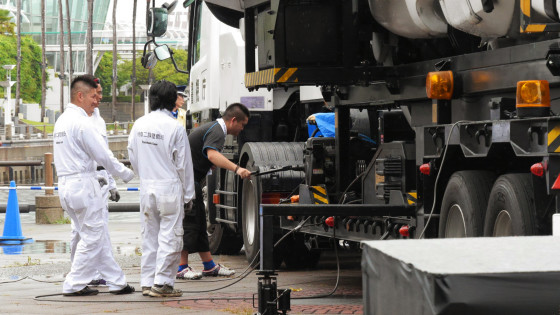 As the event starts approaching, more and more people will grow.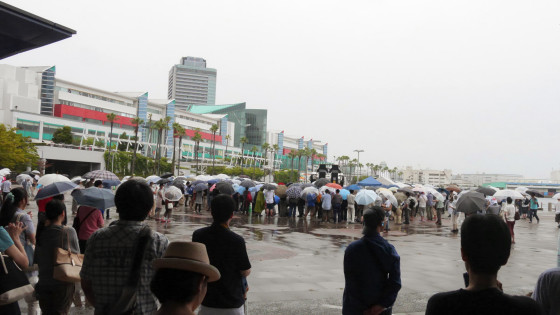 A person with a question appeared and the event started.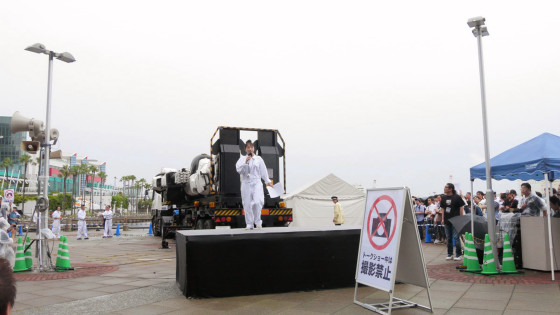 When a person stands in front, you can feel the size of the lying bar.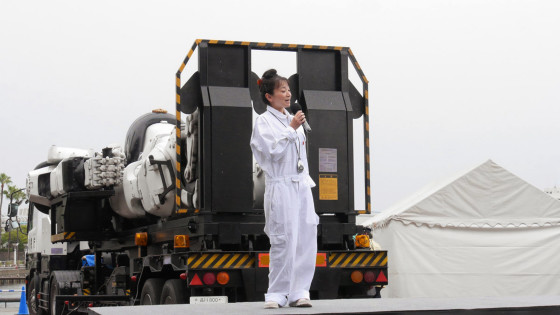 Play Akira Izumino with the movie "THE NEXT GENERATION Patlabor"Mano ErinaAppeared.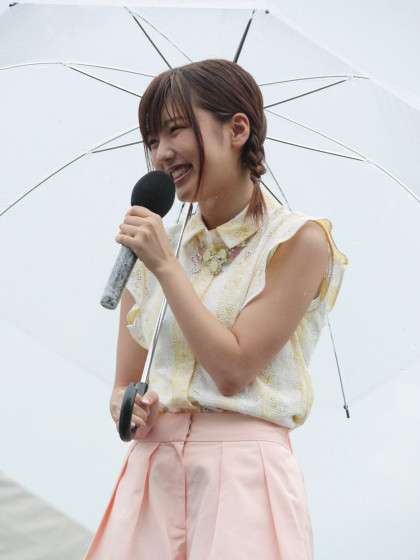 Patlabor will come up with Mr. Mano's shouting "Patraybaer, exit!"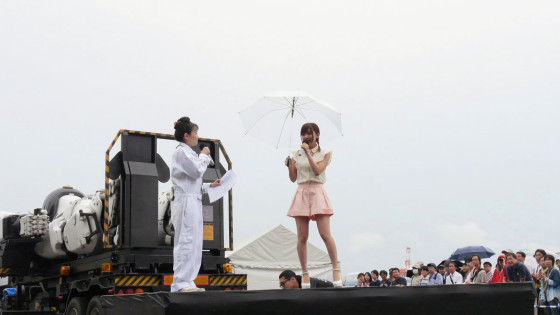 You can check the appearance of Patlabor from the following movie.

The moment when the full-size Patlabor rises is like this - YouTube


Layber lying ... ...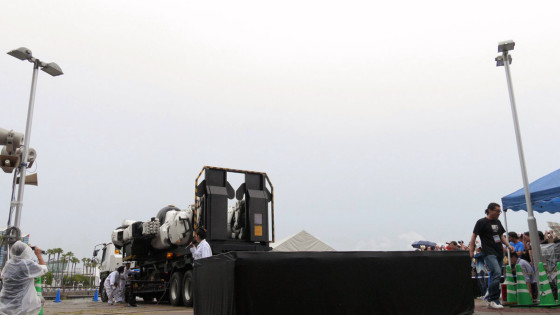 I will start rising. It is surprisingly fast.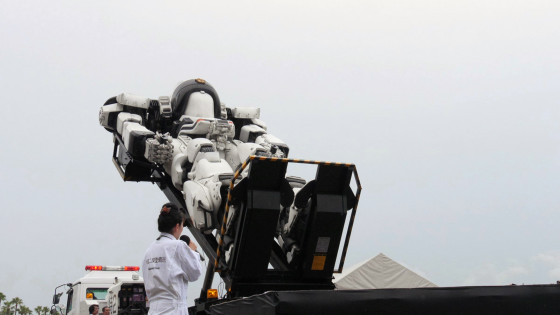 It stood upright.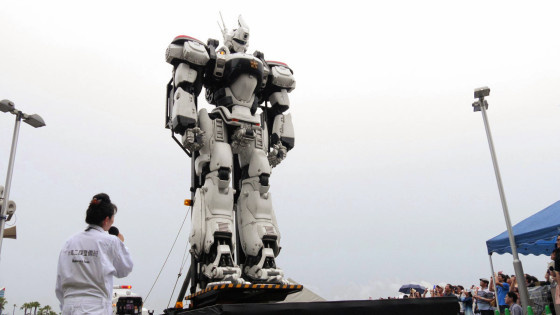 This is a 98-inch AV Ingram with a total height of 8 m. Actually it is quite impressive.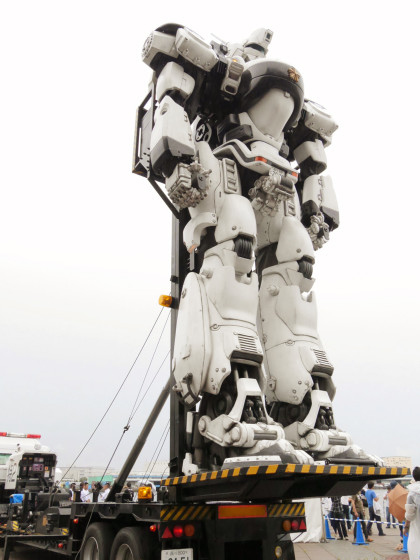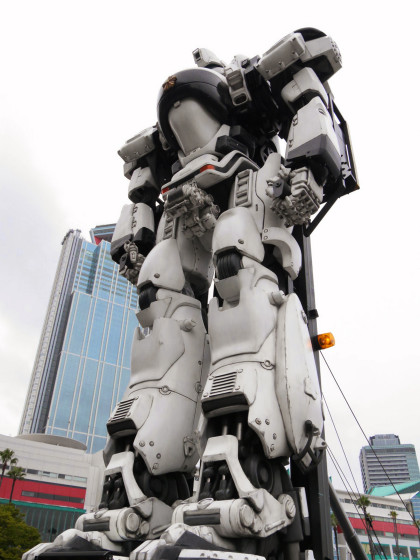 head on.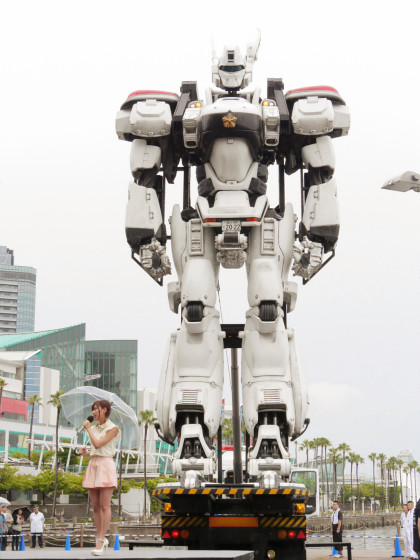 Shinagawa number.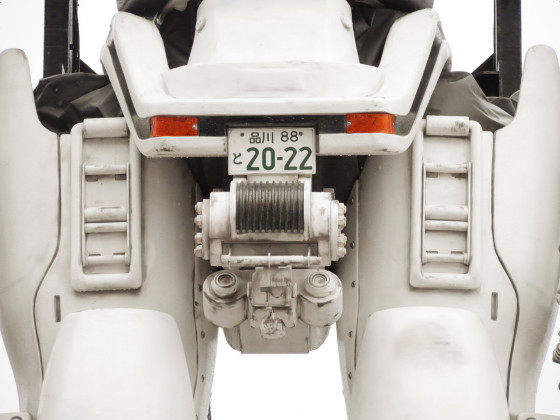 back.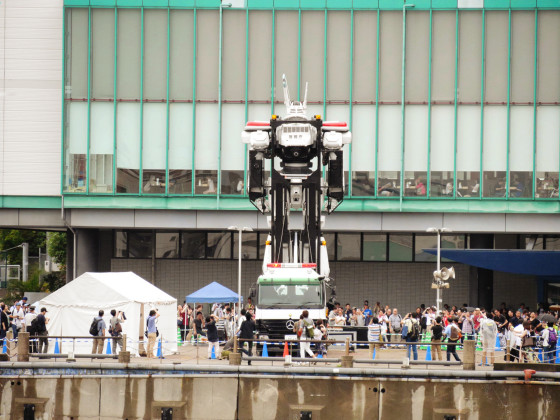 If there are people around you, I can understand the enormity.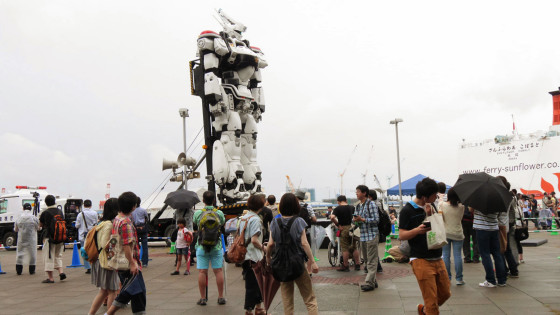 side.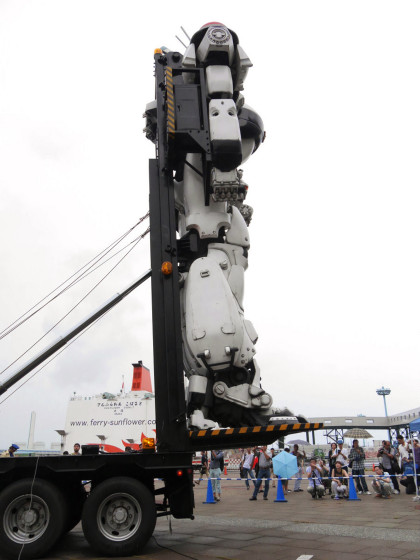 The dirt and scratches of Laba who came to this place make me feel the season.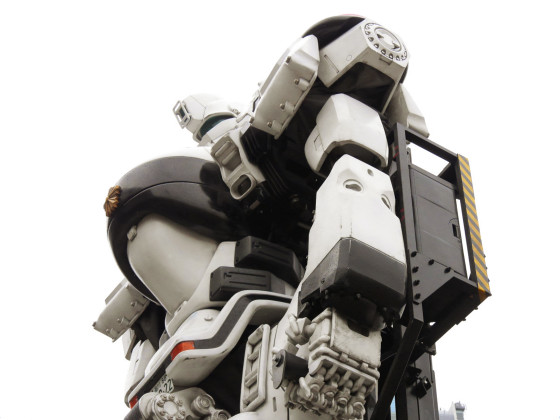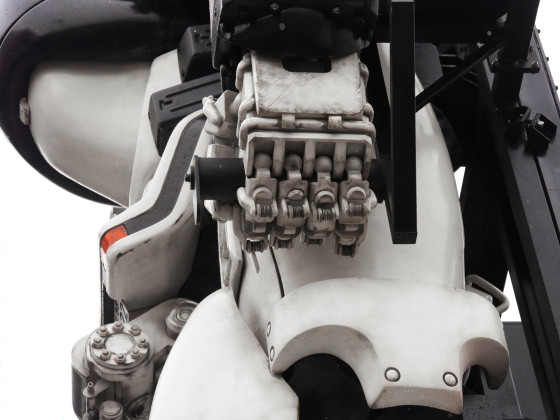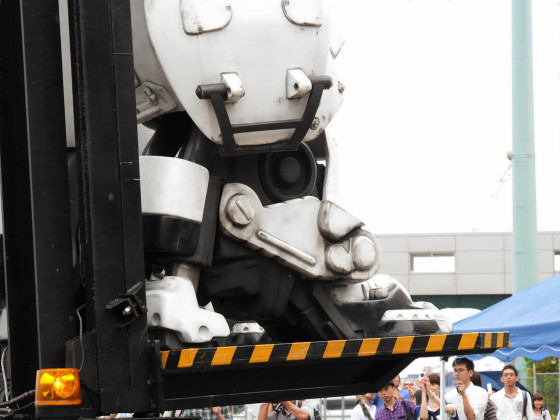 The state of the talk event performed before Patlabor deck up by Mano Erina is as follows.

Erina Mano (hereinafter, Mano):
Hello everyone, Erina Mano. Thank you for coming in the rain.

Moderator:
First of all, can I tell everyone who came in the rain?

Mano:
It is the first time that the 98 AV Ingram comes to western Japan, but what is the first time to deck up in the rain? I am excited.

Moderator:
Well, I'm wondering if Laver will start up properly, have Mr. Mano ever visited Osaka or ATC?

Mano:
Osaka was a solo live one month ago. In February of this year I also came with a manager at private and played with USJ. You are coming every year.

Moderator:
Do you like Osaka?

Mano:
The food is delicious (lol)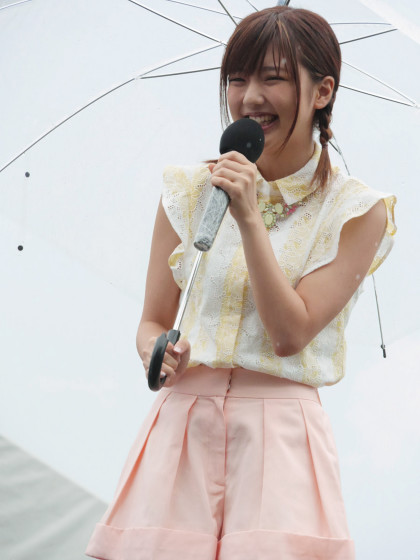 Moderator:
I would like to wait for the deck of Ingram while talking with Mr. Mano like that. This time it was a total of 7 chapters, and filming of the movie version, it was quite a long shooting, was not it?

Mano:
I agree. Just since the end of June last year, our men until the end of December. The whole shooting itself is about mid January of this year.

Moderator:
I played the role of Izumi Akira in such a situation. There may be people who think that "it is not a different way of reading" among you. It is the same character as the original heroine and it's a different reading method, but what kind of role is Izumi Miaki like?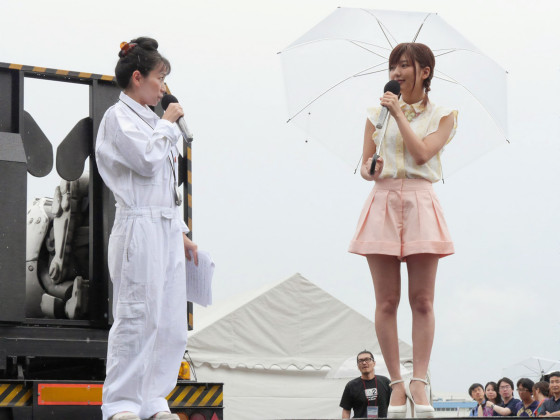 Mano:
I understand when you let me see the character introduction of the homepage, but it is a kind of trouble that you can compare with Akira something something something. Akira is with Nomo and likes Labor. There are many people who are disgusted with members of the special car two department. Especially the men team. What is it, Kasha or Akira is very strong, and many women have actions. Really, Ming is life-sized. I think that I am closest to myself among the roles I have played so far.

Moderator:
What kind of place is close?

Mano:
Where do you like games? Ming often lies on the sofa and playing games, but I am wearing Emona Mano on holidays.

Moderator:
Mr. Mano had a pretty hard training scene in the play, but is he really good at action?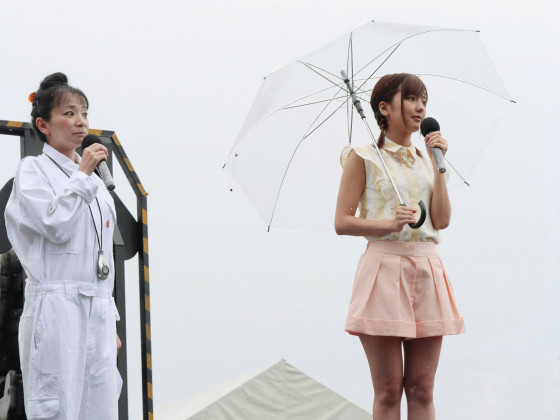 Mano:
It was my first time to take such action in full swing, so I was practicing about two months before cranking in, but I enjoyed it. Originally I was doing basketball exercise from around age, so I like to move my body.

Moderator:
It was filmed even in a narrow cockpit but is not it quite lonely work?

Mano:
I agree. Actually get on and it's really small ... .... Because there is a height restriction of getting ingram, I can only ride Mr. Akira and Otawara. The shooting was summer so it's hot anyway.

Moderator:
I do not have a cooler inside.

Mano:
Once it gets in, it's been around for about 2 hours with the setting of the camera. I had make-up from a small gap, I got a towel, and received water.

Moderator:
Really! In the work, it is connected with the members through the screen, but in reality you are not coming in front of you.

Mano:
I do not think so. But it is not income, but I used to use earphones and heard while listening to your voice, so it was easy to do.

Moderator:
It's full of really cool scenes, but please tell me if you have a favorite scene.

Mano:
I agree……. Chapter 2 Episode 3's "Tekken Akira" is the light main times, but you can see the light that left the special car two section. There are plenty of actions, such as strength of Ming, ordinary girls, etc ... ....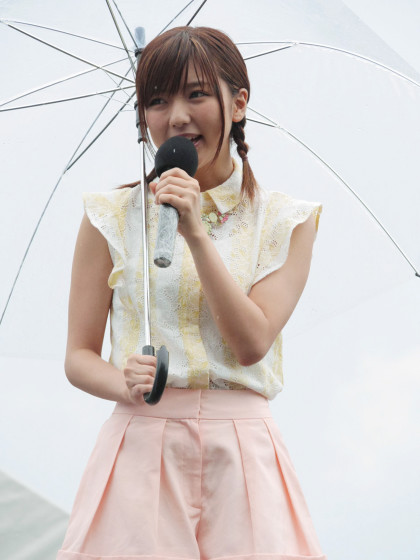 Moderator:
It is also in good touch with Naoto Takenaka.

Mano:
The scene of a coffee shop is said to be a long turn ... ... The scene itself is long, but I am numb. It is an eye strength, a tone of voice, a speed to talk, to Mr. Takenaka's play. I guess I pulled it. It was a lot of fun and exciting.

Moderator:
I was talking about a lot of extraordinary men, but this is the man who is actually a hopelessly good actor plays. Are there any episodes with actors?

Mano:
With half a year, I do not know well whether the role is stuck in the character or whether I am performing. Because there was one waiting room, everyone is with us during our usual break. So everyone seems to be a character. Also, we all talked about "Who's who in the silhouette?"

Moderator:
What was called Mr. Mano in the dressing room usually? "Ah!" Or ...?

Mano:
It is bright ... ... But there are many "Mano chan".

Moderator:
Had you been together for half a year there were no fights?

Mano:
There is no fight. Everyone is an adult (haha) Because I was the youngest, after saying that I finished eating rice, I said "Let's basket up!"

Moderator:
Did you play basketball!

Mano:
Actually, there is a basketball court in the special car section two, there are also scenes that basketball. And then I do juice scissors (laugh) Who will go to buy, make a win or lose table (lol)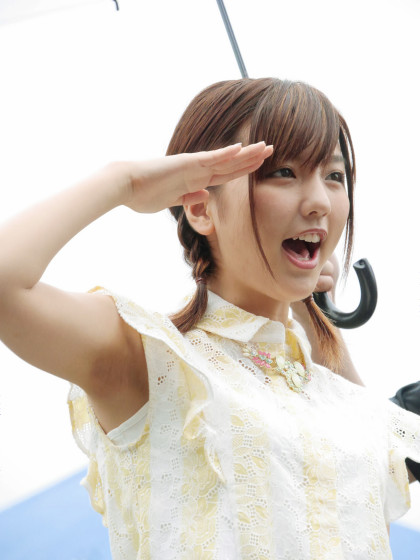 Moderator:
So, what is the most difficult scene?

Mano:
What was tough was ... coming out a little more, but there is a scene to get into the underground dungeon. If you are an original fan, you might think that "Are you! There are many ad libs ...... I attach a small camera to the helmet. With it attached, there is a long turn around 5 minutes traveling in the long water pipe, and on the script it is only saying "members are progressing", but I play it in ad lib. That your character is already out there. I'm obvious, so it sounds like a mischievous 'noisy cockroach -!'

Moderator:
How many chapters is it?

Mano:
It is the second half. Is it going to be chapter 6?

Moderator:
Four chapters will start from the next week, but please look forward to everyone. This timeChiba ShigeruThinks like "name Shiba Shigeo" as it is, but is there any episode with Shiga Chiba?

Mano:
Even if we do not appear, everyone's scenes of Chiba go to see.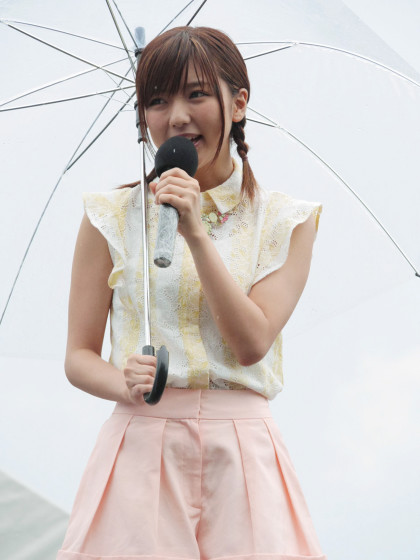 Moderator:
When I heard Mr. Chiba's voice, I think that it is "Patlabor!

Mano:
As the actor sees the opponent's attendance at the time of the main reading, he does not have much power with 100, but Mr. Chiba came by Shige 100, so a roar was going on from the cast and the staff. Like "awesome!" I was getting goose bumps.

Moderator:
Even looking at the work, it seems that goose bumps stand up just by listening to the first narration ....

Mano:
I do not know why, but I usually say it on Twitter as "Oh ringink" and it is pretty (laugh)

Moderator:
I've heard a nice story.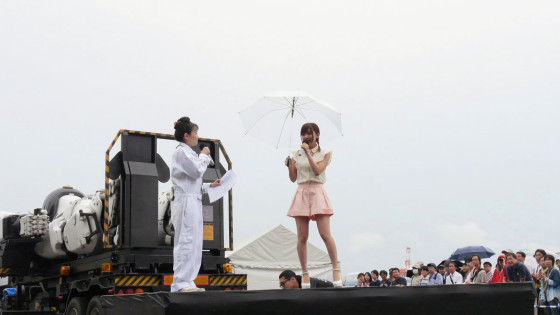 In addition, I was able to listen to stories of deep shooting by coverage after the deck up event.

Question:
For Mr. Mano, what is Labor?

Mano:
The actual size Patlabor is also placed at the shooting site, and I feel motivated as if I am touched somewhere after all. But it was normal for patrons to be closer to the members, so I gradually became familiar with it, and in a month and two months there was a state where Labor was there.

Question:
There was a story that Ming and Ming himself are very close, but, contrarily, did you have a different part from yourself?

Mano:
Akira is a girl whose facial expressions change a lot and it is very fast to switch. For example, if you did not have something to eat and want to eat, "Then let's do it" and switched to something different in the wind. I am a type with a strong commitment, so I do not have that kind of thing .... But I felt that Akira is so positive and Mi obstinate whether it will catch on while playing.

Question:
Have you watched past works that you are facing shooting?

Mano:
Mamoru OshiiI was told that "If you have time, look at it." However, since "THE NEXT GENERATION Patlabor" is not the same as the animation setting, on the contrary, I thought that Mr. Nobu had too much image and thought that "Akira will not be understood", I played it without looking at it at all. But when I was wearing military clothes I was told that it was "Unnamed: I began to feel like it." Especially I did not make consciousness, but I was glad because the original fans also accepted it.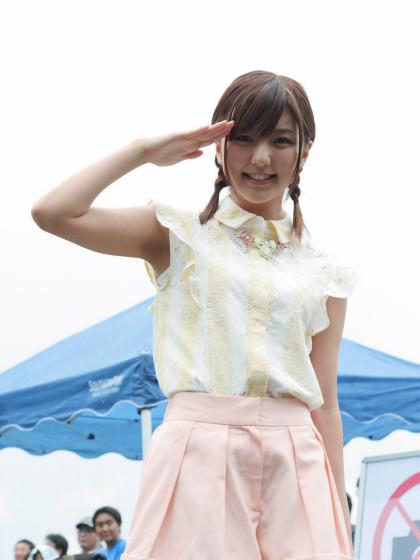 Question:
In the live-action version, Director Oshii Mamoru,Takanori Tsujimotodirected by,Kiyotaka Taguchidirected by,Hiroaki YuasaAlthough four directors, director, are making works, please tell me the impression of each director.

Mano:
Mr. Oshii is the general manager, but everyone was playing thinking "I want to see Mr. Oshii's smile". However, having the goodness of having a real actor in front of me, I had him perform freely freely with a feeling of the stage rather than performing a video work.

Director Tsujimoto is a cool part of the action part. Too many shots were taken, the action was also strong, the shooting was also often pressed (laugh) But it took a while to finish it, so I wanted to do more actions as well.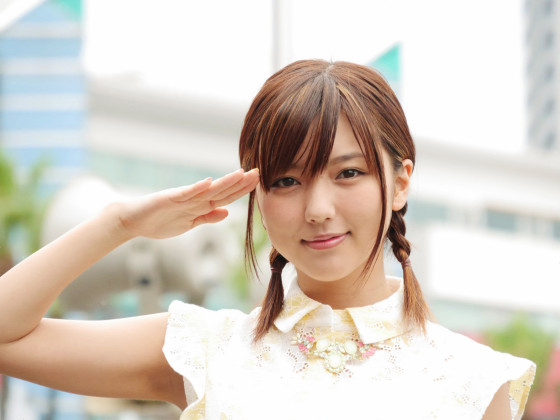 Director Yuasa was called "Ming in charge". Oshii says, "Director Yuasa takes a girl well, is not it?" Episodes 3, 7, and 11 are director Yuasa, there is also an episode that I almost reflected through 45 minutes, and there was some pressure "I should put out lovelyness", but thanks to the director I decided to take a picture naturally It was.

Director Taguchi was amazing at the special effects part.Big Mega GapThere was a special effects at the times of the times, it was not actually in the shooting site, but there was a play to see the image that I made. That's real, it's amazing. And I think that it is a director who keeps close to the emotional part of the first play.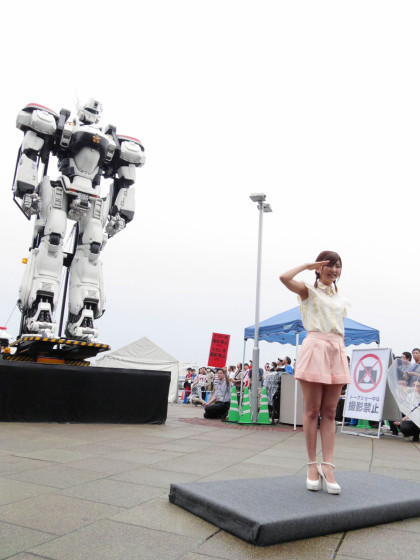 The deck-up is scheduled to be held three times a day from 11/13/30/17/30 between 8/2 (Saturday) and 10 (Sunday), 3 days (Sun) Let's be careful.