The popular NFT collection 'Bored Apes Yacht Club' was hacked again, causing damage worth 48 million yen.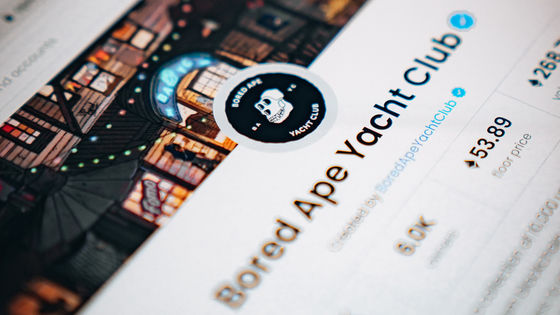 It is reported that the Discord server of the popular NFT collection
Bored Apes Yacht Club
(BAYC) was hacked and the NFT worth about 48 million yen may have been affected. BAYC has also been hacked on its
official Instagram account
, and this is the second time the
Discord server has been hacked
.
Bored Ape Yacht Club Discord compromised in $ 357,000 NFT phishing attack | Engadget
https://www.engadget.com/bored-ape-yacht-club-discord-compromised-185957306.html
Bored Ape Yacht Club, Otherside NFTs stolen in Discord server hack
https://www.bleepingcomputer.com/news/security/bored-ape-yacht-club-otherside-nfts-stolen-in-discord-server-hack/
Early in the morning of June 4, 2022 local time, the Discord account of
Boris Vagner
, community manager of Yuga Labs, the developer of BAYC, was hacked. The hacked Vagner's Discord account posted the URL to the phishing site on BAYC's Discord server and Otherside Metaverse's Discord server managed by Yuga Labs, and multiple people who clicked this link were damaged. It is reported that it is.
???? BAYC & OtherSide discords got compromised‼ ️

Seems because Community Manager @BorisVagner got his account breached, which let the scammers execute their phishing attack. Over 145E in was stolen

Proper permissions could prevent this pic.twitter.com/lCl2DfZQ0W

— OKHotshot (@NFTherder) June 4, 2022


If you click the link, all Ethereum and NFTs held in the cryptocurrency wallet linked to your user account may be stolen. Analyst OK Hotshot, who reported this issue, tweeted that 145 ETH (about 35 million yen) was already stolen.

According to blockchain cybersecurity firm PeckShield, 32 NFTs have been stolen via this phishing site, and the list is below.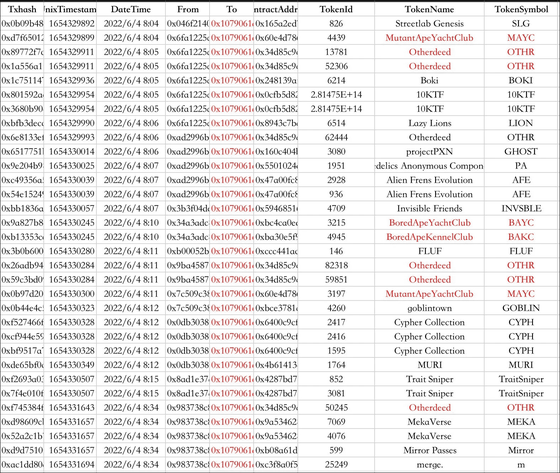 In response, BAYC's official Twitter account said, 'Our Discord server was compromised today. The team responded quickly to the compromise, but it seems that about 200 ETH worth of NFTs were affected. We are still investigating, but if you are affected, please contact [email protected]. '

Our Discord servers were briefly exploited today. The team caught and addressed it quickly. About 200 ETH worth of NFTs appear to have been impacted. We are still investigating, but if you were impacted, email us at [email protected].

— Bored Ape Yacht Club (@BoredApeYC) June 4, 2022


It's unclear how Vagner's Discord account, which was the source of the turmoil, was compromised and whether two-step verification was enabled. Technology media Bleeping Computer is asking Yuga Labs for comment, but hasn't received a response at the time of writing.