A popular NFT worth 350 million yen is stolen by hacking the official Instagram account of the seller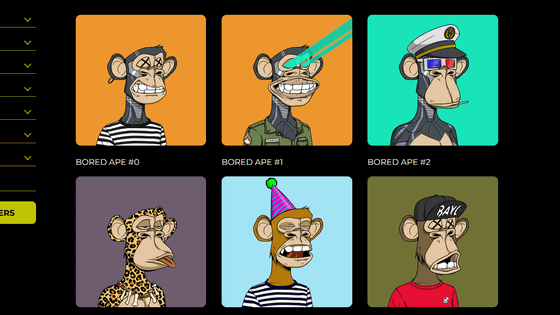 The official Instagram account of Bored Ape Yacht Club (BAYC) , which sells non-fungible tokens (NFT) for monkey icons, was hacked and a total of $ 2.8 million worth of NFT was stolen. Was announced.

NFTs Stolen After Bored Ape Yacht Club Instagram, Discord Hacked
https://www.coindesk.com/tech/2022/04/25/at-least-13m-in-nfts-stolen-after-bored-ape-yacht-club-instagram-discord-hacked/

Bored Ape Instagram account hacked: NFTs worth $ 2.8 million stolen
https://www.theblockcrypto.com/post/143328/bored-ape-instagram-account-hacked-nfts-worth-2-8-million-stolen

Bored Ape Yacht Club Instagram Hacked, NFTs Worth Millions Stolen
https://www.vice.com/en/article/88gpxg/bored-ape-yacht-club-instagram-hacked-nfts-worth-millions-stolen

According to media reports, hackers hijacked BAYC's official Instagram account and posted the URL of a fraudulent site that imitated BAYC's official website under the pretext of 'free distribution.' We encouraged users who have been caught up in free distribution to sign transactions that actually send their assets.

This morning, the official BAYC Instagram account was hacked. The hacker posted a fraudulent link to a copycat of the BAYC website with a fake Airdrop, where users were prompted to sign a'safeTransferFrom' transaction. This transferred their assets to the scammer's wallet.

— Bored Ape Yacht Club (@BoredApeYC) April 25, 2022


The damage caused by this scam has not been officially tabulated at the time of reporting, but from the records left at the Ethereum address used by hackers , at least 4 types of Bored Ape series, 6 types of Mutant Ape series, Bored In addition to the 3 types of Ape Kennel Club series, it has been confirmed that items of popular NFT series such as CloneX, EightBit, Alien Fren, Toxic Skull Club have been stolen, and the total damage is estimated from 91 NFTs, the lowest winning bid. The total damage is estimated to be 2.8 million dollars (about 350 million yen).

Damn the BAYC Instagram hacker stole 4 BAYC, 7 MAYC, 3 BAKC, 1 CloneX, & more (91 NFTs in total)

Hacker Address: https://t.co/0ngJ4SKV4G pic.twitter.com/9U2OGPKMmP

— Zachxbt (@zachxbt) April 25, 2022


BAYC has already deleted the fraudulent posts on the official Instagram account, and the official Twitter account says 'It seems that the official Instagram account has been hacked. Please do not click the link or link the wallet.' Tweeting a warning.

???? There is no mint going on today. It looks like BAYC Instagram was hacked. Do not mint anything, click links, or link your wallet to anything.

— Bored Ape Yacht Club (@BoredApeYC) April 25, 2022


According to the official announcement, BAYC's official Instagram account was hacked even though two-step verification was enabled. It is not known at the time of the press how hackers used to break through two-step verification.

BAYC had just been hacked on the Discord server on April 1, 2022.

Discord server of major NFT community turned out to be hacked via BOT --GIGAZINE