Twitter companies and celebrity accounts such as Apple and Elon Mask are hacked at once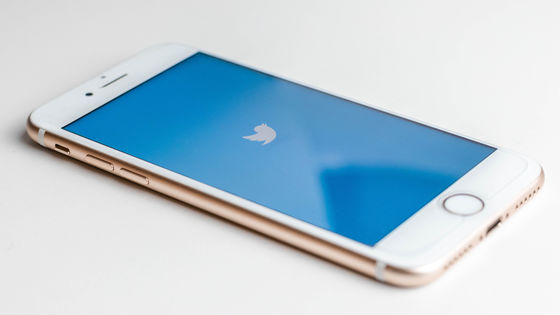 An unprecedented security breach occurred where Twitter accounts of major companies and celebrities were hacked all at once. Bitcoin scams were tweeted in the hacked Twitter account, and about 120,000 dollars (about 13 million yen) was damaged.

Barack Obama, Joe Biden, Elon Musk, Apple, and others hacked in unprecedented Twitter attack-The Verge

https://www.theverge.com/2020/7/15/21326200/elon-musk-bill-gates-twitter-hack-bitcoin-scam-compromised
There was a situation where multiple well-known accounts were hacked on Twitter. The hack itself seems to have calmed down already, but scam tweets have been posted regularly for over 2 hours on the hacked account. The official Twitter support account posted at 16:45 on July 16, 2020, 'We are aware of a security issue affecting our Twitter account. We are currently investigating this issue and are working on a fix. I am taking it.'
We are aware of a security incident impacting accounts on Twitter.We are investigating and taking steps to fix it.We will update everyone shortly.

— Twitter Support (@TwitterSupport) July 15, 2020


Then, at 7:18 on the same day, 'We may not be able to tweet or reset the password while dealing with the account that confirmed this problem,' tweeted. At 8:18 on the same day, we tweeted, 'During the investigation, the account that was hacked continues to have tweets and password resets and some other account feature restrictions. Thank you for waiting.' It is clear that we are dealing with.

You may be unable to Tweet or reset your password while we review and address this incident.

— Twitter Support (@TwitterSupport) July 15, 2020


It was revealed that a prominent Twitter account was hacked by the Twitter account of Tesla and SpaceX founder Elon Musk who cast a series of tweets about bitcoin fraud. .. Similar fraudulent tweets have been found on Microsoft founder Bill Gates' Twitter account.

The first Tweet about a Bitcoin scam posted on Musk's Twitter account was 'I'm hungry thanks to the new coronavirus infection. Over the next hour, I'll double the payments sent to my Bitcoin address. Let's pray for good luck and keep safety!' After the tweet was deleted, Musk's Twitter account said, 'Thank you, I'll double the payment given to my Bitcoin address! You send me $1000 worth of Bitcoin. If so, I will refund $2000 for Bitcoin! This will only be done for 30 minutes from now.' In addition, Mr. Musk's tweet has a bitcoin address, and this bitcoin address is also described in hacked accounts other than Mr. Mask.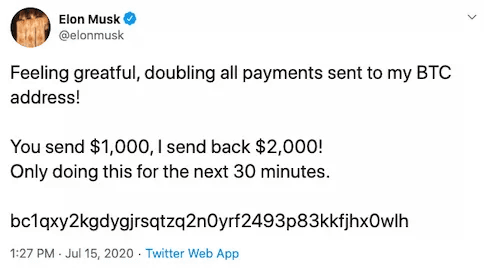 A spokeswoman for Gates told Recode reporter Teddy Schleifer , 'We have confirmed that this tweet (a tweet about bitcoin fraud) was not posted by Bill Gates. Seems to be some of the big problems we are facing. Twitter is aware of the account and is working on restoring it.'

NEW — statement from a spokesperson for Bill Gates.

'We can confirm that this tweet was not sent by Bill Gates. This appears to be part of a larger issue that Twitter is facing.Twitter is aware and working to restore the account." pic.twitter.com/v37Jvs76Jl

— Teddy Schleifer (@teddyschleifer) July 15, 2020


At the time of article creation, in addition to Musk and Gates, Apple, Uber, former US President Barack Obama, Amazon CEO Jeff Bezos, Democratic US presidential candidate Joe Biden, musician Kanye West It has been confirmed that Twitter accounts such as former New York Mayor Michael Bloomberg have been hacked.

At the time of writing the article, it is unknown whether large-scale Twitter account hacking was done by individuals or by groups. It is also unknown how widespread the damage was. The news site The Verge explains how the security breach occurred: ``Is there a serious security vulnerability in Twitter's login process, account recovery process, third-party application process, or hacker is Twitter employee administrator? I suspect I've accessed the permissions in some way.'

In addition, technology-related media Motherboard has obtained and released 'Screenshots of management tools inside Twitter' that were said to have been used for this hack from multiple underground hacking circles. Although the image was posted on Twitter, it has been deleted by Twitter, and it seems that there are cases where the account of the user posting the screenshot is suspended. Please note that Twitter does not share details on how the massive hack took place.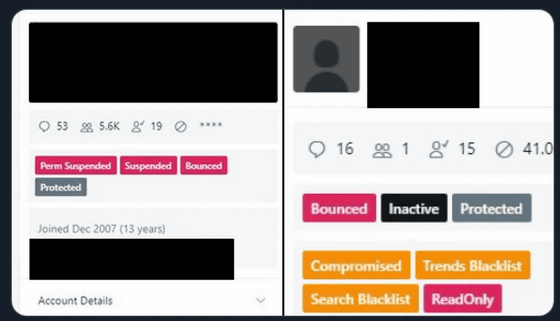 In addition, Cameron Winklevoss , who was operating a Twitter account that was damaged by hacking, said, "All official Twitter accounts of major virtual currencies have been hacked. Even @ Gemini operated with two-step verification and a strong password. Similarly, I was hacked into the account. We are currently investigating the hacking damage. We will inform you of detailed information soon." It was also revealed that the account was protected by two-step verification and a strong password. I am.

Due to the nature of Bitcoin, all transaction records are open to the public . Since all transaction records are time stamped, it has been confirmed that the total amount of money sent by fraudulent tweets is about 120,000 dollars (about 13 million yen). You can also check the total amount of Bitcoin that would have been sent to the listed Bitcoin address.