The legendary game 'Winnie the Pooh's Homelander Bee!' That disappeared with the end of Flash has been archived overseas.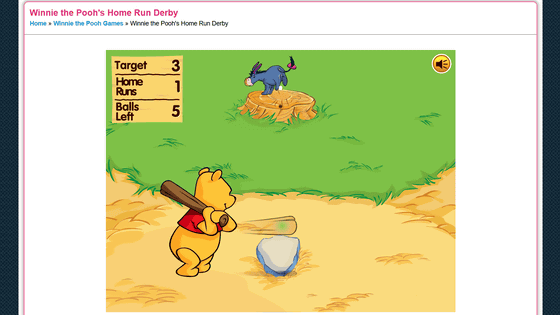 The Flash game ' Winnie the Pooh's Homelander Bee! ' Is a game in which the play and character Pooh play against a number of magic ball users, and the appearance of spinning logs aiming only for a home run is called 'Puniki'. Although it was loved, the distribution ended on December 16, 2020 due to the
end of service of Flash Player
. Browsers such as Chrome, Firefox, and Edge have already discontinued support for Flash, so Winnie the Pooh's Homelander Bee! It is no longer possible to play. However, the game is archived abroad because it can be played on Ruffle, which emulates Flash content.
Winnie the Pooh's Home Run Derby | Disney--Games.com
https://www.disney--games.com/winnie_the_pooh_s_home_run_derby_338.html
'Disney--Games.com' is an archive site for browser games and an archive site for Disney-related browser games by
Nemuki
.
Winnie the Pooh's Homelander Bee archived at Disney--Games.com! To play, go to the
game page
and click 'PLAY NOW'.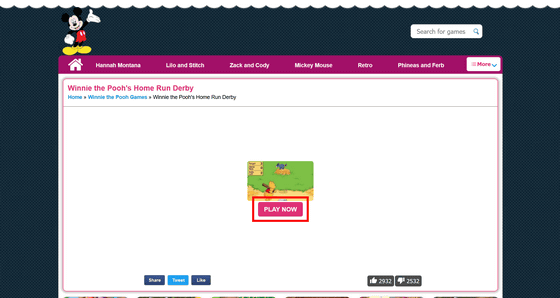 The game will start. The English version is archived, but the system does not change just because the language is English.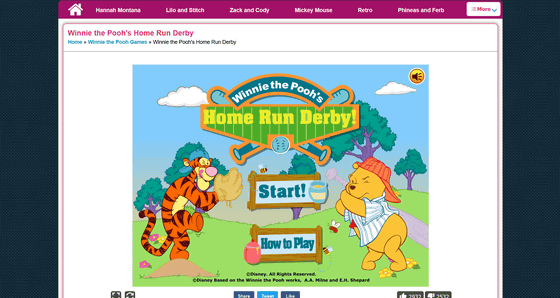 The game content of 'Adjust the bat's meat with the mouse cursor, left-click on the thrown ball and swing the bat' is also included.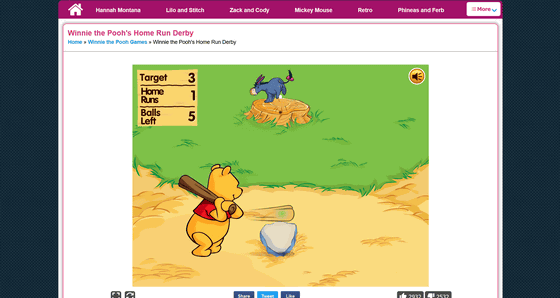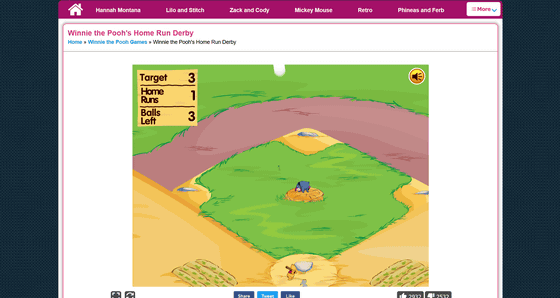 Due to the influence of emulation by Ruffle, abnormal display may be seen after the decimal point in the numerical value of the flight distance, but it does not hinder the play of the game.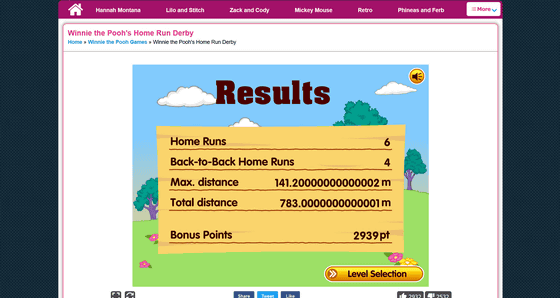 And the Japanese version is also archived in the Internet Archive. The Internet Archive version also works with emulation using Ruffle.

homerun: Free Download, Borrow, and Streaming: Internet Archive
https://archive.org/details/homerun_20201126

This Japanese version of the archive became playable with the introduction of Ruffle in November 2021 by the introduction of Ruffle, which made it possible to play Flash content on a browser.

Adobe Flash masterpiece movies will be accessible on the Internet Archive even after the end of support in December 2020 --GIGAZINE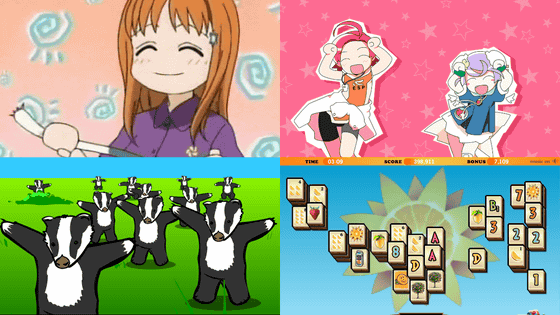 In addition, Winnie the Pooh's Homelander Bee! There are also RTA players aiming for the shortest clearing time record. At the time of writing the article, the clear time until defeating Christopher Robin of Las Boss, who is feared by many players and is also called 'Robicus' by some players, is the fastest record in the world at 23 minutes 58 seconds by Mr. Paper Cup. increase.

Winnie the Pooh's Homelander Bee! RTA 23 minutes 58 seconds (for submission)-YouTube