Reports that DuckDuckGo has removed pirated sites and youtube-dl from search results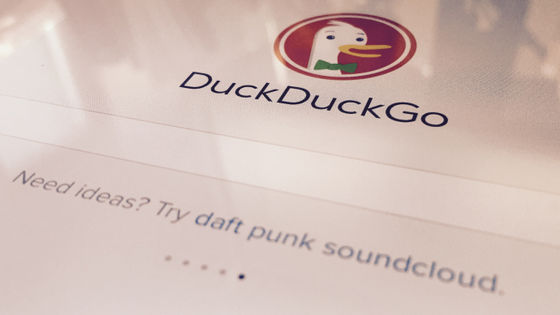 by
ijclark
DuckDuckGo
, a search engine focused on protecting user privacy, has removed pirated sites such as The
Pirate Bay
,
1337x
, and the official YouTube video download program
youtube-dl
from search results. ..
DuckDuckGo'Removes' Pirate Sites and YouTube-DL from Its Search Results (Updated) * TorrentFreak
https://torrentfreak.com/duckduckgo-removes-pirate-sites-and-youtube-dl-from-its-search-results-220415/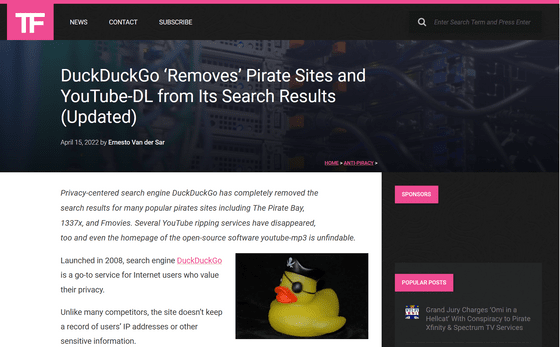 Launched in 2008, DuckDuckGo, unlike other search engines, is unique in that it does not retain the user's IP address or other personal information. In 2018, Google
changed the setting
so that 65,000 pirated sites are not displayed at the top of search results, and DuckDuckGo that displays accurate search results
will be useful
for users seeking pirated sites
It became
.
However, foreign media TorrentFreak reported that from around April 17, 2022, DuckDuckGo changed the setting so that pirated sites are not displayed in search results, and 'custom search using commands' of these sites is also disabled. It is said that it has become.


According to TorrentFreak, in addition to pirated sites such as 1337x.to, NYAA.se, Fmovies.to, Lookmovie.io, 123moviesfree.net, search the official site of open source software 'youtube-dl' that can download YouTube videos. It is said that it has been deleted from the results.

However, after the issue was addressed, DuckDuckGo CEO Gabriel Weinberg reported that 'no domains have been deleted.' When I checked it in my environment, youtube-dl and The Pirate Bay were certainly displayed in the search results.

Similarly, we are not 'purging' YouTube-dl or The Pirate Bay and they both have actually been continuously available in our results if you search for them by name (which most people do). Our site: operator (which hardly anyone uses) is having issues which we are looking into.

— Gabriel Weinberg (@yegg) April 17, 2022