Twitter deleted the tweet by the Russian embassy that 'the image of the bombing of Mariupol's hospital in Ukraine is a fake' because Twitter judged it to be a policy violation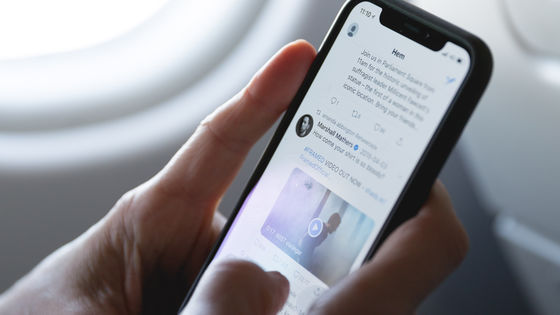 On March 9, 2022, Ukrainian President Volodymyr Zelensky announced on Twitter that
a children's hospital in Mariupol in Donetsk Oblast, eastern Ukraine, was attacked by Russian troops
. In response, the Russian embassy in London, England, claimed on Twitter that 'this children's hospital was no longer in use and the image of the attacked children's hospital was forged.' However, Twitter deleted the tweet because it violated the policy.
Twitter (TWTR) Removes False Tweets Sent by Russian Embassy in London --Bloomberg
https://www.bloomberg.com/news/articles/2022-03-10/twitter-removes-false-tweets-sent-by-russian-embassy-in-london
Twitter removes Russian embassy tweet on Mariupol bombing | Ukraine | The Guardian
https://www.theguardian.com/world/2022/mar/10/twitter-removes-russian-embassy-tweet-on-mariupol-bombing
Twitter removes Russian embassy tweets over Mariupol hospital bombing, victim | The Hill
https://thehill.com/policy/technology/597758-twitter-removes-russian-embassy-tweets-over-mariupol-hospital-bombing
Twitter removes Russian UK Embassy tweets for Ukraine denials
https://www.cnbc.com/2022/03/10/twitter-removes-russian-uk-embassy-tweets-for-ukraine-denials.html
On March 9, local time, President Zelensky said, 'A Russian bomb hit a building in Mariupol. Many people and children remain buried under the rubble. It's too cruel. How long the world is terrorist. I wonder when I'm going to continue with a co-conspirator who ignores. We should close the sky now and stop the murder. '
Mariupol. Pramij Udar Rosijskih Vijsk Po Pologovomu Budinku. Ludi Pid Zavalami. Diti Pid Zavalami. Ce Zvirstvo! Skilki Se Svit Bude Spivucasnikom, Ignoruuci Teror? Negajno Zakrijte Nebo! Negajno Zupinit Ubivstva! Vi Maete Silu. Ale, Shoze, Vtracaete Ludanist. Pic .twitter.com/xEFndMPqPK

— Володимир Зеленський (@ZelenskyyUa) March 9, 2022


Foreign media reported extensively on attacks by Russian troops targeting unprotected pregnant women and children's hospitals with children rather than military facilities and infrastructure, and governments criticized Russia.

In response, the Russian embassy in London, England, said, 'The children's hospital in Mariupol has not been used for a long time. Instead, it was used by armed groups and militants, that is, the Neo-Nazi Azov corps . In addition, Russia issued a warning to the UN Security Council three days ago. '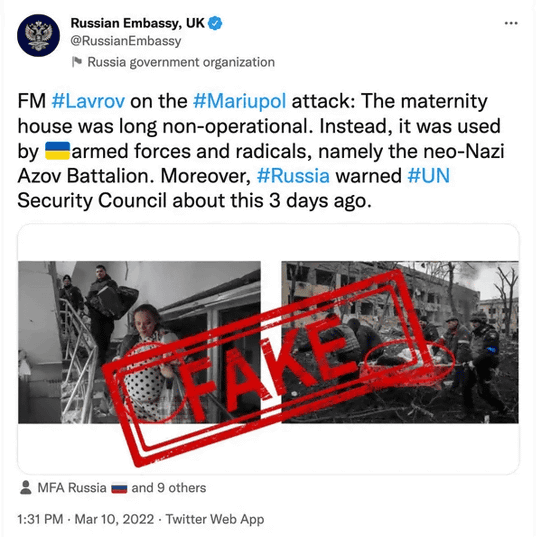 In addition, the Russian embassy has released a photo of the 'victim of an attack on a pediatric hospital in Mariupol' released by the Ukrainian government and the press, which includes Ukrainian beauty blogger Marianna Podgurskaya, a fake. He pointed out that it was proof.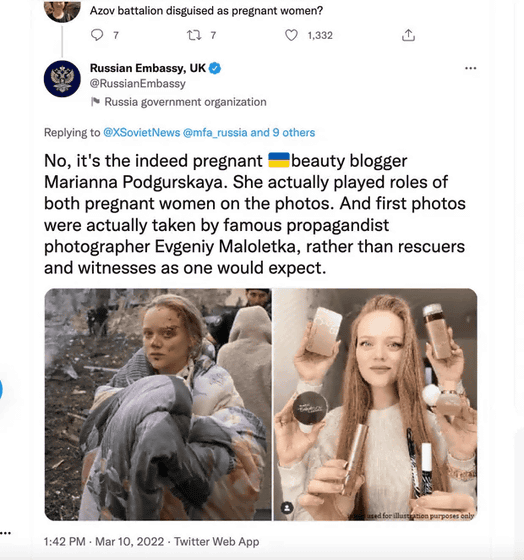 However, Eliot Higgins, founder of research journalism site Bellingcat, said, 'Marianna Podgurskaya's last image posted on Instagram shows that she is pregnant, and the Russian embassy mentions this. I haven't. '

The Russian Embassy doesn't mention she's clearly pregnant in images on her Instagram account, hence why she'd be in the MATERNITY HOSPITAL RUSSIA BOMBED https://t.co/zt6D22MFlX https://t.co/pshnp4jx8r pic.twitter .com / WVp1FPg0ZR

— Eliot Higgins (@EliotHiggins) March 10, 2022


After that, Twitter deleted the tweet by the Russian embassy, saying that it 'violated the rules of Twitter'.

A Twitter spokeswoman explained that the reason for deleting the tweet from the Russian embassy was 'because it violated Twitter's rules, especially our hatred and abuse policy regarding refusal of violent events.' increase.

Twitter is not the only one to delete the post by the Russian Embassy that 'The information about Mariupol's Children's Hospital published by Ukraine is fake'. Facebook has also deleted similar posts by the Russian embassy. Facebook operator Meta said the post 'posted content about violent tragedy, or victims of violent tragedy, and claimed that violent tragedy did not occur,' which is the rule of the platform. It points out that it violates.

Facebook has removed a post from the Russian Embassy UK's Facebook page, FB spox @andymstone says.

The post broke the platform's rules on 'posting content about a violent tragedy, or victims of violent tragedies that include claims that a violent tragedy did not occur.'

— Donie O'Sullivan (@donie) March 10, 2022