Twitter official tweeted 'How to use Twitter in conflict zone' in Ukrainian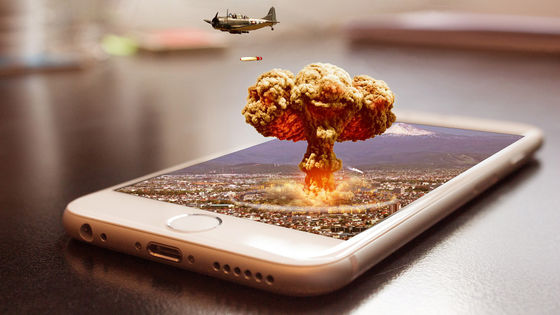 In Ukraine, which has entered a state of war with Russia, the effects of the war are spreading not only to the real world but also to the Internet, such as the closure of Twitter accounts that convey photos and videos of Russia's invasion of Ukraine . Meanwhile, the official Twitter account has continuously posted in English and Ukrainian how to use Twitter safely in conflict areas and high-risk areas.


When using Twitter in conflict zones or other high-risk areas, it's important to be aware of how to control your account and digital information.

Every situation is different, so here are some things to consider:

— Twitter Safety (@TwitterSafety) February 24, 2022
Informacia Pro Te Dodatkova, Ak Stvoriti Nadijnij Parol, Pidkluciti Adresu Elektronnoi Posti Ta Nomer Telefonu Dla Skidanna Parola Ta Perekonatisa, So Vas Profil Ne Bulo Zlamano: Https://T.Co/erQqftqboc

— Twitter Safety (@TwitterSafety) February 24, 2022


Twitter first details how to create a strong password, make sure your email and phone number are required to request a password reset, and check if your account has been compromised. I posted the URL to the help page. The page can also be read in Japanese . According to Twitter, when a new login or suspicious login is made, an app or email will notify you so that you can confirm whether you are logged in to your Twitter account.

Learn more about what makes a strong password, how to require an email and phone number for password reset requests, and find out if your account has been compromised: https://t.co/fCmOiYXdPs

— Twitter Safety (@TwitterSafety) February 24, 2022


'By setting up two-factor authentication, you can be sure that only you can access your account. Here's how to set it up.'

Setting up two-factor authentication helps make sure you're the only person able to access your account. Here's how to set it up: https://t.co/3tiXJvcn5J

— Twitter Safety (@TwitterSafety) February 24, 2022


Next, regarding what to do if there is evidence of unauthorized login, Twitter said, 'If it seems safest to delete your account, disabling your Twitter account is the first step. Once disabled, your username, profile, and tweets will not be visible unless you re-enable them within 30 days. '

If you feel safest deleting your account, deactivating your Twitter account will be the first step and will mean that your username, profile, and Tweets won't be viewable anymore unless you reactivate within 30 days.

— Twitter Safety (@TwitterSafety) February 24, 2022


'Check if the tweet is public or private (only visible to followers) and change the settings accordingly. Even if the tweet is private, followers Is not deleted. '

Find out if your tweets are public or protected–which means they're only visible to your followers–and adjust your settings accordingly. (Just know protecting tweets won't remove your old followers, though.) Https://t.co / qnRoCpyWCR

— Twitter Safety (@TwitterSafety) February 24, 2022


'If your account may have been compromised, but you can still log in, here are some things you can do to protect your account .'

If you think your account might have been compromised but you can still log in, here are a few things you can do to help secure your account: https://t.co/lIk9mNyWRv

— Twitter Safety (@TwitterSafety) February 24, 2022


'If you think you've been hacked, or if you can't log in with your username and password, followthe steps below to log in again.'

If you think you've been hacked and you're unable to log in with your username and password, take these steps to get back in: https://t.co/2whSv5AlIq

— Twitter Safety (@TwitterSafety) February 24, 2022


'If you get the message'Your account is locked or some of your account features are restricted'when you log in or open the app, we'll explain what the message means and how to recover it. I am. '

If you log in or open your app and see a message that your account is locked or that some of your account features have been limited, here's what that could mean and how to restore it: https://t.co/ueNfYpiGmT

— Twitter Safety (@TwitterSafety) February 24, 2022


'Be careful about tweeting from places that shouldn't be known to others, just as you wouldn't want to tweet your address. Here, we often talk about location-based tweets. I will introduce the question . '

Just like you might not want to tweet your home address, be cautious when tweeting from locations that you don't want others to see.

Here are some frequently asked questions about tweeting with your location: https://t.co/GbqXLc5SIM

— Twitter Safety (@TwitterSafety) February 24, 2022


'Even if you have enabled tweets with location information in the past, you can disable it or remove location information from past tweets. However, even if you delete location information on Twitter, a third-party app And location information is not always removed from external search results. '

If you enabled Tweet location in the past & want to disable it / remove location info from your previous Tweets, you can. Just know deleting it on Twitter won't guarantee it'll be removed from third-party apps or external search results. https://t.co/KpYX2dMJt9

— Twitter Safety (@TwitterSafety) February 24, 2022


'Location settings can also be enabled or disabled on a device-by-device basis . '

You can also enable or disable location settings at the device level.

Here's how: https://t.co/rWolLtgRNB

— Twitter Safety (@TwitterSafety) February 24, 2022