I tried to make 'Spice Curry Takumi Chicken Curry', a house food that makes it easy to make spice curry at the level of eating out just by preparing chicken and onions.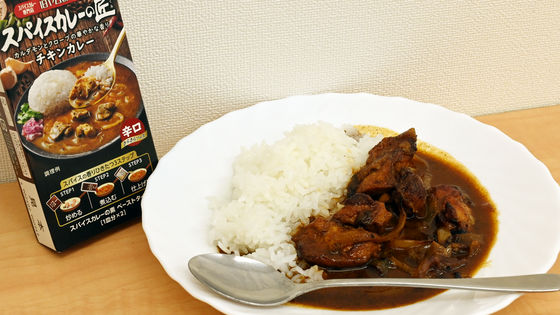 Supervised by Daisuke Uetake, the owner of the specialty store '
Old Yam House
', which is a pioneer of spice curry, you can easily make a full-fledged spice curry with just three steps of 'stir', 'simmer' and 'finish'
.
'
Takumi Chicken Curry
' appeared on February 14, 2022 (Monday), so I actually made it.
Takumi of spice curry | Specialty store owner supervision series TOP | Brand site | House food
https://housefoods.jp/products/special/senmon/spice/index.html
This is 'Spice Curry Takumi Chicken Curry'. One box is for two dishes.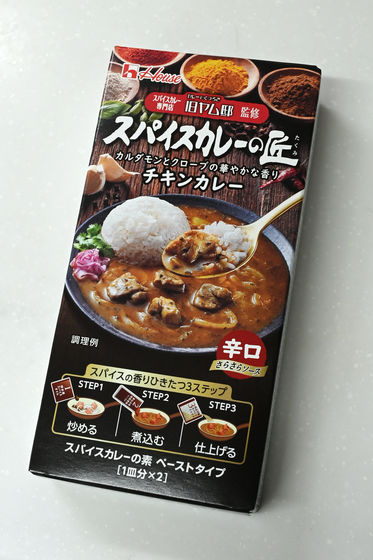 The name is 'curry element' instead of 'curry u'. Contains spices such as chutney, cumin, coriander, turmeric, cloves and celery seeds.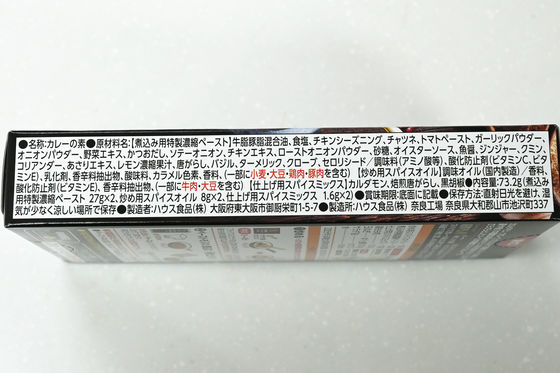 Of the necessary ingredients, 'stir-fry spice oil,' 'special concentrated paste for stew,' and 'finishing spice mix' are included in this curry base, so you can prepare chicken thighs, onions, salad oil, and water.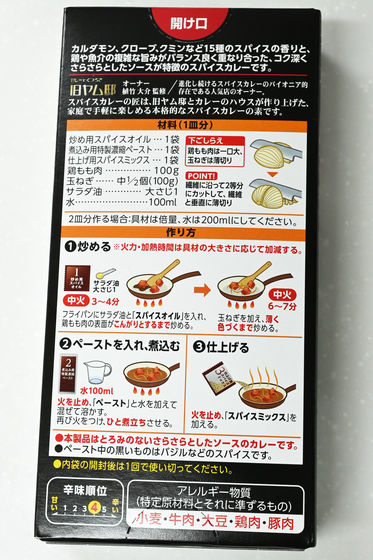 The ingredients for two dishes look like this. 200g chicken thighs, 1 onion, 2 tablespoons salad oil, 200ml water.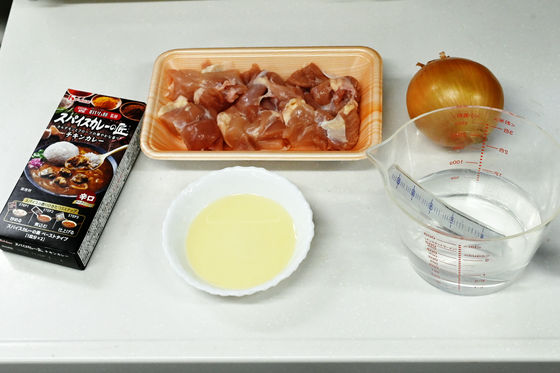 Inside the box are bags and pouches with numbers 1 to 3 like this.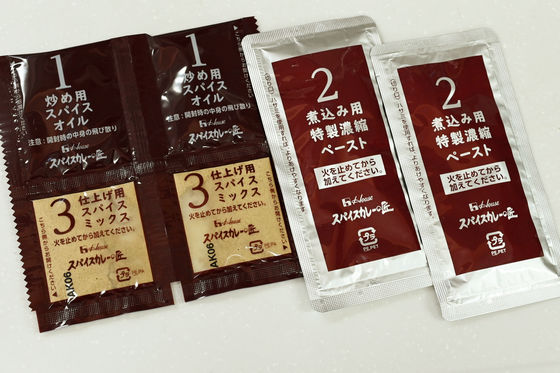 First, put the salad oil and 'stir-fry spice oil' in a frying pan. When the spice oil is opened, the spicy and appetizing scent spreads.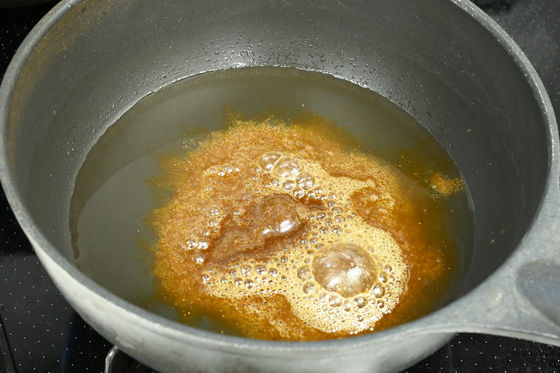 Fry the chicken thighs until the surface is brown. As a guide, it takes 3 to 4 minutes on medium heat.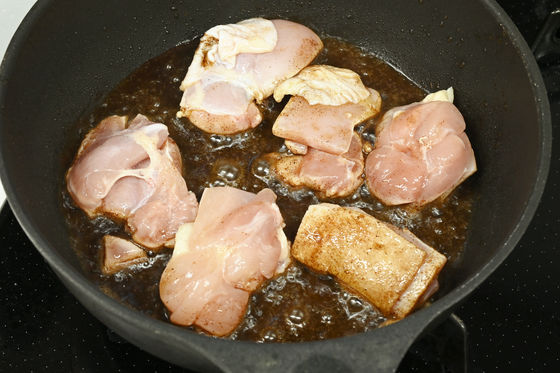 The chicken looks like this in about 3 minutes.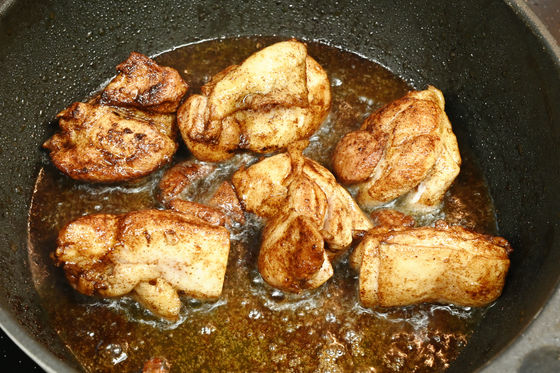 Then add the sliced onions and fry until colored. The standard is 6 to 7 minutes on medium heat, but when cooking this time, the onions started to burn in about 5 minutes, so please adjust this area well while consulting with the condition of the onions.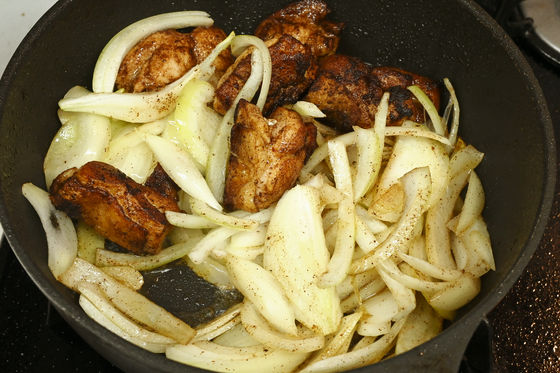 At this point, turn off the heat, add water and 'special concentrated paste for boiling', mix and dissolve.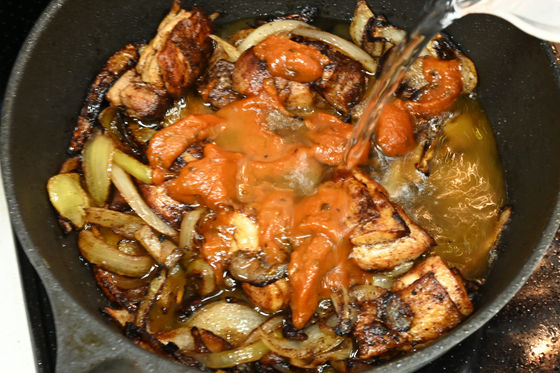 After that, turn on the heat again and let it boil for a while.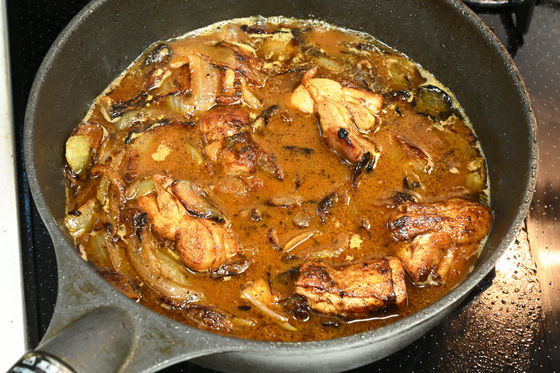 After boiling, turn off the heat and add the 'finishing spice mix' to complete. Cooking itself takes less than 30 minutes.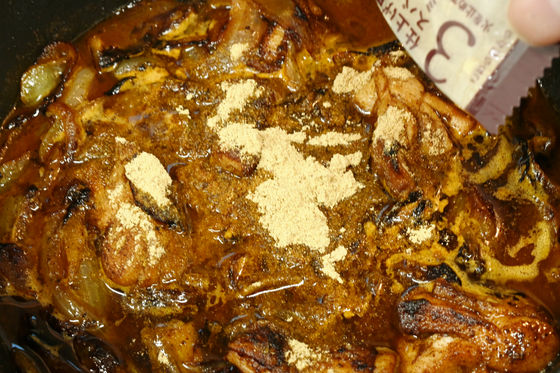 When served, it looks like this. It's a smooth, non-thick curry, so it's sucked into the rice more and more.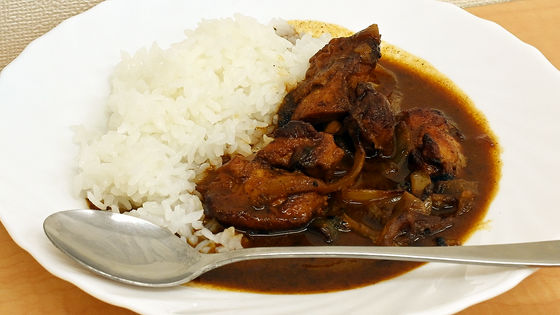 The black grains are spices, not charred onions.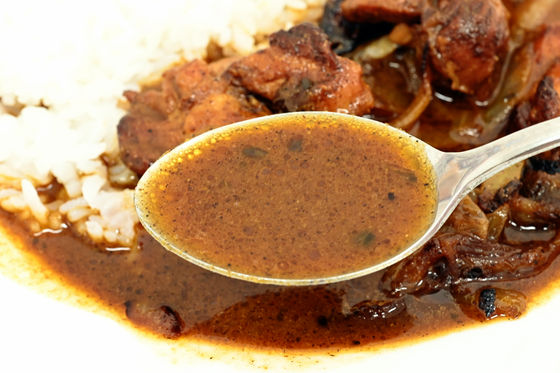 At first glance, you can see that it tastes like spice curry that you wouldn't think you made yourself. Apart from those who are particular about spices themselves, it clearly goes beyond the line that even if you make so-called 'house curry', you will not reach this taste. The smooth curry is firmly entwined with the rice, and while it is spicy and spicy, the taste of bonito stock and vegetable extracts spreads in your mouth. In particular, the balance with a strong cardamom in the taste feels like an 'old Yam residence'.



In the retort curry, there is a product that is reproduced as much as possible aiming at the taste of such a spice curry shop, but not only warm it in the microwave but also add chicken that is chewy and chewy, and make your own spice curry. I am impressed with the fact that I can cook.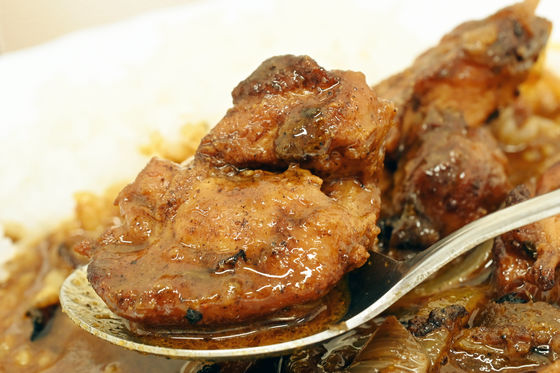 'Spice Curry Takumi Chicken Curry' will be on sale nationwide from February 14, 2022, with a suggested retail price of 356 yen excluding tax. Amazon.co.jp sells a set of 4 for 1538 yen including tax.


Amazon | House Spice Curry Takumi Chicken Curry 73.2g x 4 | Soup Curry Takumi | Stew Mail Order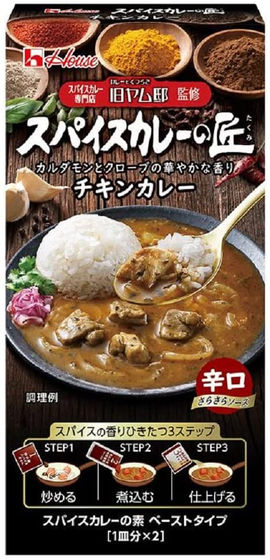 The original recipe devised by the former Yam House is scheduled to be posted on the brand site around March 2022.