Report that website cannot be opened with 'Lenovo Smart Display'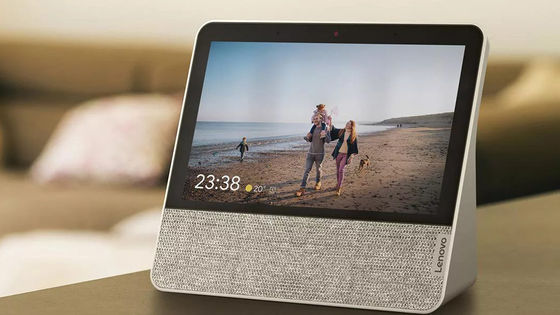 It is reported that the display function of the website is not available on the smart display '
Lenovo Smart Display
' equipped with the Google Assistant.
Can no longer view websites on smart display --Google Assistant Community
https://support.google.com/assistant/thread/146642658/can-no-longer-view-websites-on-smart-display?hl=en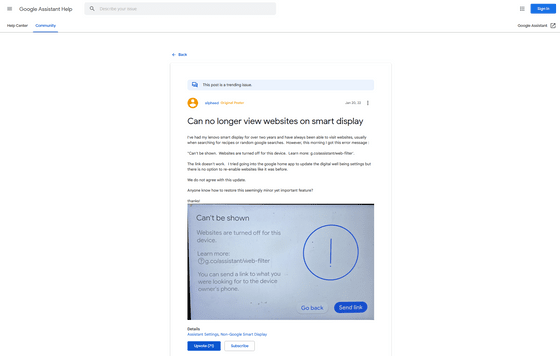 On January 20, 2022, the issue of 'I can no longer access the website with Lenovo Smart Display' was reported by the Google community. The device supports Google search as a function, and the user who reported it has been able to access the website without problems for more than two years, but at the time of writing the article, 'The web on this device is the web. The site cannot be displayed 'is displayed. The user also reported that when he tried to enable access to the website from the Digital Wellbeing settings screen based on past experience, the setting item disappeared.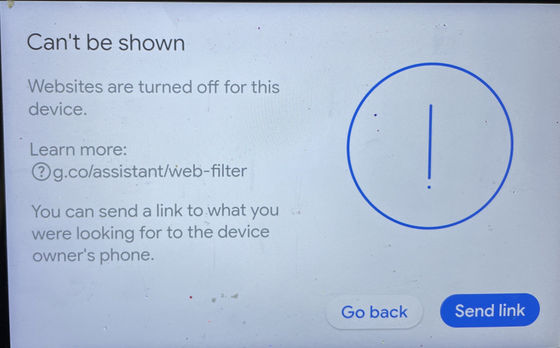 Many similar opinions have been received from users of Lenovo Smart Display in response to this report. Another user reported that 'Lenovo said it may be due to a Google update,' and another user said, 'Important: Access to the web isn't on
Google's support page
. 'Supported on Smart Displays made by manufacturers other than Google.' I am.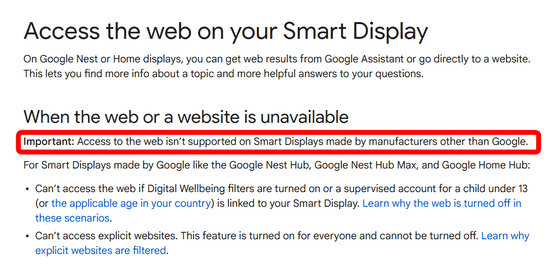 Another user quoted a case where Google was found to be infringing on the patent of smart speaker developer Sonos, limiting the volume control function of Google's smart speaker, saying, 'It's another effect of the lawsuit. 'Is it?'