Face ID can be used while wearing a mask on iOS 15.4, the setting method is like this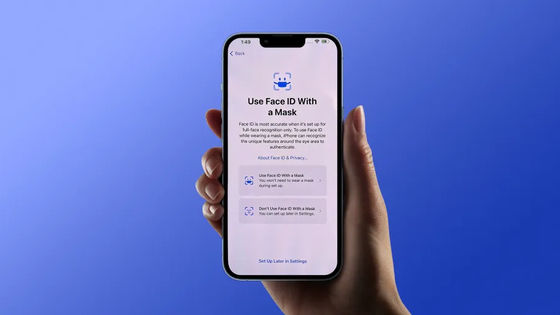 Apple has implemented 'the ability to use Face ID while wearing a mask ' in the beta version of iOS 15.4.

iOS 15.4 enables Face ID support while wearing a mask, no Apple Watch required --9to5Mac

https://9to5mac.com/2022/01/27/ios-15-4-enables-face-id-support-while-wearing-a-mask-no-apple-watch-required/
Face ID with a mask: How to use on iPhone --9to5Mac
https://9to5mac.com/2022/01/27/how-to-use-iphone-face-id-with-a-mask/
The pandemic of the new coronavirus made it mandatory to wear a mask, which made it impossible to use Face ID, which is the face recognition function of the iPhone, and I was annoyed that I had to remove the mask every time I used Face ID. There should be many people.
To remedy that situation, Apple has implemented 'a feature that allows you to skip Face ID while wearing a mask' in the beta version of iOS 13.5 released on April 30, 2020. However, this only required you to be wearing an Apple Watch, and you also had to enter your passcode on your iPhone.
IOS 13.5 beta version has a function to skip Face ID when wearing a mask and COVID-19 contact tracing API --GIGAZINE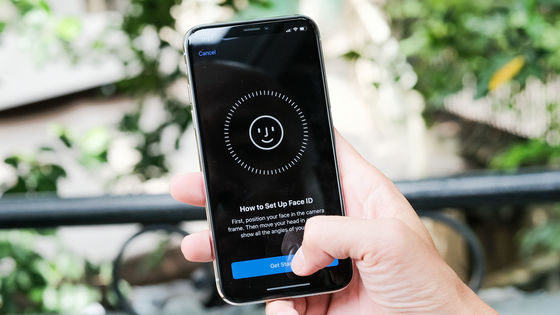 by
Tinh tế Photo
Meanwhile, in the beta 1 version of iOS 15.4, which was delivered on January 28, 2022, it became clear that Face ID will finally be available even while wearing a mask. This feature doesn't require an Apple Watch, but it does require an iPhone 12 or later device.
The setting screen is 'Use Face ID With a Mask', and on the screen 'Face ID works most accurately when it is set to full face recognition only'. If you use Face ID while wearing a mask, the iPhone will recognize the area around your eyes and authenticate the user. '
The method of actually using 'Use Face ID With a Mask' is as follows.
In the Settings app, tap Face ID and Passcode and turn on Use Face ID With a Mask. Tap 'Use Face ID With a Mask' again, then tap 'Get Started'.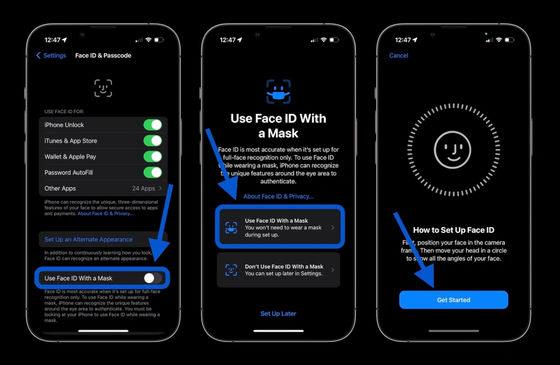 Face scanning will start, so you can move your face and recognize various angles in the same way as when you first set Face ID. After completing the settings, or a button called 'Add Glasses' will appear on the 'Face ID and Passcode' screen, it is also clear that additional settings can be made for users who wear masks and glasses at the same time.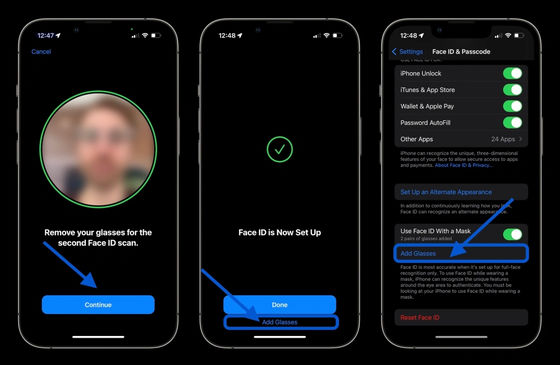 Face ID for iOS 15.4 Beta 1 allows users to recognize the glasses they wear on a regular basis so that they can recognize them correctly even if they wear a mask and glasses at the same time. is. However, it says 'Face ID when wearing a mask does not support sunglasses', and it is clearly stated that Face ID cannot be used while wearing a mask and sunglasses at the same time.